Alabama Teams 2013
Sixth annual Alabama Teams Tournament, March 23, 2013.
Anniston Army Depot, Anniston, AL
Hosted by: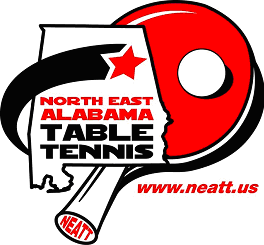 Entry Form:


Click here for an entry form.

Information on Tournament also available on Facebook: 2013 Alabama Teams Table Tennis



The field is limited to 20 teams.

The Shirt: See last year's design!


The Teams:

5 teams entered as of 02/03/2013. Tournament has a 20-team limit. (Last updated 02/33/13)

PLEASE let us know as soon as possible if your team can not play! That way, another team can be allowed into the tournament. Thanks!

Note: Ratings have been updated against the USATT.org website through Feb 2. (the final seeding is at the discretion of the tournament referee, aligned with USATT guidelines).
Bumpernets (4123), Birmingham
Sakoa Sushi (4039), Huntsville
Blazer Tide (4010), Birmingham
Loop Doctors (3822), Birmingham
TNT (3665), Birmingham
Team Mercedes (3626), Hoover
Chop Slam (3600), Pell City/Birmingham
Star Team (3480), Alabaster
UP2 (3392), Birmingham
Table Sharks (3389), Huntsville/Decatur
NEATT A-Team (3372), Anniston
Hurricane (3292), Tuscaloosa
TuscaLoopers (2881), Tuscaloosa
NATTC (2824), Huntsville
Scared Hitless (2725), Pelham
NEATT Team B (2686), Anniston
Ping Pong Palace (2659), Scottsboro
Old Spice (2377), Huntsville
NEATT Team C (2355), Anniston
Team Atchison (2151), Birmingham