2007 Decatur Open Photos
Aug. 18, 2007, Aquadome Recreation Center
(click on photo for larger view)
(Updated September 19, 2007)
The following images are compliments of Gary Cosby Jr., Jonathan Palmer, Ernesto Kawamoto and Michael Wetzel.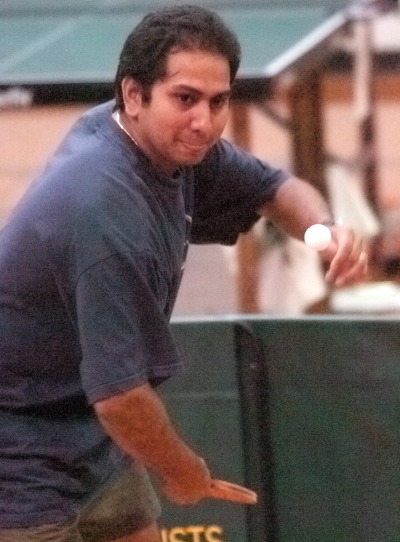 Arjun Shankaren of Louisville, Ky., picked up his third check as a participant of the Decatur Open. This time he cashed the winners' check for $300 as the champion of the 16th Decatur Open. Congratulations, Arjun!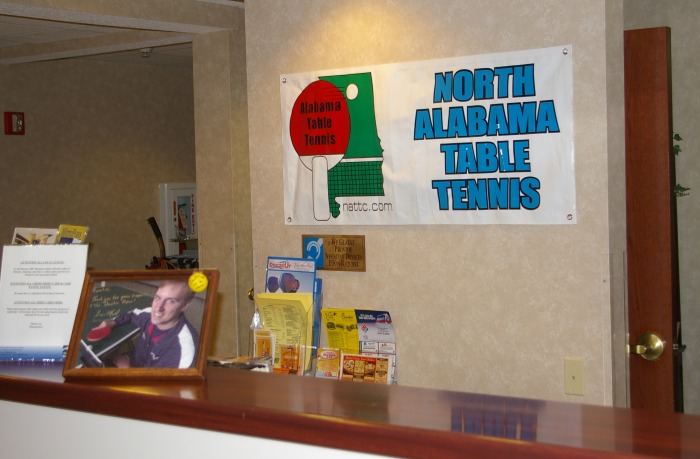 The Microtel Inn and Suites of Decatur served as the official tournament hotel and players were greeted by more than a friendly staff, free phone calls and free breakfast. The North Alabama Table Club banner hung behind the registration check-in desk. Also there's truth to the rumor that two-time Decatur Open champion and two-time Olympian Sean O'Neill slept here. An autographed framed 8x10 and autographed ball of O'Neill belonging to manager Julie Hill were on the check-in counter.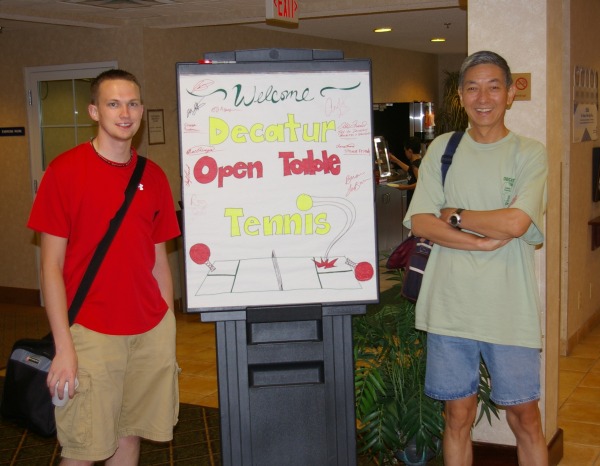 The Microtel Inn staff also showed their talented artwork by welcoming the tournament players with a handdrawn sign in the lobby. Here, players Chris Sharp of Chicago, left, and Ruying Chang of Louisville, Ky., smile after enjoying the pretournament breakfast. Several players showed their appreciation to Microtel by signing the artwork.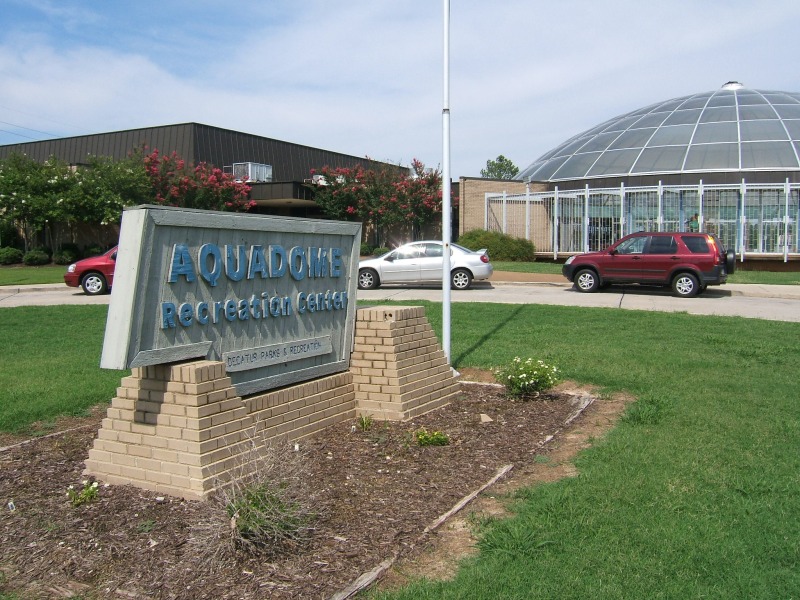 With the support of the Decatur Parks and Recreation, the Aquadome Recreation Center has been the site of the past 14 Decatur Open tournaments.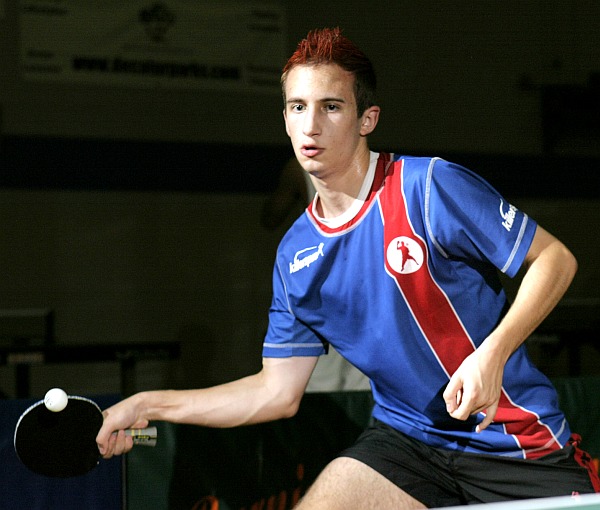 The tournament's third-seeded player, Chance Friend of Plano, Texas, was the focus of some pretournament photos from Decatur Daily photographer Jonathan Palmer.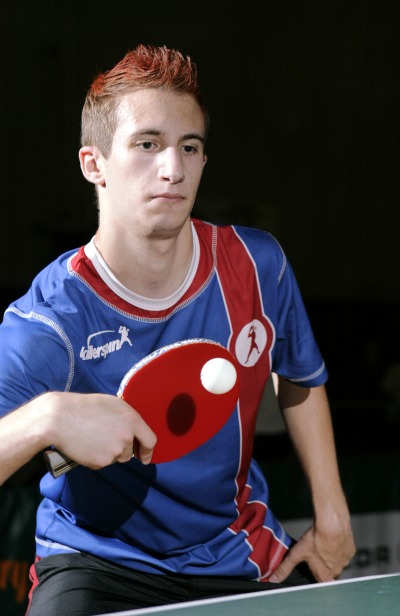 The Decatur Daily ran an article the morning of the tournament which incuded the preliminaries draw and a photo of Chance.
Want to read it? Click here.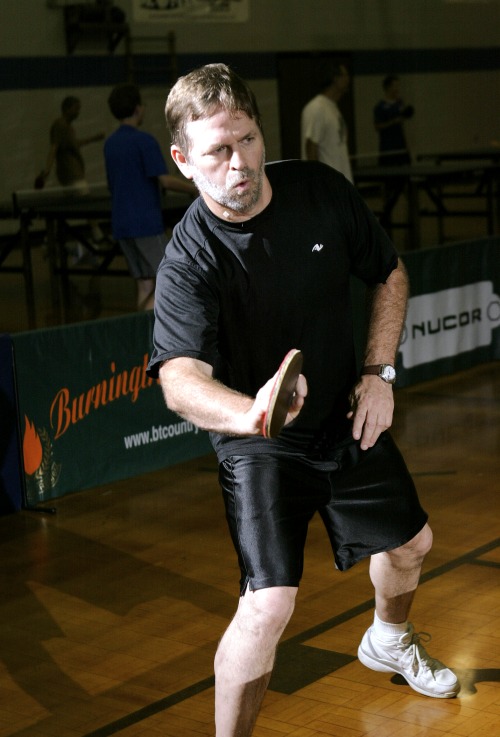 The Decatur Daily shot images of Danny Crowson of Delta.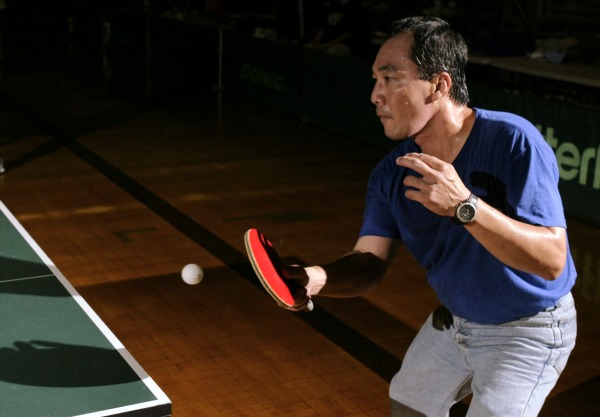 A regular at the Decatur Open, Danya Budiman, made the trip from Salem, N.H. Daily photographer Jonathan Palmer made sure to get some images of him, too.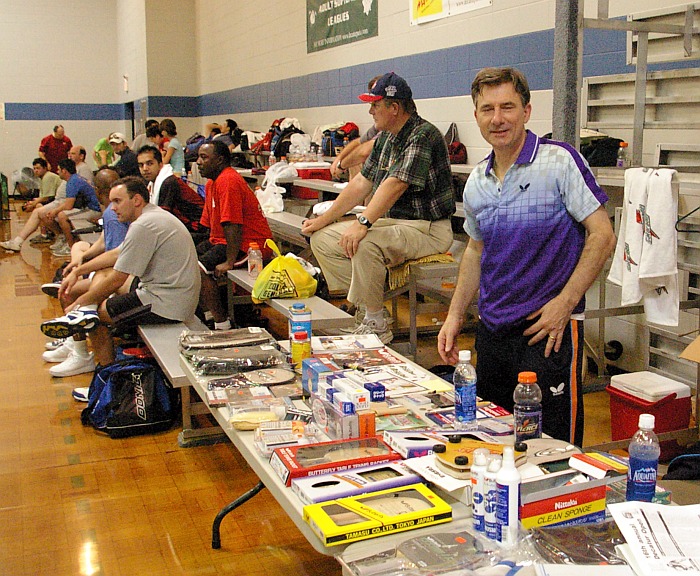 Tournament players and visitors had the opportunity to purchase equipment from tournament vendor Bumpernets. Here Bumpernets owner and general manager Homer Brown takes time from his playing to show us some of the table tennis equipment Bumpernets offers.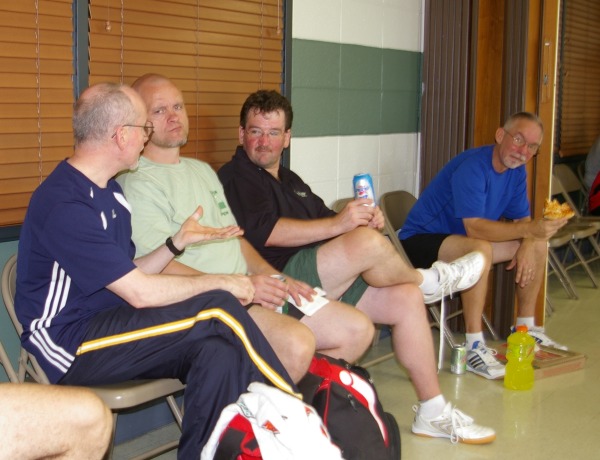 As the afternoon draws were calculated, the players and guests enjoyed pizza and Pepsi products for lunch. Here tournament players, from left, Larry White, Slawomir Waclawik, Roger Dickson and Bill Sutton enjoy the free lunch.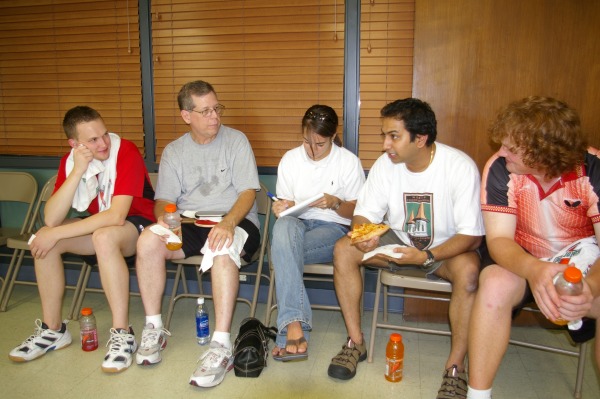 There's nothing like a little bit of story-telling to go along with the pizza and Pepsi at lunch. With Decatur Daily Sports Writer Ashley Hargrove, (center), taking down every little detail, from left, Chris Sharp of Chicago, Paul Holliger of Louisville, Ky., Arjun Shankaren of Louisville and Andrew Davis of Boaz, Ky., weren't afraid to use their imagination in telling their war stories, on and off the table. Hargrove's story appeared in the following day's Decatur Daily. Want to read it? Click here.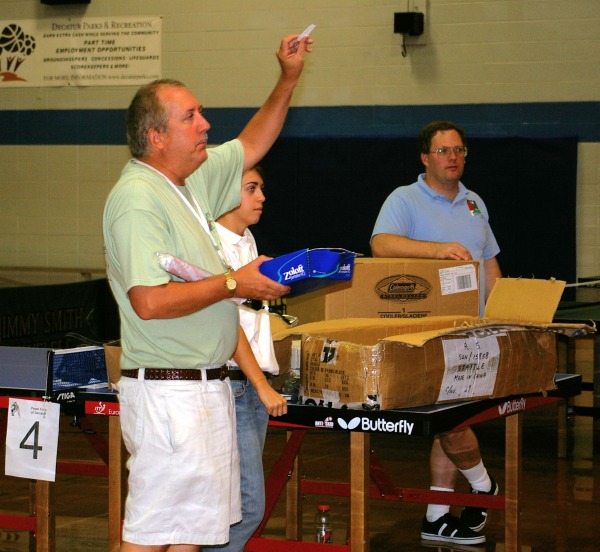 Another highilight of the tournament are the door prizes. And there were plenty of them. Here, Michael Wetzel, Ashley Hargrove and Ed Watts handle the chores drawing the names of the lucky winners. Robbins Table Tennis, Bumpernets, Nucor Steel, Pepsi, Newgy Robots and The Decatur Daily offered some nice door prizes ranging from table tennis equipment, ice chests, umbrellas, books and clocks.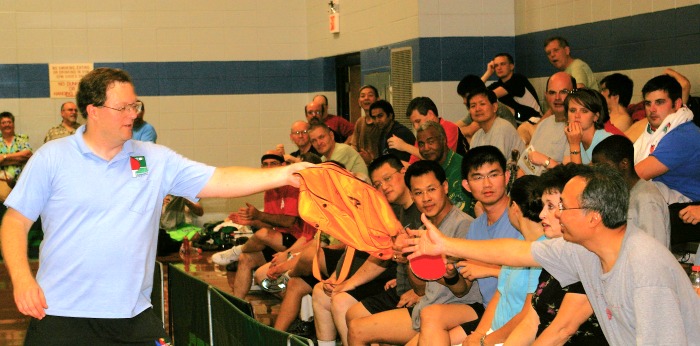 About 30 door prizes were distributed. Here, Ed Watts presents a TSP shoulder bag to lucky winner Wing Chan.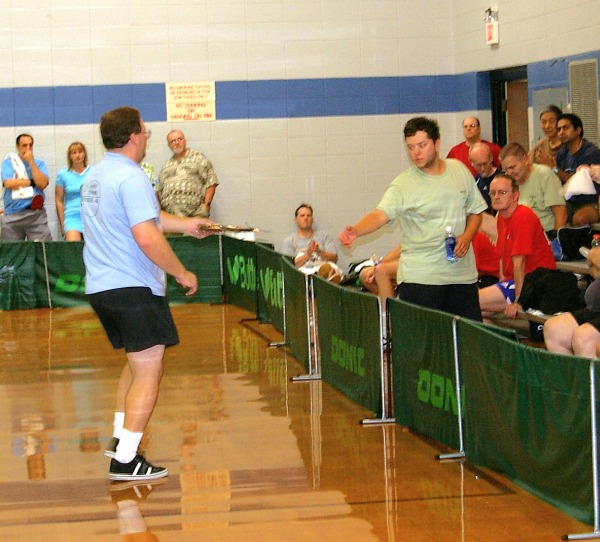 Aaron Posner of Mississippi, right, won a door prize.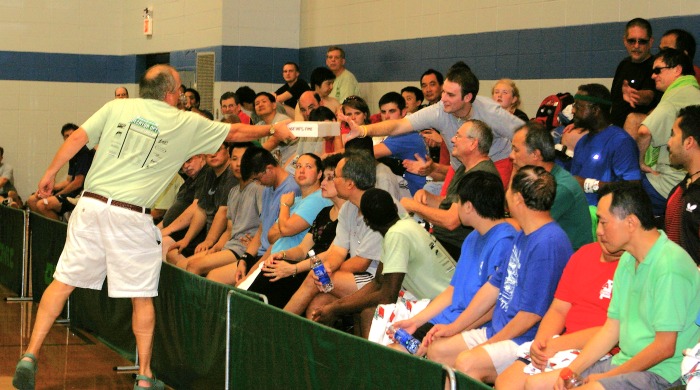 Here, Michael Wetzel presents a Newgy table tennis clock to Dale Gardner, a first-time Decatur Open player.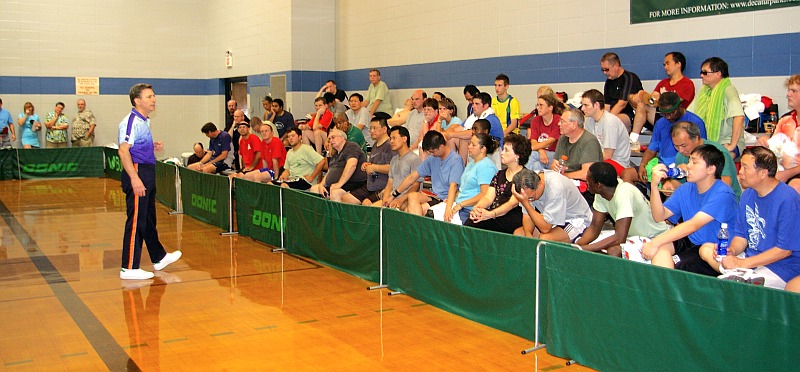 Bumpernets owner and tournament sponsor Homer Brown told the players and spectators his store at the Riverchase Galleria in Birmingham was moving to a larger site in the mall.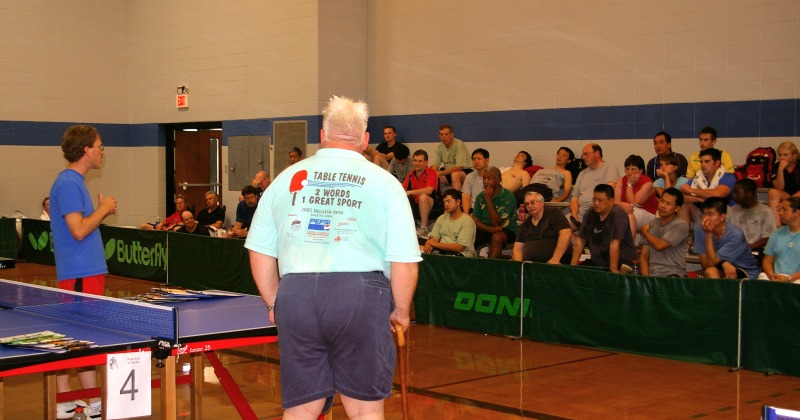 Co-directors Chip Patton, left, and Walt Chenault discuss the afternoon format to the players.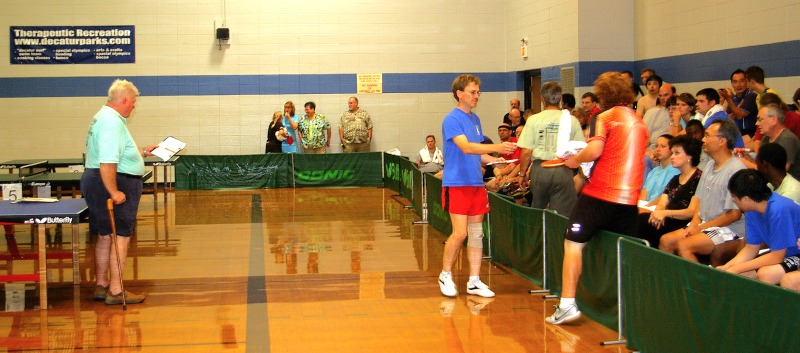 The door prizes were distributed, the pizza was consumed. Now it's time to play some more table tennis. Here Chip Patton and Walt Chenault distribute the afternoon table assignments.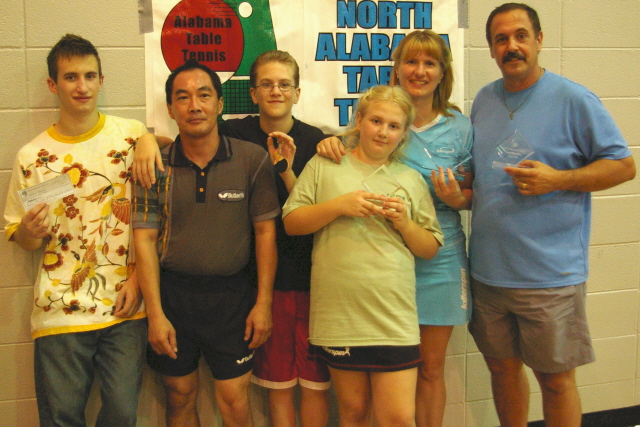 The Todd Friend family of Plano, Texas, made the trek from the West. They have a special friendship with Danya Budiman of Salem, N.H. From left are Chance Friend, Danya Budiman, Spencer Friend, Mackenzie Friend, Cheryl Friend and Todd Friend.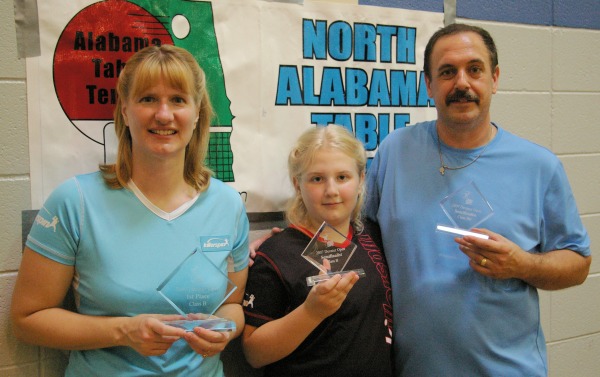 Cheryl, Mackenzie and Todd Friend all raked in trophies in their first Decatur Open appearance. Congratulations!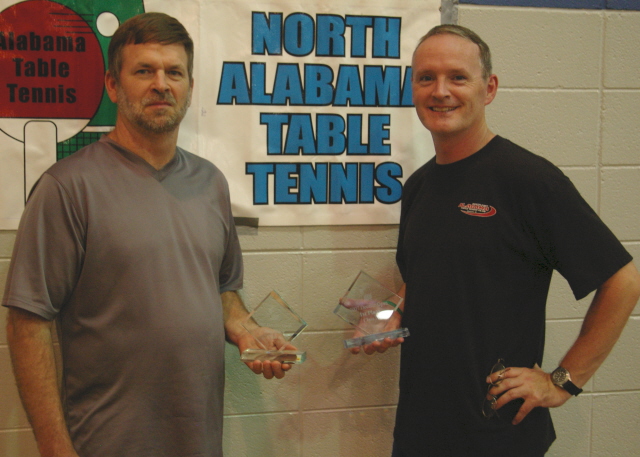 Friends and coworkers Danny Crowson and Mike Harris show off their trophies as Class A finalists. Harris, right, won the event.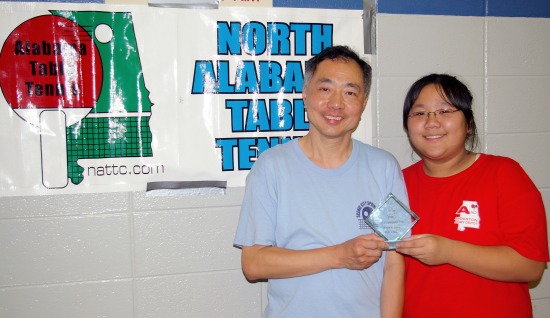 Kin Chan had plenty to smile about after finishing second place in Class AA. Here, his daughter Renee joins in the festivities.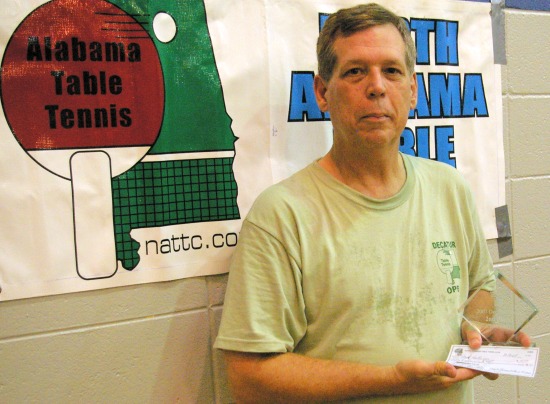 Paul Holliger of Louisville, Ky., earned $50 for his second-place finish in Class BBB.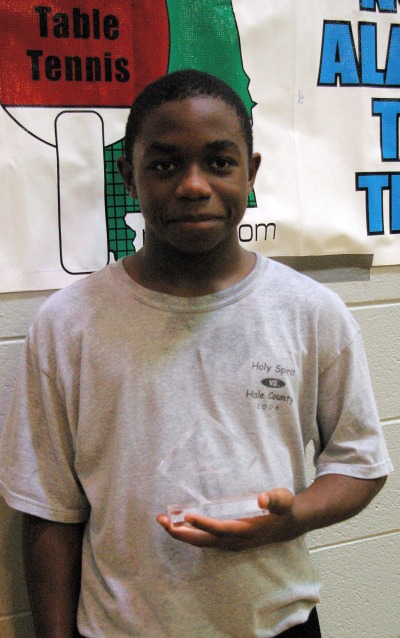 Jonathan Fonbah won a trophy in his first tournament!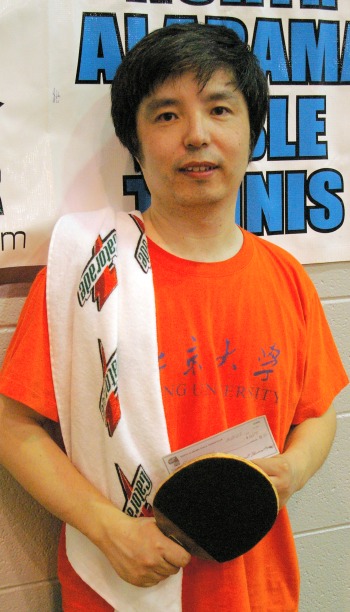 Peng Liang of Brentwood, Tenn., won $50 as a quarterfinalist.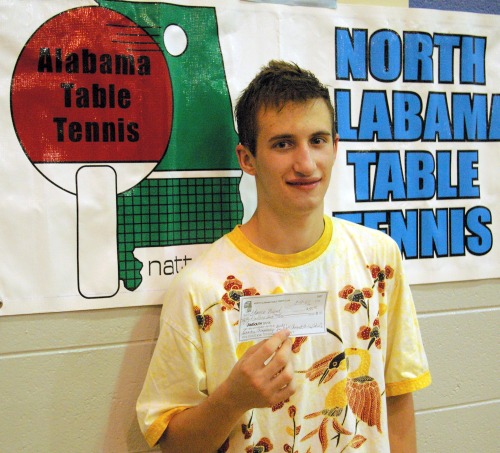 Chance Friend picked up a $50 check as a quarterfinalist.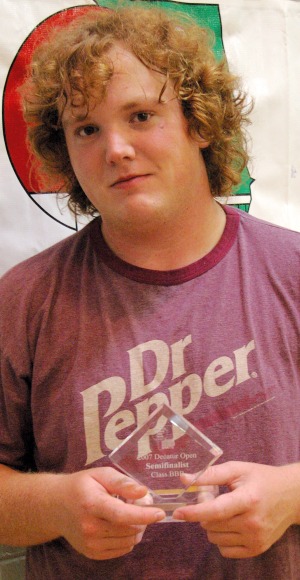 Andrew Davis of Boaz, Ky., barely missed winning a paycheck this year. But he did haul in another acrylic piece for his trophy case.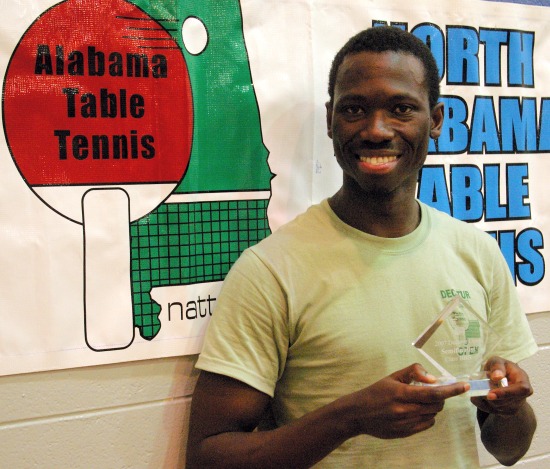 North Alabama Table Tennis Club member Jonas Boateng, like Andrew Davis, finished a win away from the Class BBB money.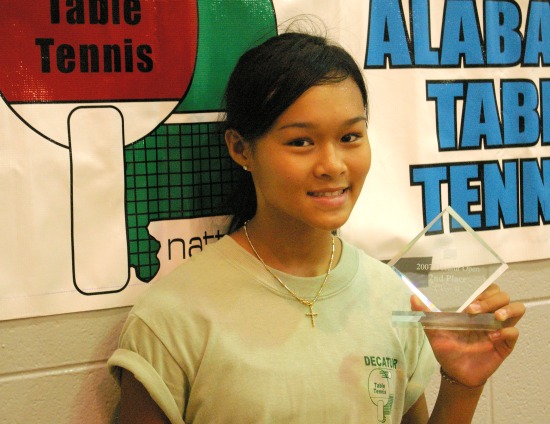 Kim Nguyen of Birmingham got a nice jade colored trophy for her second place in Class B.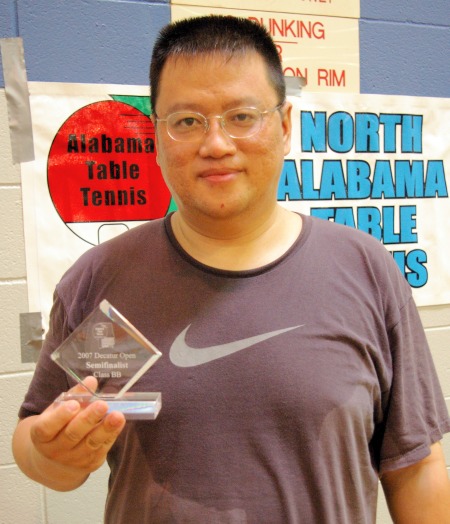 Yang Xiao of Northport, Ala., brought his A game to win a Class BB award.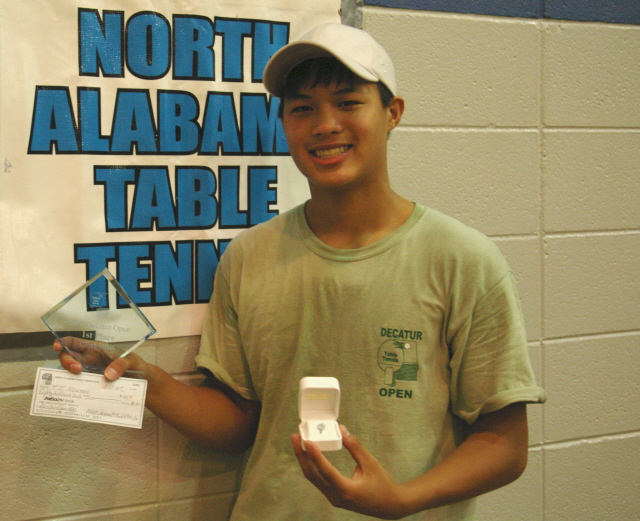 Why is T.J. Nguyen's hands full? Because Arjun Shankaren wasn't the only player to go undefeated in the 16th annual Decatur Open. T.J., a Birmingham teenager, won Class BBB. His cache? $80 check, blue acrylic trophy and a sterling silver table tennis tie tack. Congrats, T.J.!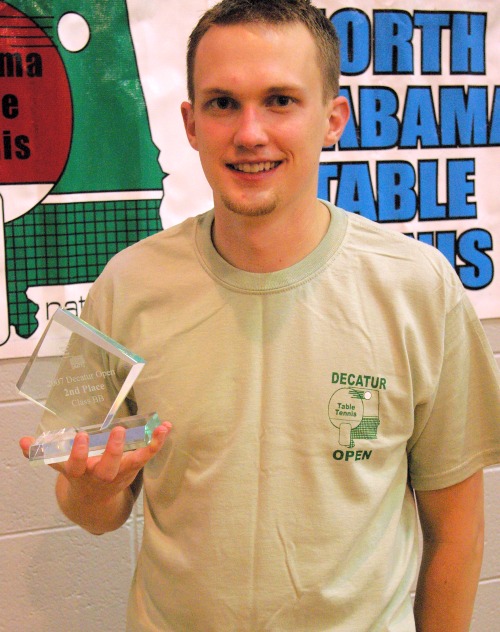 Chris Sharp of Chicago didn't leave Decatur empty-handed. He won second place in Class BB.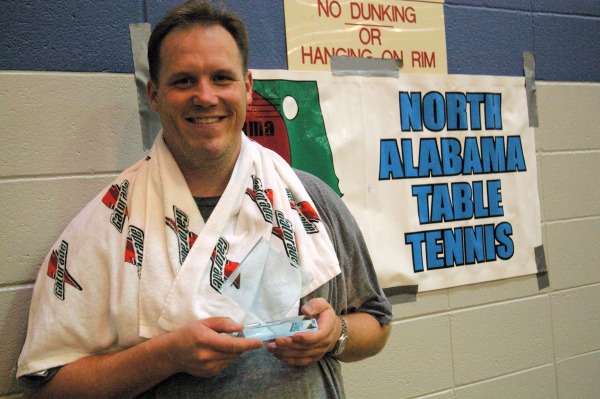 Alex Lehocky of Smyrna, Tenn., won Class BB.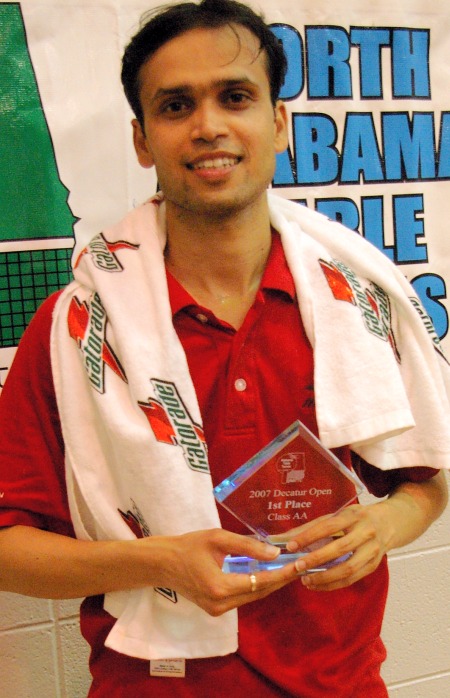 Vijay Deshmukh dominated the Class AA competitors and promised he would be back. He proudly displays his Gatorade towel. Congratuations, Vijay!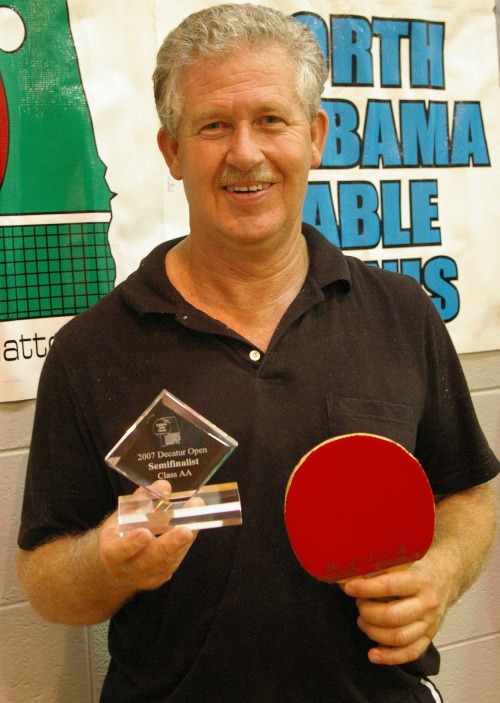 L.A. Johnston made the trip from Pensacola, Fla., to take home an acrylic trophy. Good job, L.A.!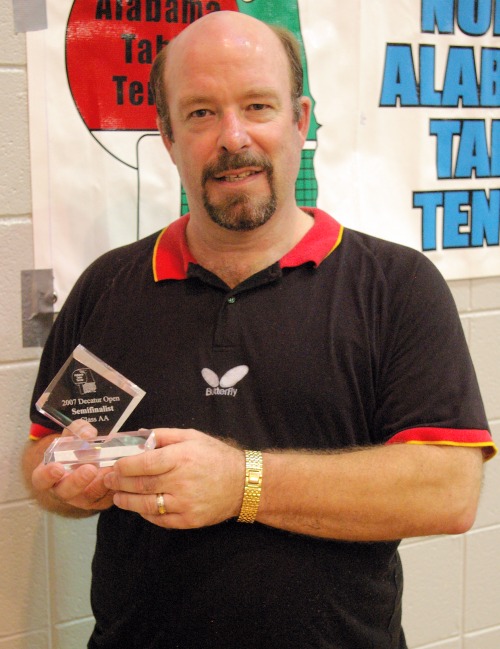 Scott Landon of Marianna, Fla., had to cancel in 2006, so he took advantage of being able to play in the 2007 event. He made it to the semifinals of Class AA, not an easy task to do. Well done, Scott!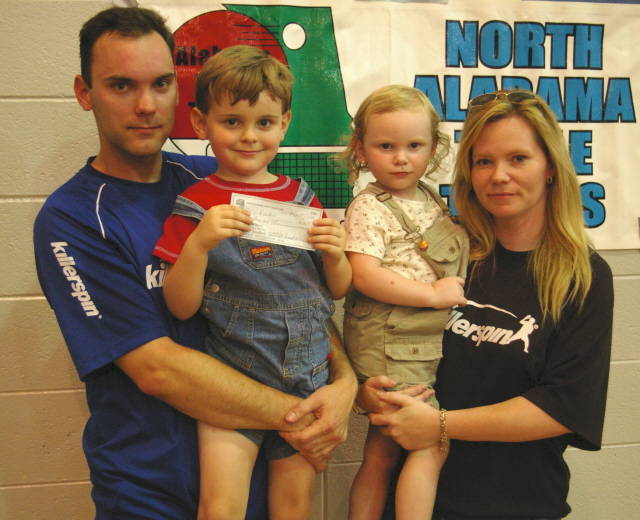 Tournament semifinalist Jason Denton of Ardmore, Ala., pocketed $80 in winnings. He shows us three other good reasons for him to smile.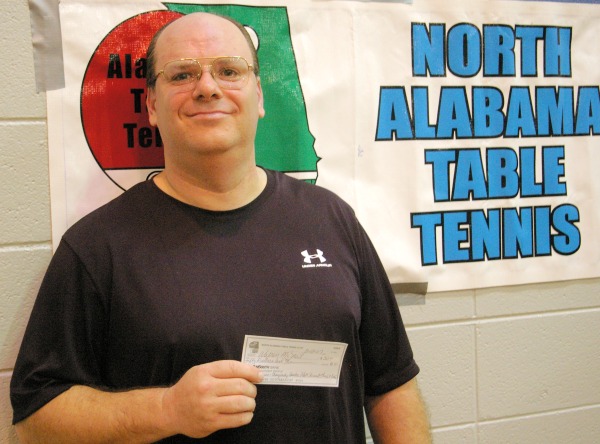 Warren McNeil of Dothan, Ala., picked up a check and a pocketful of rating points as a quarterfinalist in the championship division!


Playing his second USATT-sanctioned tournament, Ujwal Shrestha of Nepal, who is a student at UAB, made it all the way through the tough morning and afternoon rounds to win a $50 as a quarterfinalist.


NOW FOR SOME ACTION ....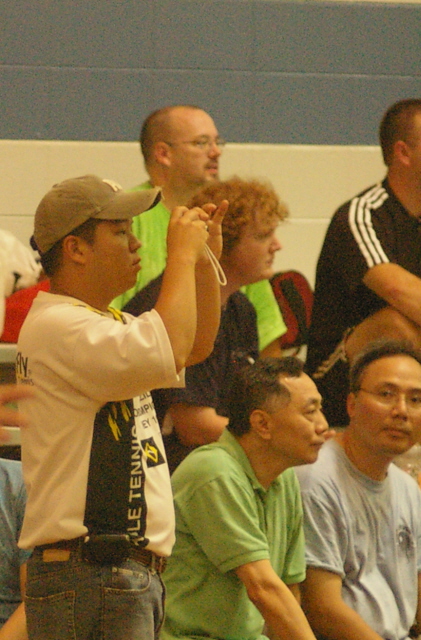 There were plenty of entertaining shots and cameras to capture them throughout the day.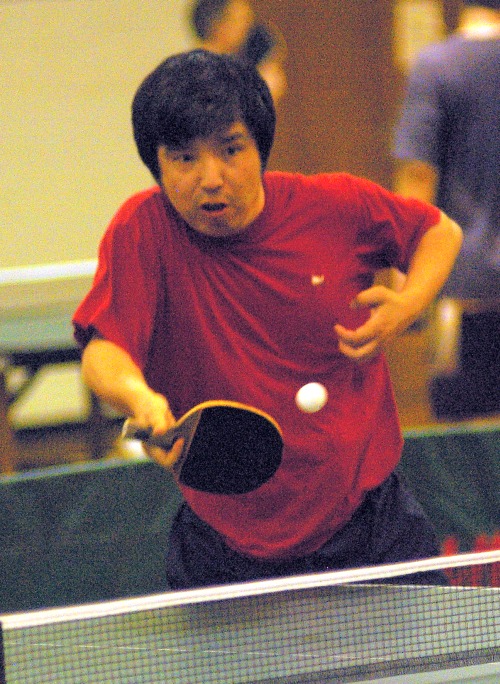 Peng Liang of Brentwood, Tenn., the tournament's sixth-seeded player, breezed through the championship division and into the playoffs. He won $50 as a quarterfinalist.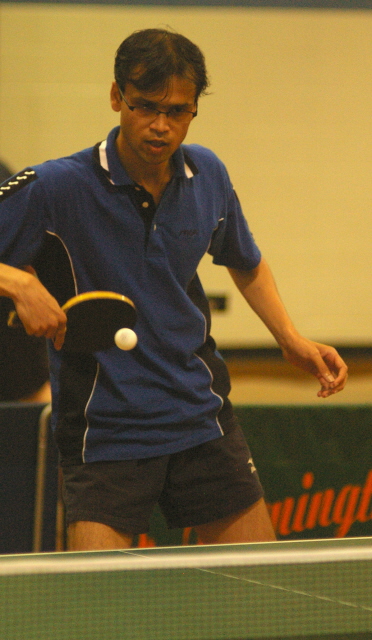 Vijay Deshmukh of the Bluff City (Memphis) Table Tennis Club won the Class AA division.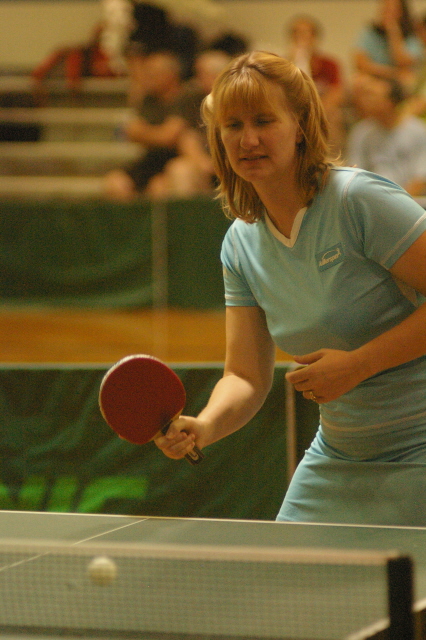 Cheryl Friend of Plano, Texas, concentrated on the ball enough to win Class B. Way to go!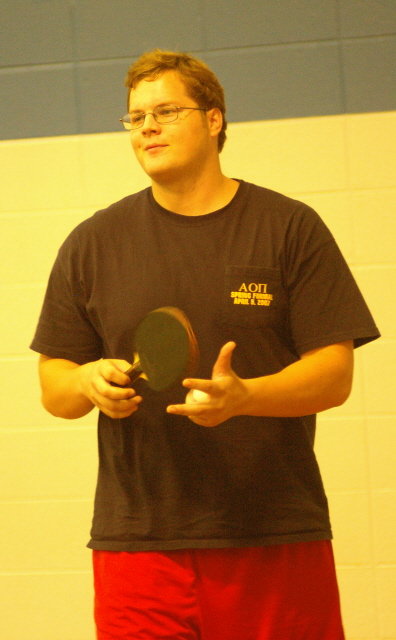 Chris Phillips of Mobile, Ala., showed off his talents in his first sanctioned tournament.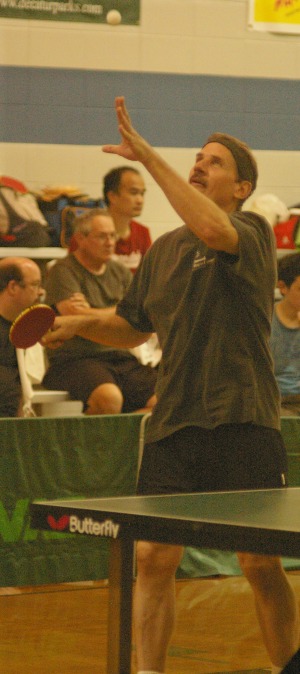 John Todd Sr. of Metairie, La., uses his high-toss serve during his first Decatur Open.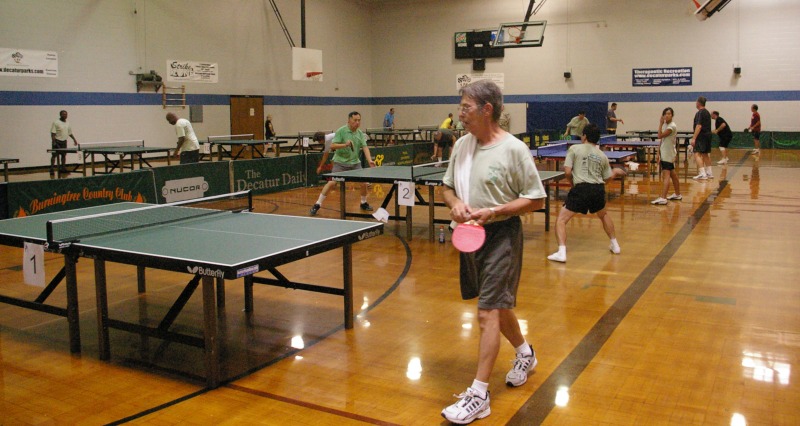 Fred B. Mitchell II of Athens, Ala., plays on table 1 during the afternoon action.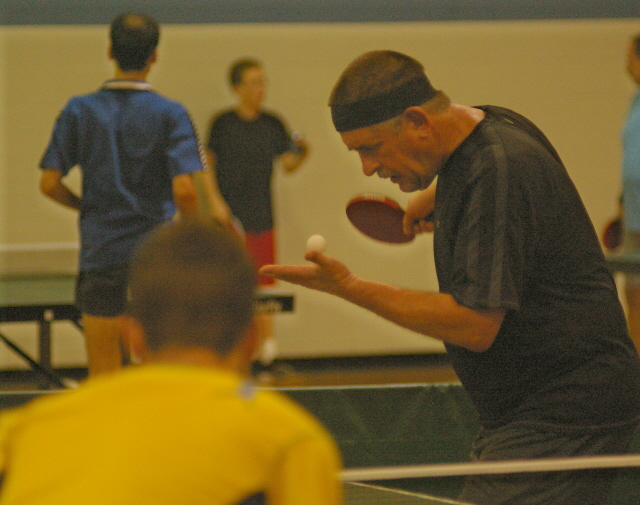 Denis Fritchie's stellar play in the morning qualified him for the tough field in the championship division in the afternoon.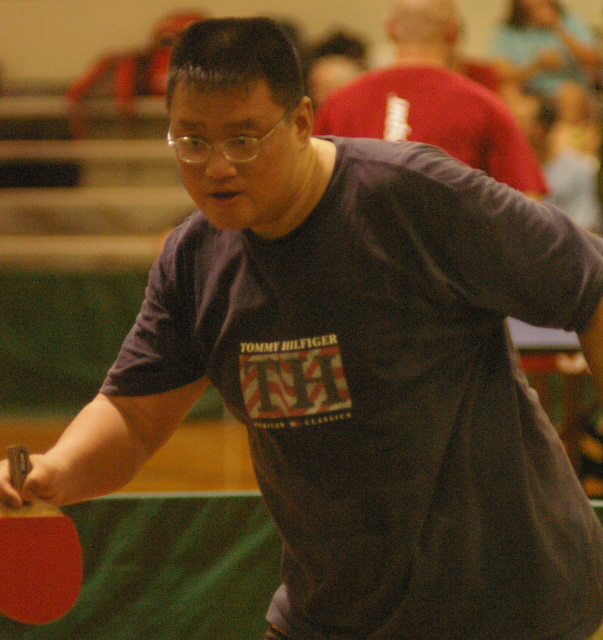 Yang Xiao of Northport, Ala., is ready for his next opponent.



Thanh Nguyen of Birmingham, Al., pauses after a shot in the afternoon competition. In the background, the barriers proudly display the tournament's sponsors' logos.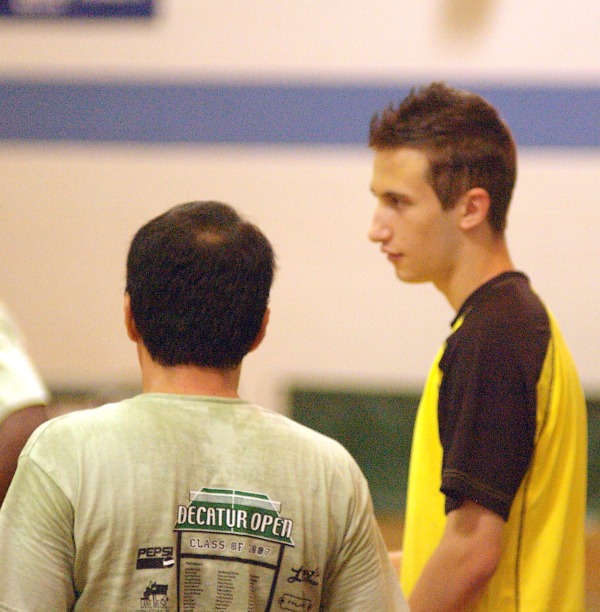 Chance Friend discusses strategy with his adviser Danya Budiman during a timeout in the afternoon session.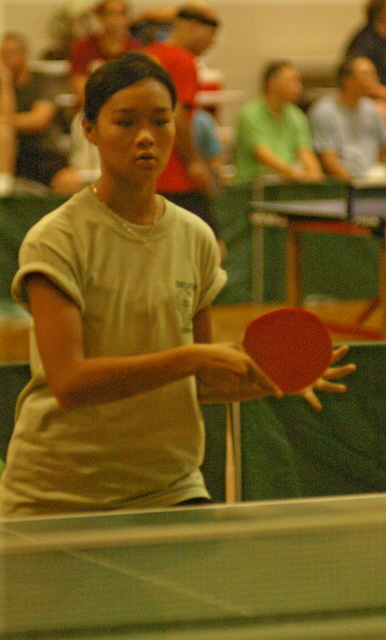 The ever-improving Kim Nguyen of Birmingham, Al., played well enough for a second-place finish in Class B.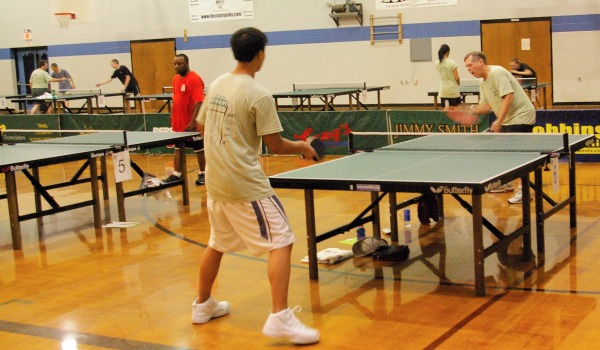 T.J. Nguyen, foreground, and Paul Holliger duke it out in the Class BBB finals. T.J. got $80 and Paul took $50 for second. Congrats, guys!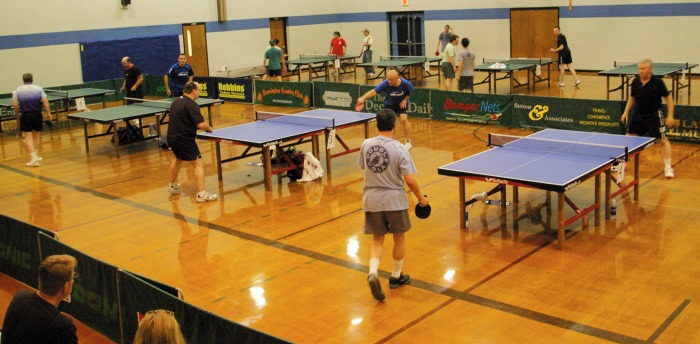 Afternoon playoff matches reaped checks and trophies for the competitors.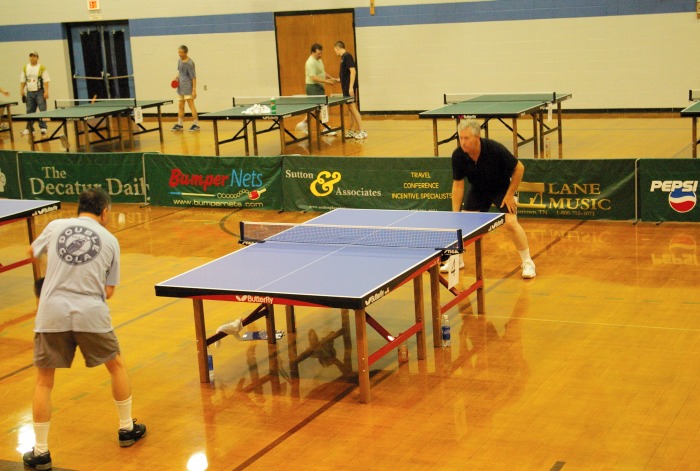 Kin Chan, foreground, and L.A. Johnston battle it out in the Class AA semifinals. This match went to Kin.


Jason Denton, left, and Homer Brown compete in the afternoon championship division. Denton went on to finish in the semifinals and won $80.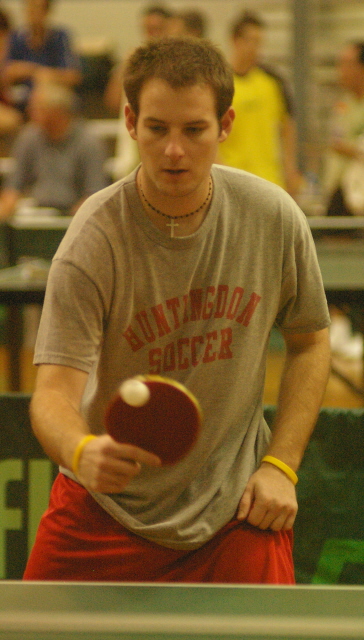 Dale Gardner of Mobile got in plenty of matches in his first Decatur Open appearance.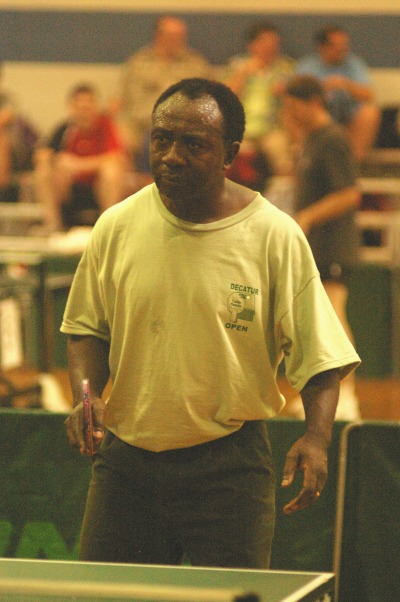 From Northport, Ala., Joseph Fonbah went undefeated in the morning action and barely missed the Class BBB playoffs.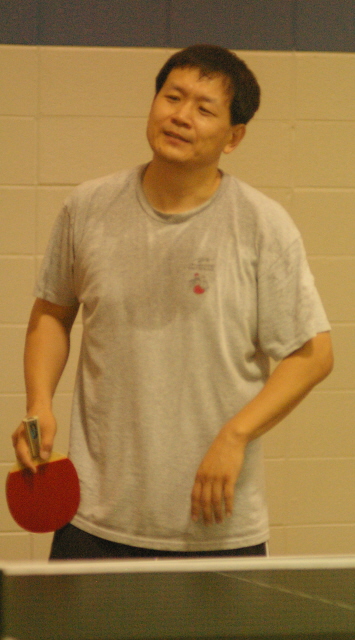 Li Hok Ming played in his first sanctioned tournament.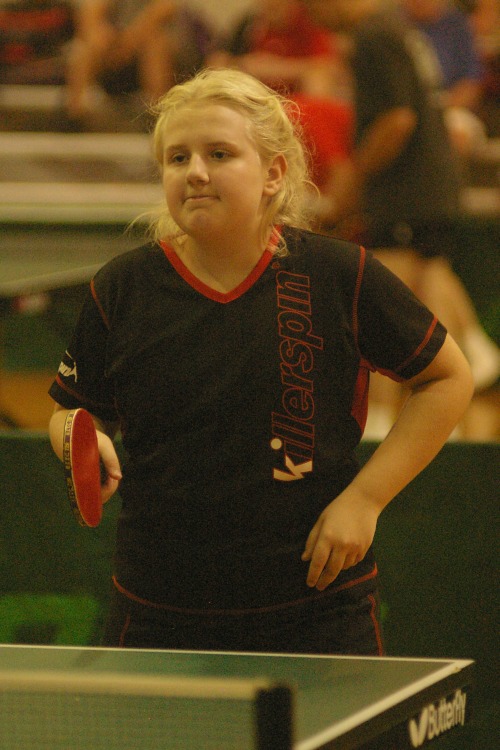 Mackenzie Friend of Plano, Texas, took home a semifinal finish in Class B. Congrats, Mackenzie!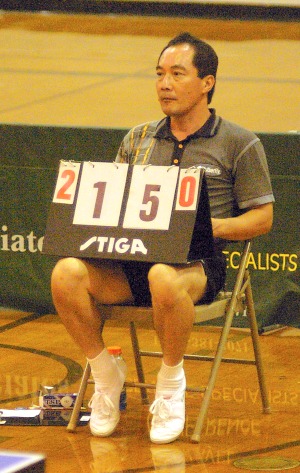 Danya Budiman usually takes over the scorekeeping chores when the championship playoffs roll around.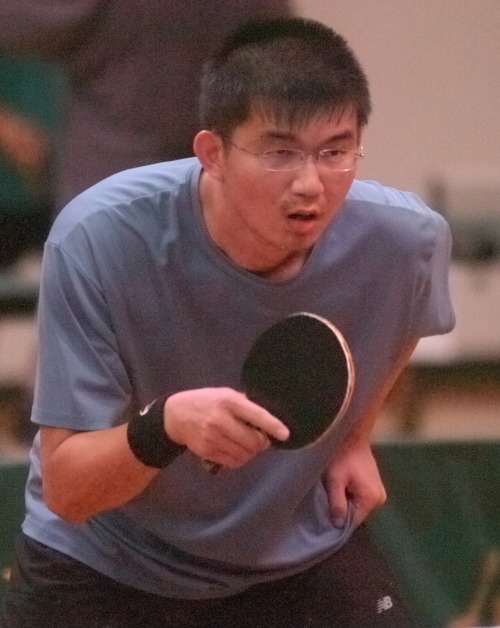 The tournament's top seed Soon Chian Lim of Memphis wasn't feeling well and withdrew from the tournament three matches into the afternoon division. Soon won the 2005 tournament and was a finalist in 2000 and 2006.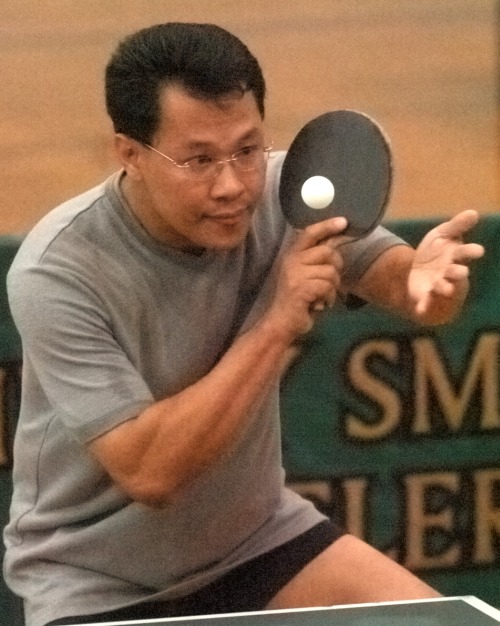 Liedy Handoko of Memphis played strong in the afternoon and made it to the semis, where he won $80.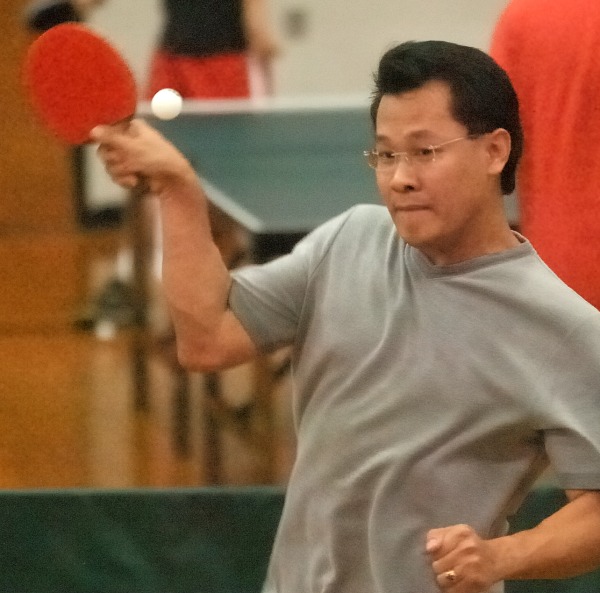 Liedy Handoko entered the tournament via eBay.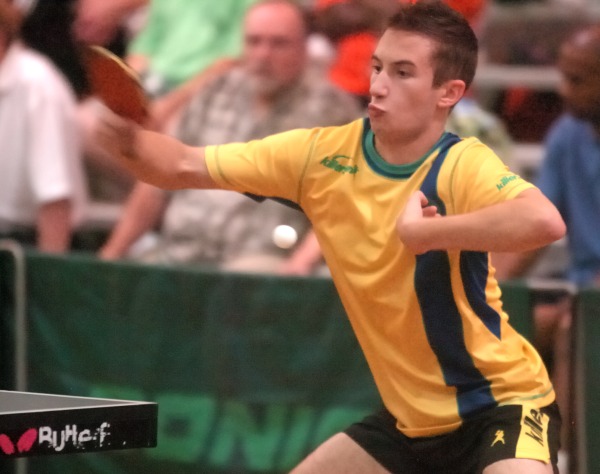 Chance Friend looked breezed to a quarterfinals finish.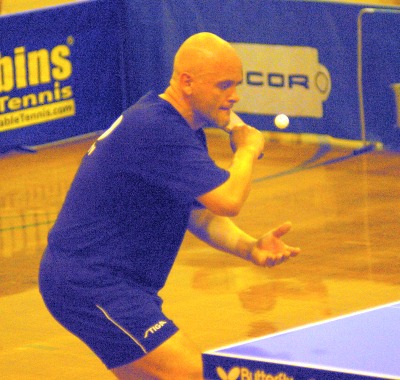 A native of Poland, Slawomir Waclawik of Nashville edged out a few competitors on his way to finishing second overall. He fell in the finals 4-3 to Arjun Shankaren of Louisville, Ky. Slawomir won $150.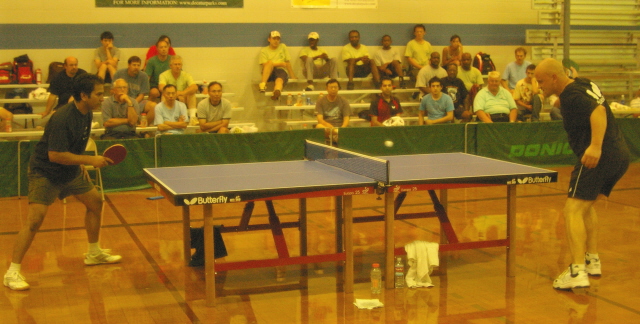 About 50 players and spectators watched Arjun Shankaren, left, and Slawomir Waclawik compete for the title as the 16th annual Decatur Open champion.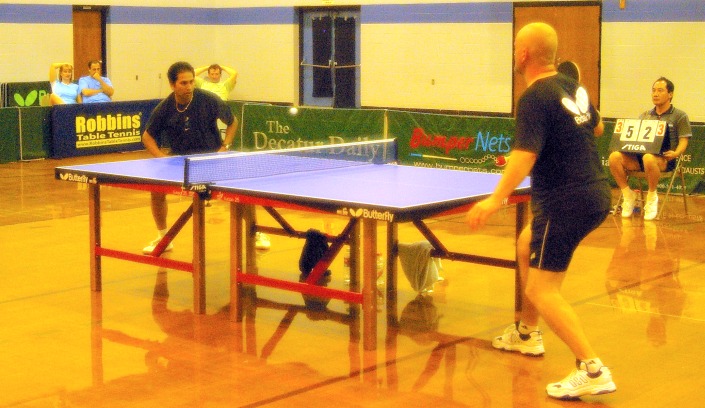 Slawomir Waclawik and Arjun Shankaren battle it out in the finals.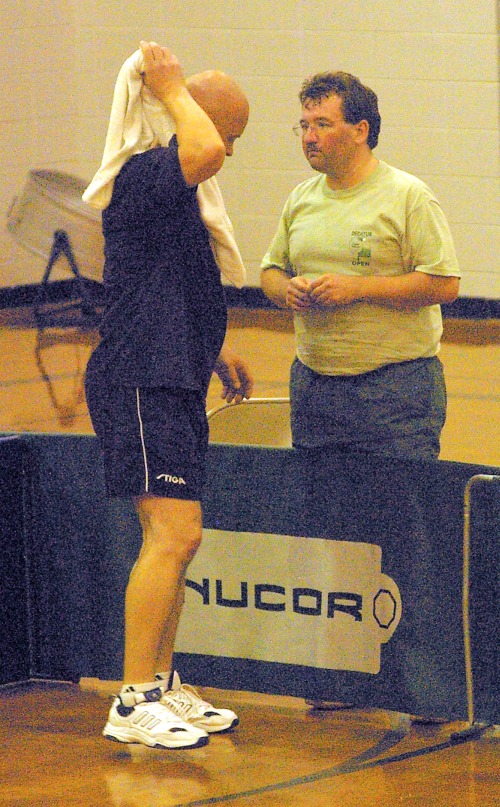 In the tough finals, Slawomir Waclawik got trusted advice from Roger Dickson of Newgy. Newgy provided some nice clocks and books to the players.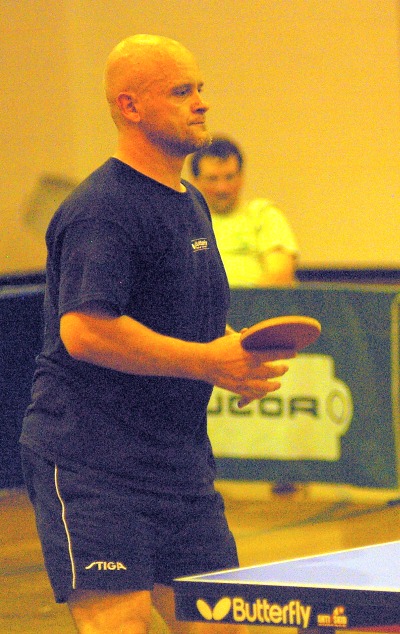 Slawomir Waclawik pauses to reflect on a shot in the finals.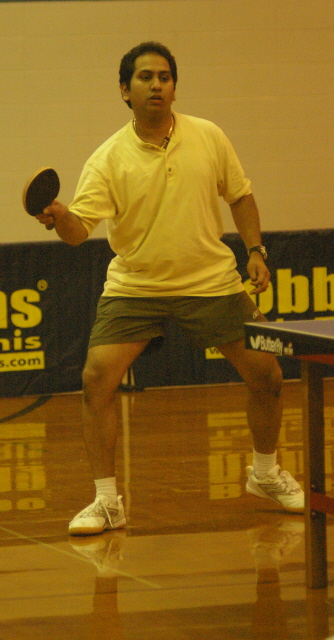 2007 Decatur Open champion Arjun Shankaren returns a shot in the finals against Slawomir Waclawik,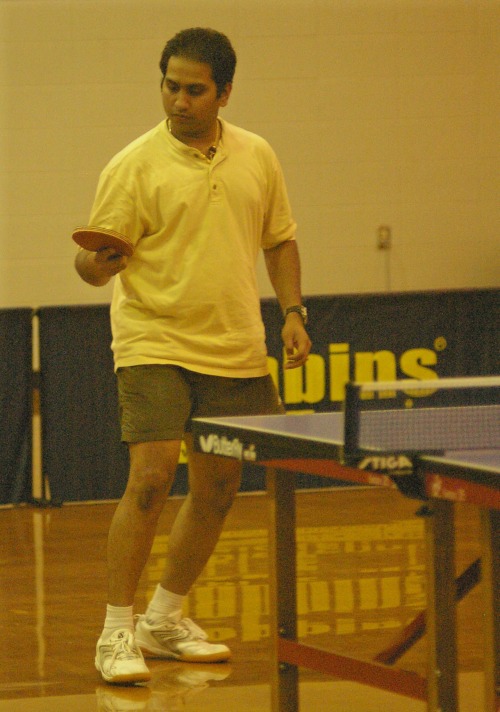 Arjun Shankaren appears mystified by his racket. He wasn't fooled often during the day.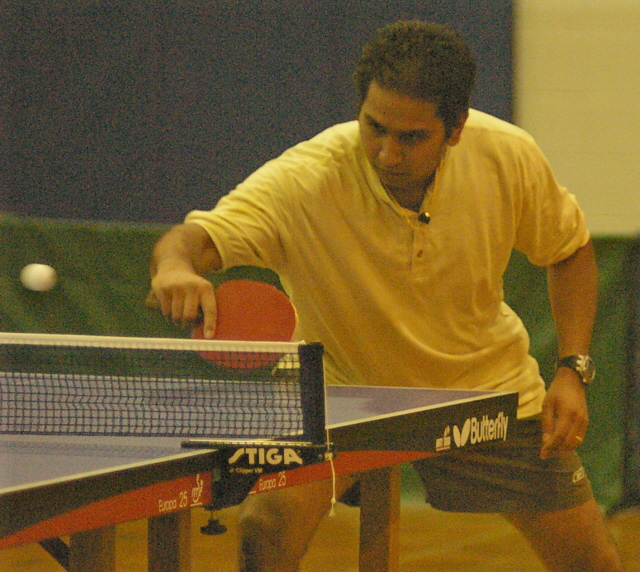 Arjun Shankaren constantly returned Slawomir's forehands.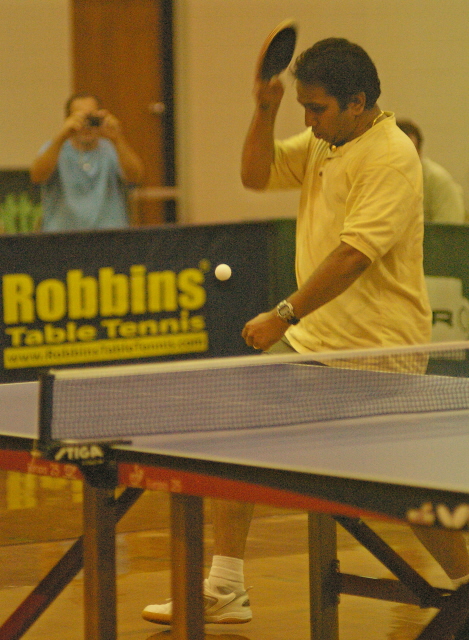 Arjun Shankaren cracks a forehand in the finals.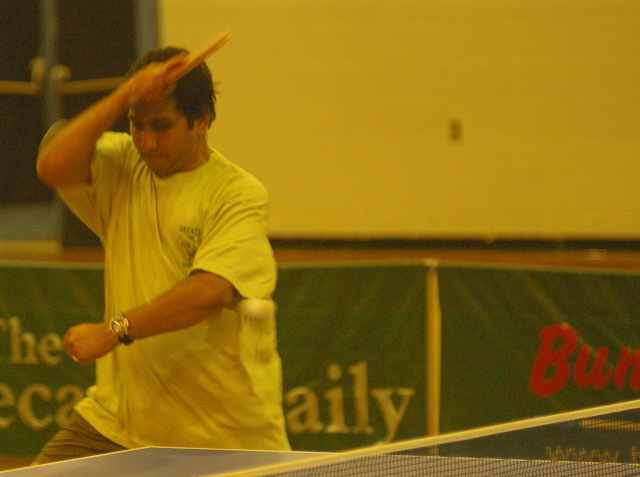 Arjun Shankaren hit forehands and played a steady defense, on and off the table.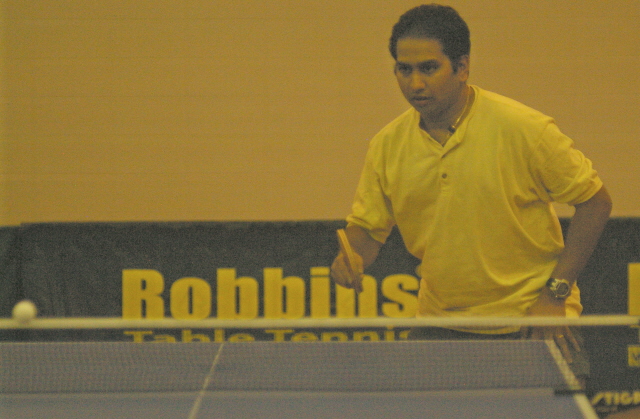 Arjun Shankaren focuses on the ball as it crosses the net.

Arjun Shankaren got plenty of pearls of wisdom from his adviser Paul Holliger.

Arjun Shankaren returns another.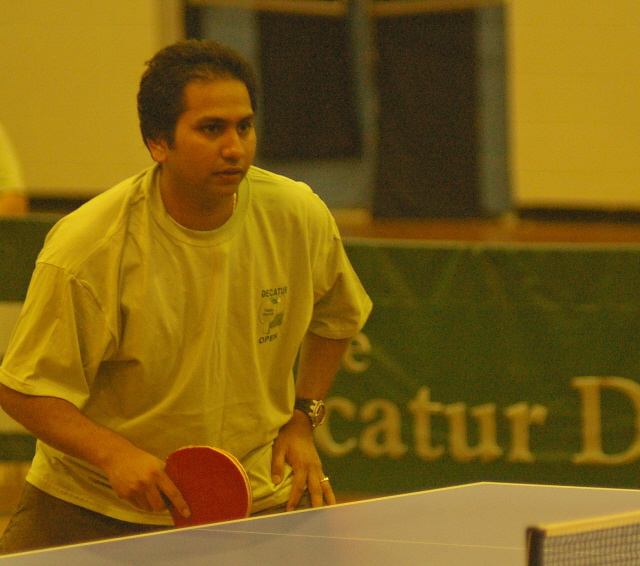 Donning his Decatur Open T-shirt, Arjun Shankaren is ready for more.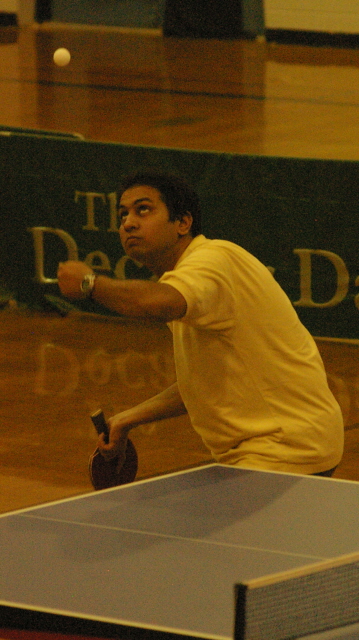 Arjun Shankaren tries a high toss.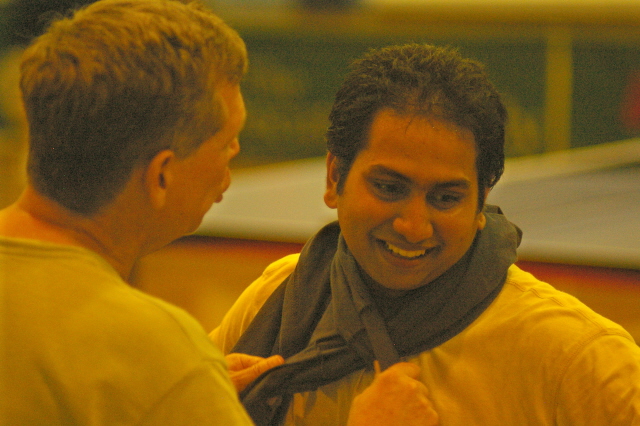 As a first-time champion of the Decatur Open, Arjun Shankaren had 300 reasons to smile.