17th annual Decatur Open Photos
Aug. 16, 2008, Aquadome Recreation Center
(Please visit the Decatur Open sponsors' sites)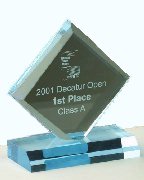 - 2008 Decatur Open -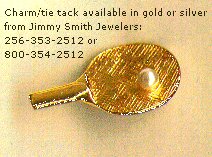 ... Awards and Engraving Plus ...




...

...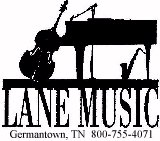 Click here for piano sale ...

(Click on photo for larger view)
(Updated September 5, 2008)
The following images are compliments of Gary Cosby Jr., Jonathan Palmer, Ernesto Kawamoto and Michael Wetzel.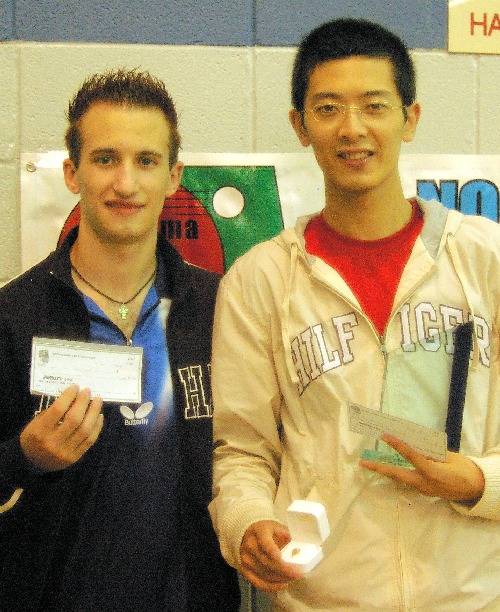 Decatur Open finalist Chance Friend, left, and champion Shigang Yang show off their winnings at the conclusion of the 17th annual Decatur Open.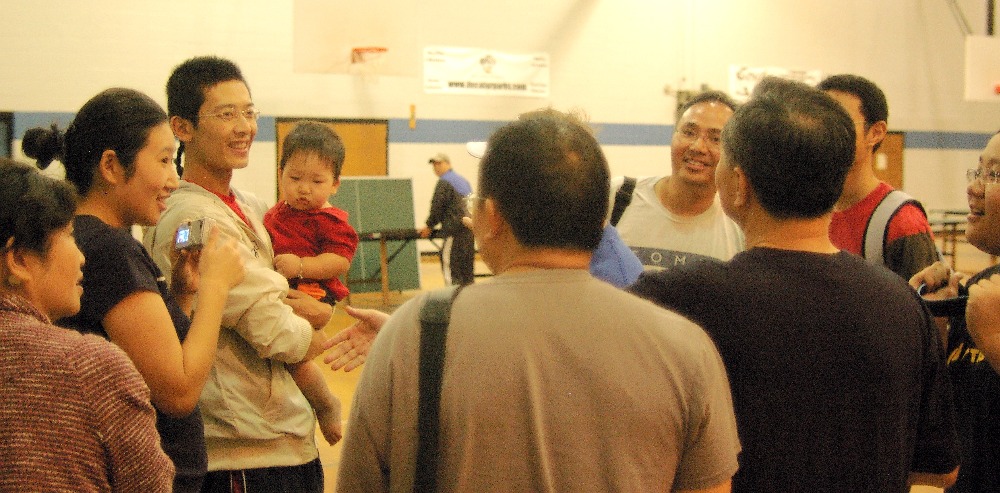 Decatur Open champion Shigang Yang and his family chat with the Chan clan from the North Alabama Table Tennis Club minutes after Shigang ran through the field to win the 17th annual event.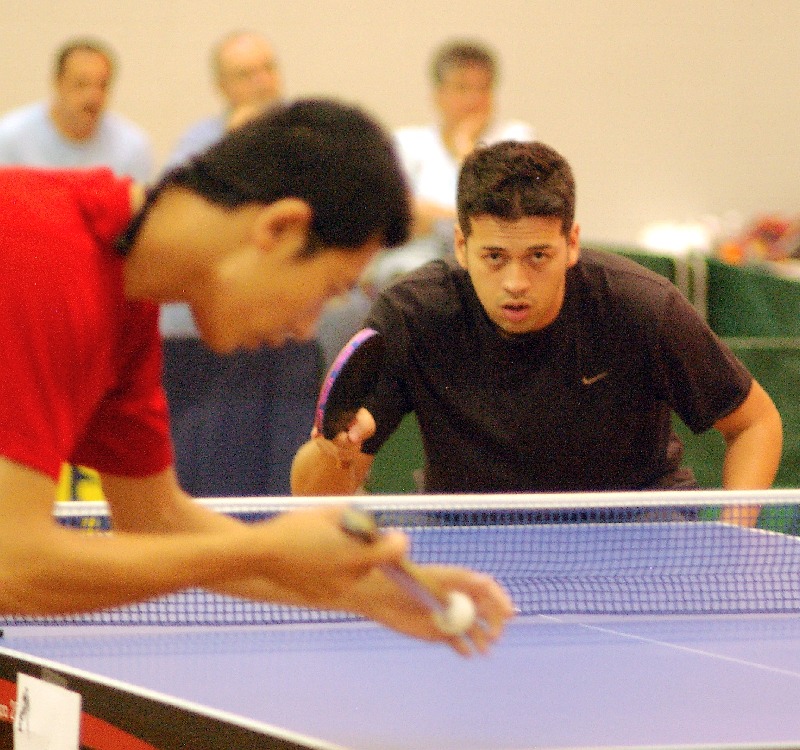 The present met the past in the semifinals when 1996 Decatur Open champion T.J. Beebe of Marietta, Ga., took on 2008 eventual champion Shigang Yang of Brentwood, Tenn.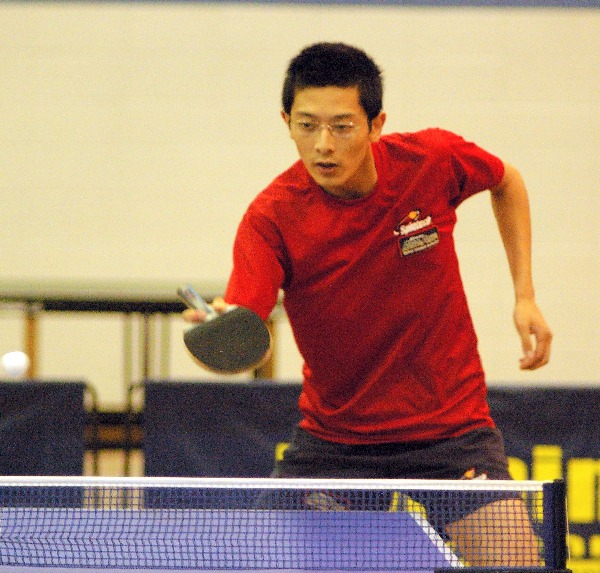 It didn't matter what shot Shigang Yang hit, he usually scored.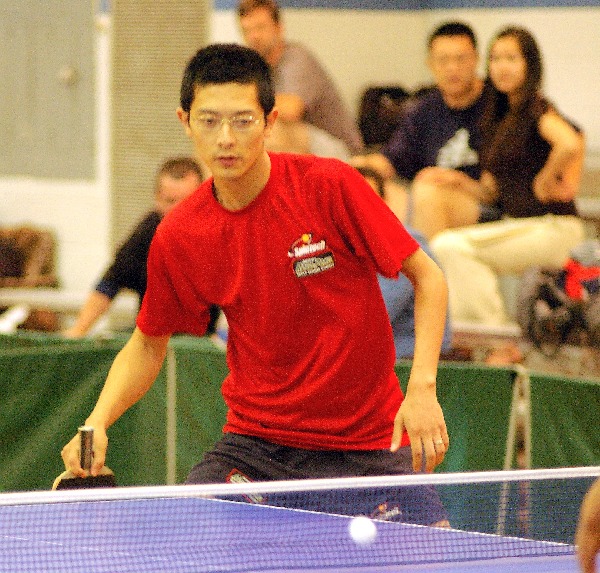 Shigang Yang stayed focused on his goal of winning in his first appearance in Decatur. Yang, ranked ninth in the nation at the time, breezed to the championship.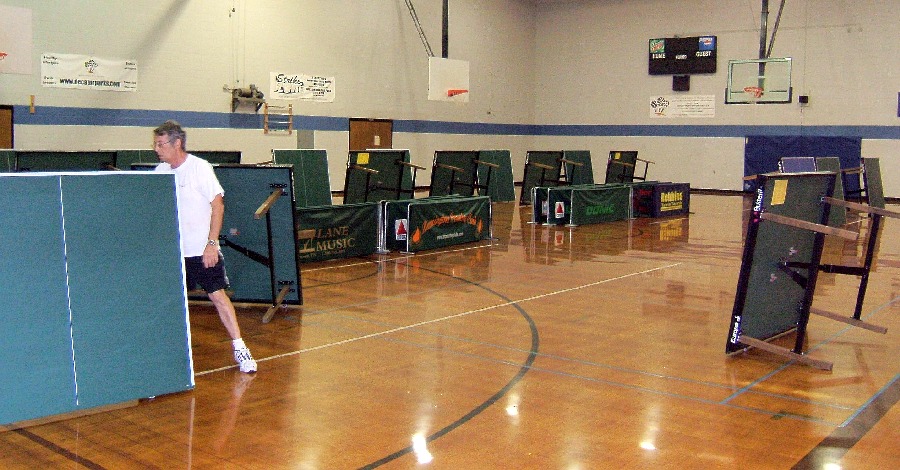 Fred B. Mitchell II is instrumental in transporting the tables and helping with setup of the Decatur Open venue each year. Here, Fred is busy setting up tables on the Friday night before the big event.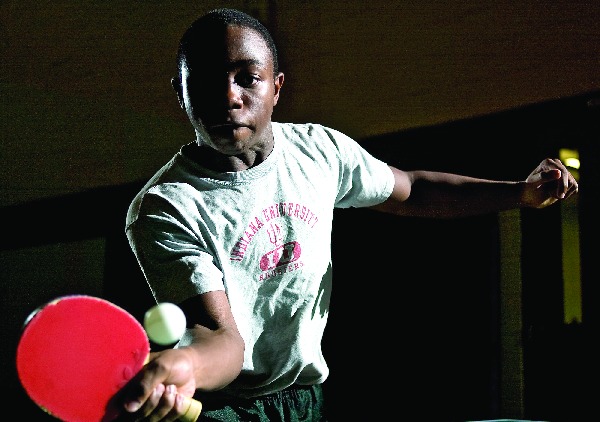 Jonathan Fonbah of Northport, Ala., honed his skills during Friday night practice.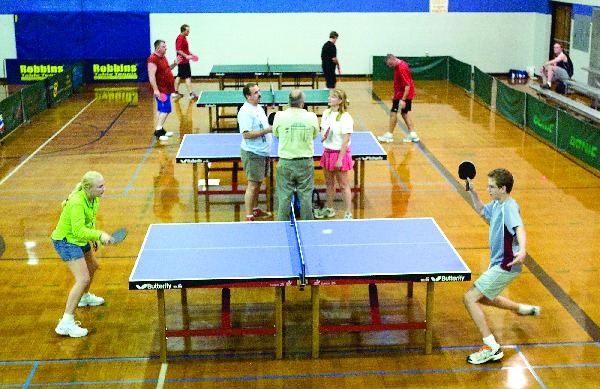 Players keep the tables busy with practice Friday night.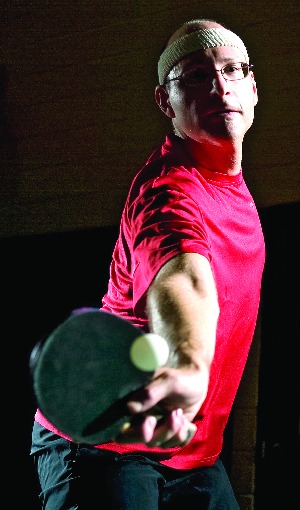 University of Alabama professor and table tennis player Torin Alter was the photo subject of Decatur Daily photographer Jonathan Palmer at Friday night's practice.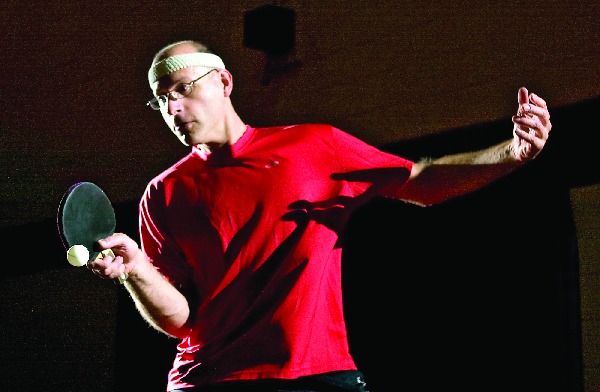 This photo of Torin Alter appeared in the Saturday morning (Aug. 16) edition of the The Decatur Daily along with the preliminary draw and sponsors names.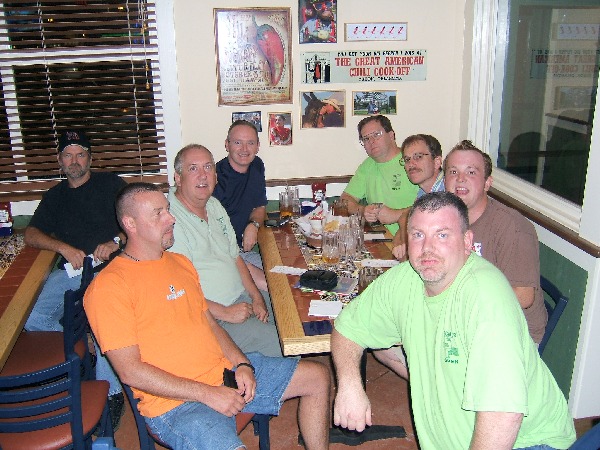 The night before the real action began, a group of Decatur Open players and committee members visited a local eatery to enjoy some food, fun and fellowship. The tales were as tall as some of the drinks. From left are Danny Crowson, Brad Williams, Michael Wetzel, Mike Harris, Ed Watts, Chip Patton, Chris Crider and Andrew Davis.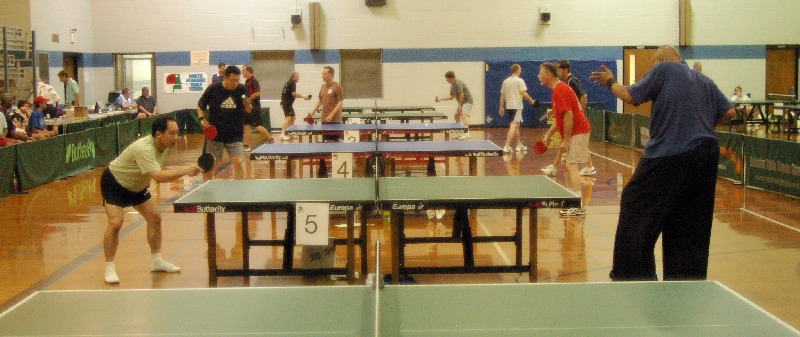 Danya Budiman, left, and Leon Curry battle it out on table 5 in the upper tier preliminaries on Saturday morning.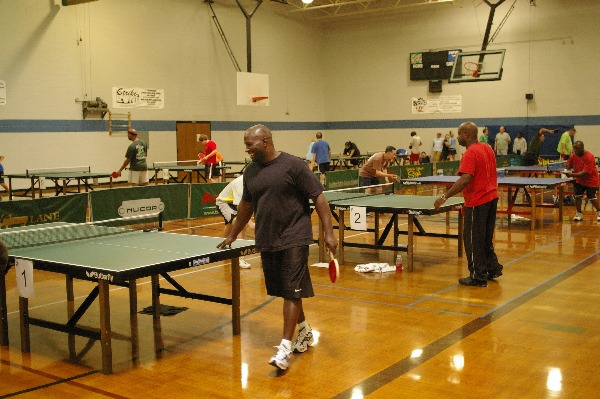 Roddrick Harrell of the Magic City Table Tennis Club found some competition early in his first USATT-sanctioned tournament.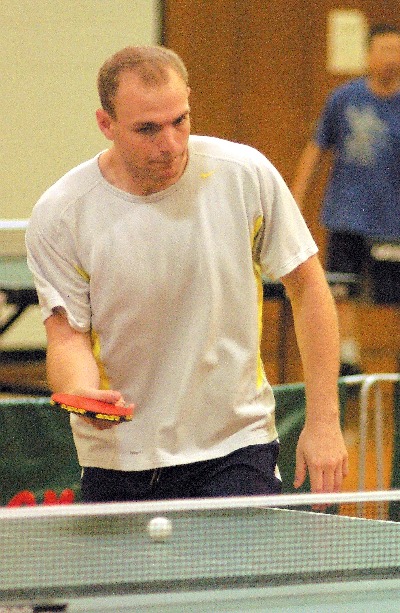 In morning-round action, Steven Jenkins of St. Louis hits a shot. He spent the week in Huntsville preparing for the Decatur Open. His parents live in North Alabama.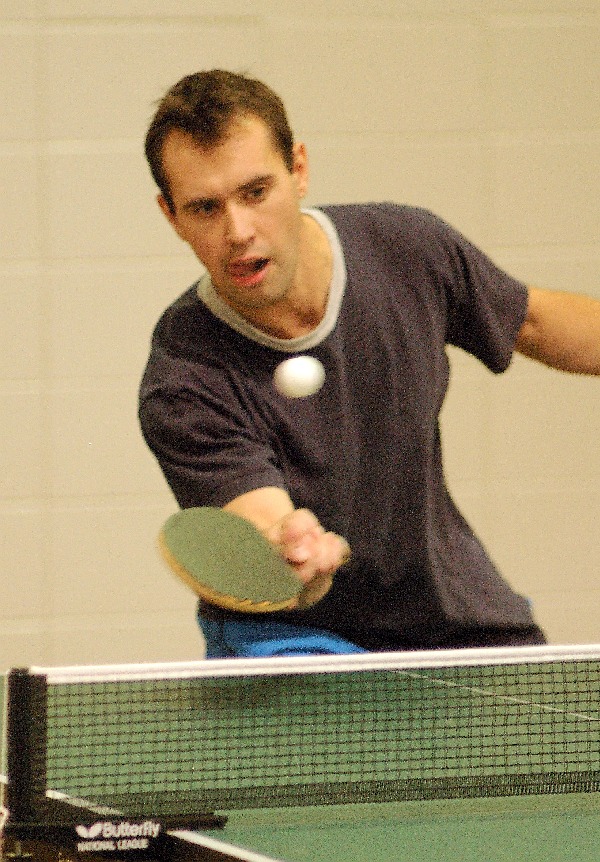 Yevgeniy Puzyrev of Nashville jumped off the waiting list and into the field by winning the first eBay spot for $56.01. He received a nice door prize (TSP rectangular paddle case from Robbins Table Tennis Specialties) as an eBay winner.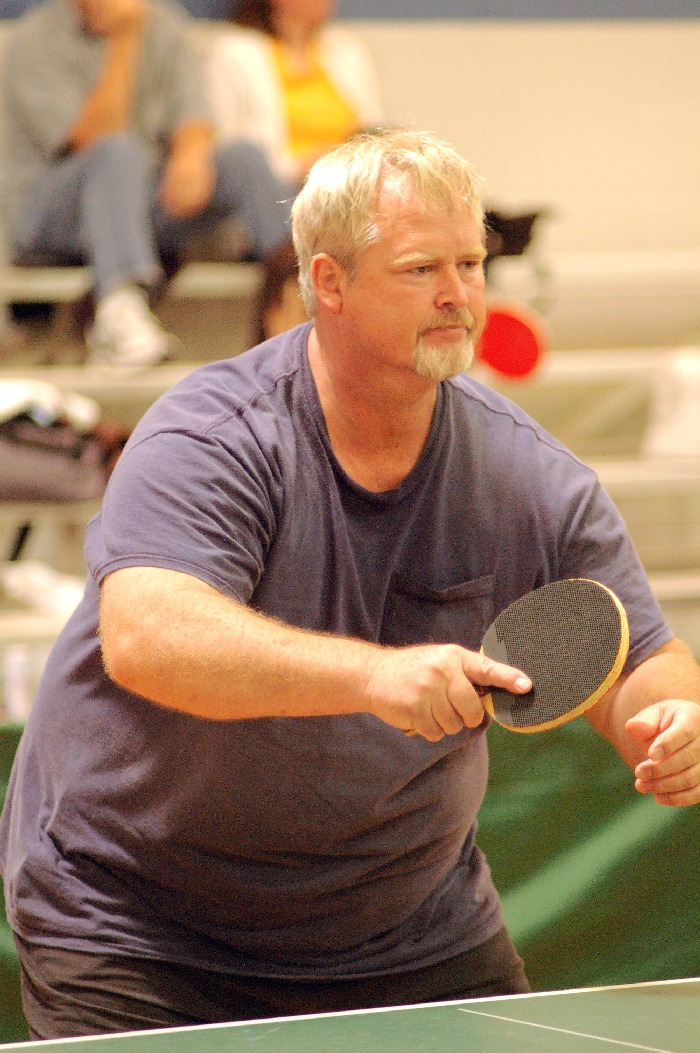 Herb Bennett of Hattiesburg, Miss., is a regular at the Decatur Open.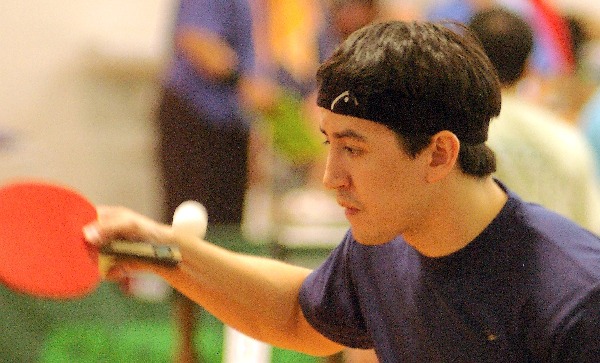 Chris Chrestman of Memphis played in Decatur in his first USATT-sanctioned tournament.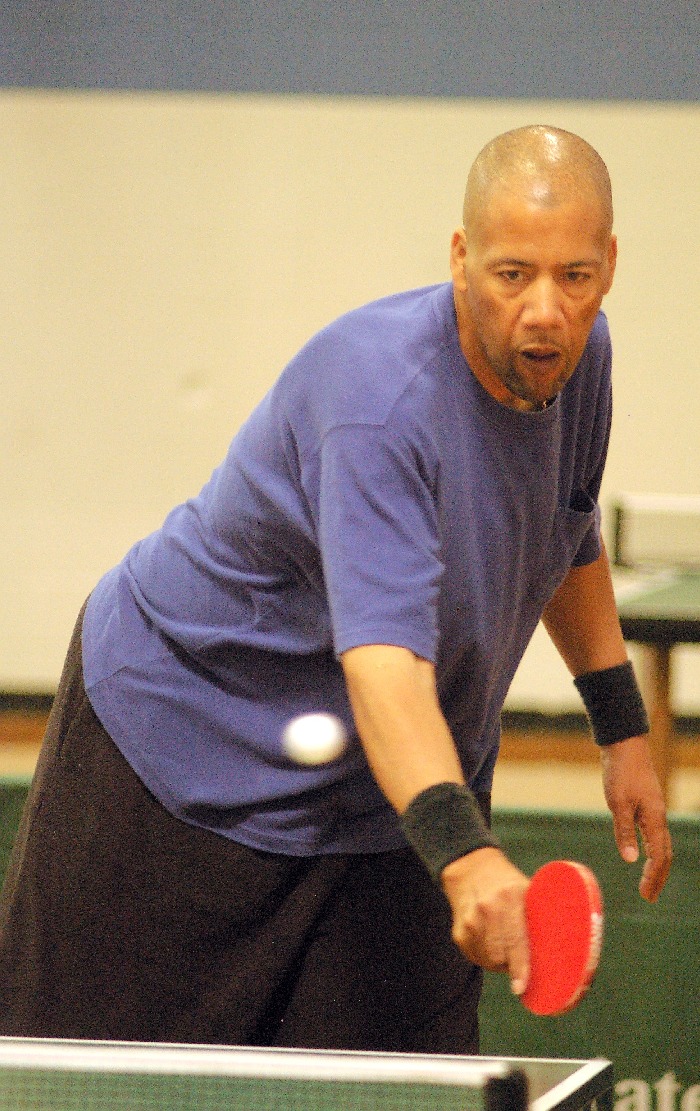 Participating in the 17th annual Decatur Open was the top seed of the first Decatur Open (then called the 1992 Point Mallard Open) Leon Curry of Memphis.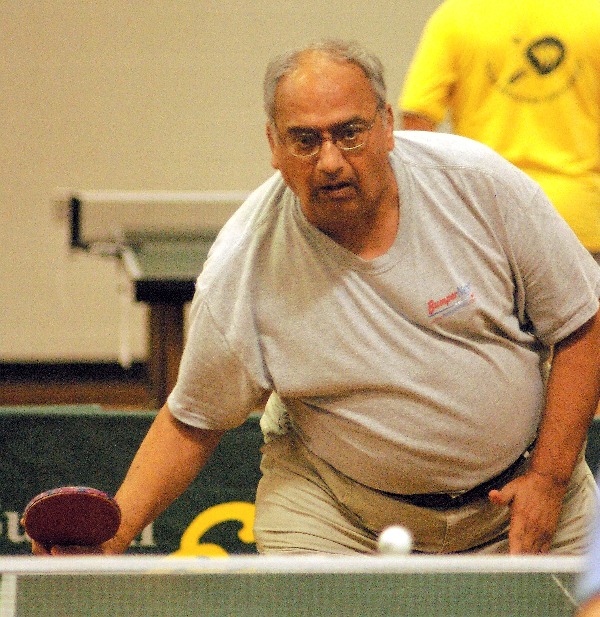 Chander Mohindra of Birmingham hits a forehand in his first Decatur Open.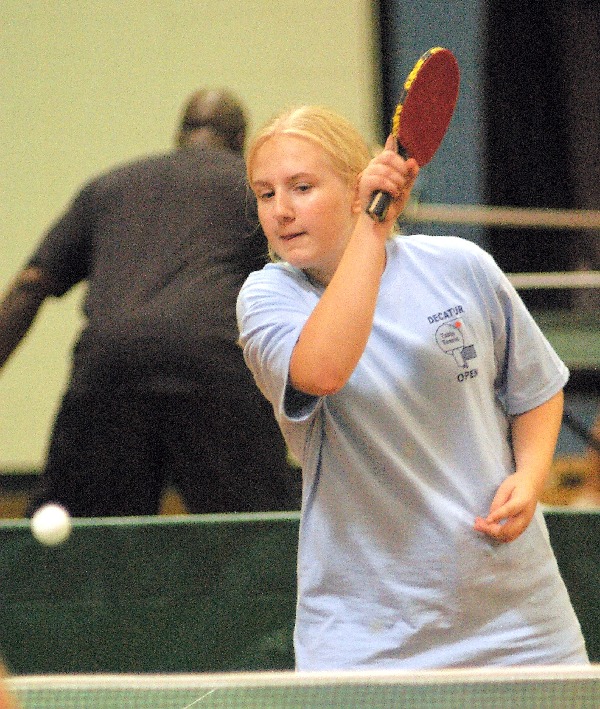 Mackenzie Friend shows off the official tournament shirt while hitting a forehand in morning action. All players, sponsors and volunteer staff members received shirts.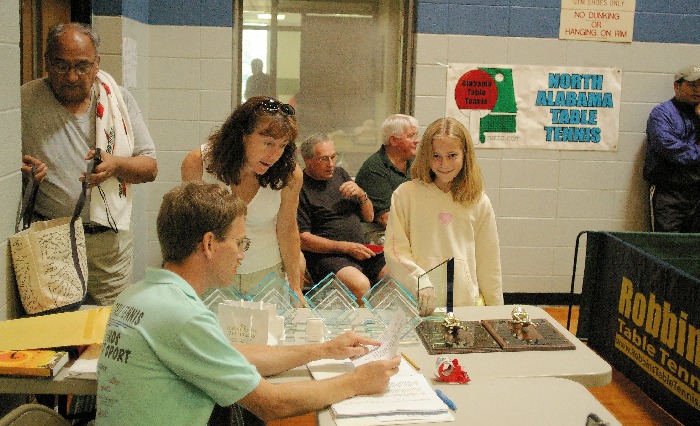 Co-director Chip Patton takes time out to chat with his wife Madelyn and daughter Caralyn. Caralyn helped keep the Pepsi products on ice throughout the morning.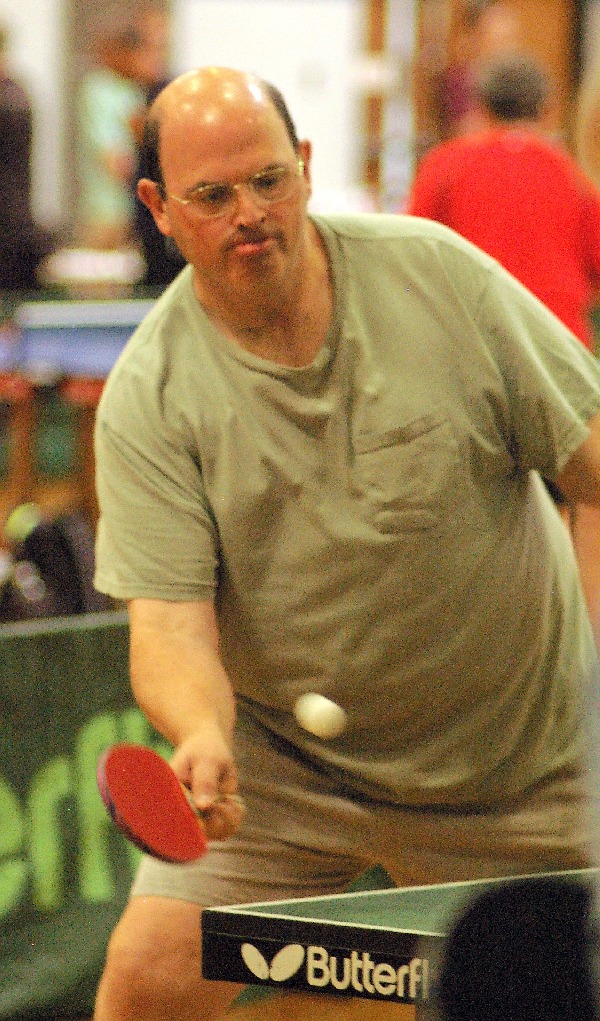 Bob LaBarre of Mississippi hits a shot in the 17th annual Decatur tournament. Bob and his son Brian have been regulars at Decatur in the past four years.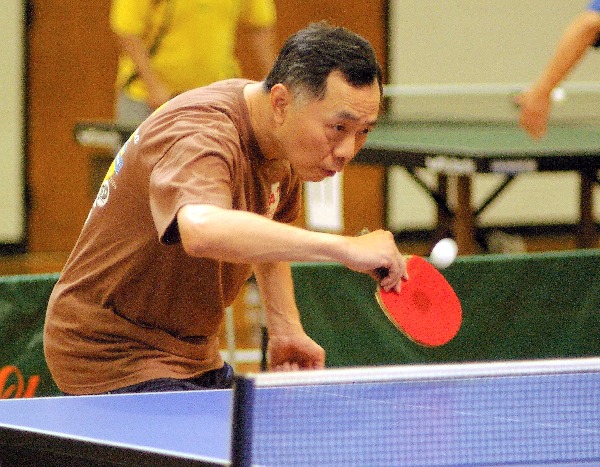 Kin Chan of Madison was one of seven family members participating in the 17th annual Decatur Open.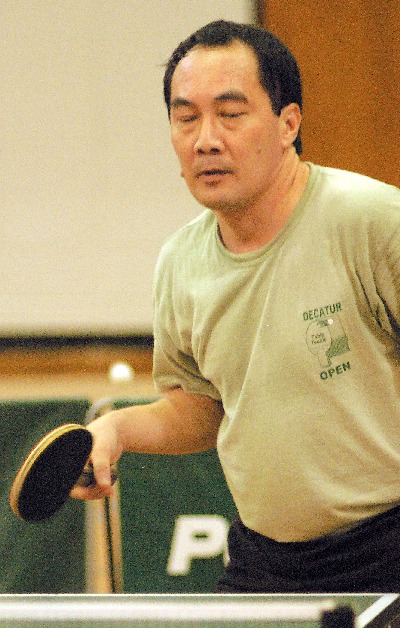 Not only did Danya Budiman travel all the way from Salem, N.H., to play in the tournament, he played some shots with his eyes closed.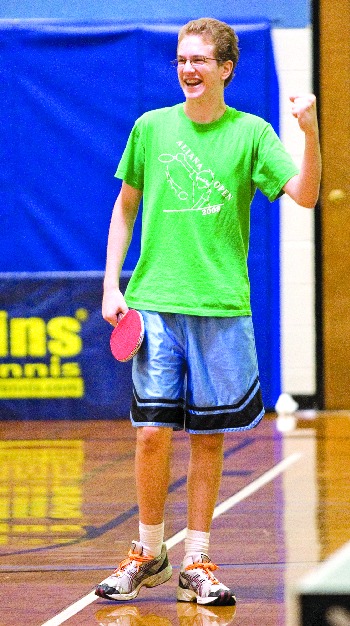 Spencer Friend was happy with his morning play. Or at least one shot.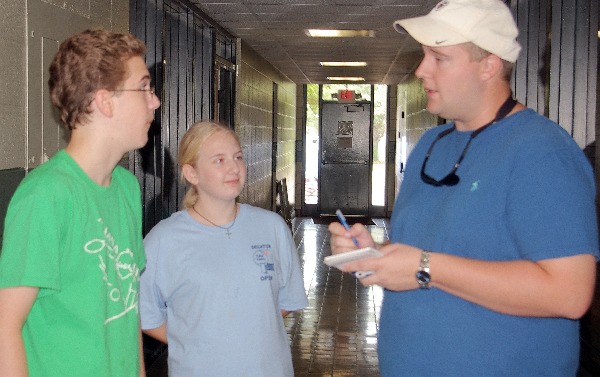 From left, Spencer and Mackenzie Friend answer questions from Cody Whitlock of the Decatur Daily. Whitlock and photographer Gary Cosby Jr. had a half-page spread in Sunday's Decatur Daily on the five Friend family members who made the trip from Plano, Texas, to Decatur for the 17th annual tournament.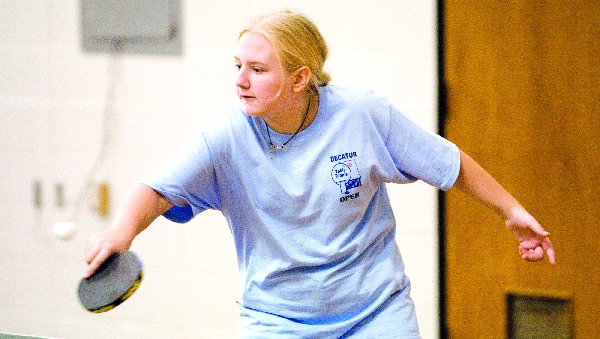 Here's a photo by Gary Cosby Jr. of Mackenzie Friend which was published with Cody Whitlock's article in the Aug. 17 edition of the Decatur Daily.


Daily photographer Gary Cosby Jr., caught Todd Friend and his superstar son Chance talking about afternoon strategy. Chance finished second overall and dad Todd won Class BB.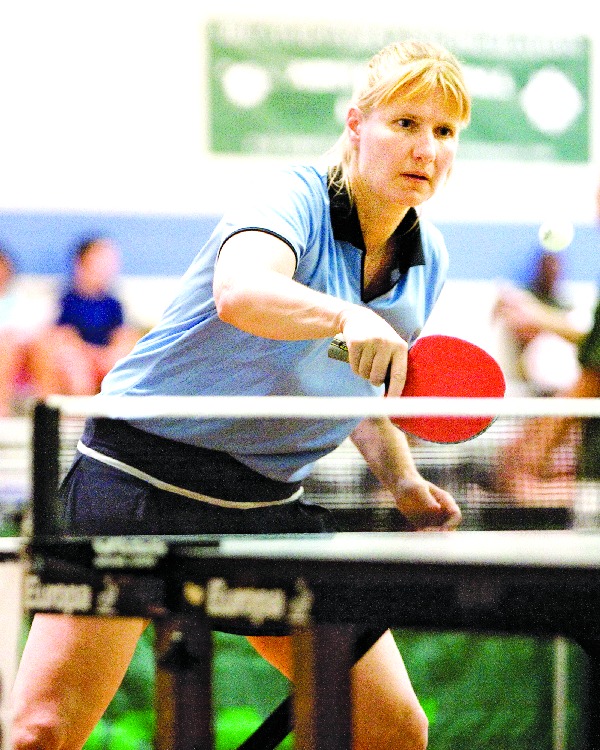 Cheryl Friend's backhand was captured on the digital camera of Gary Cosby Jr. of the Decatur Daily.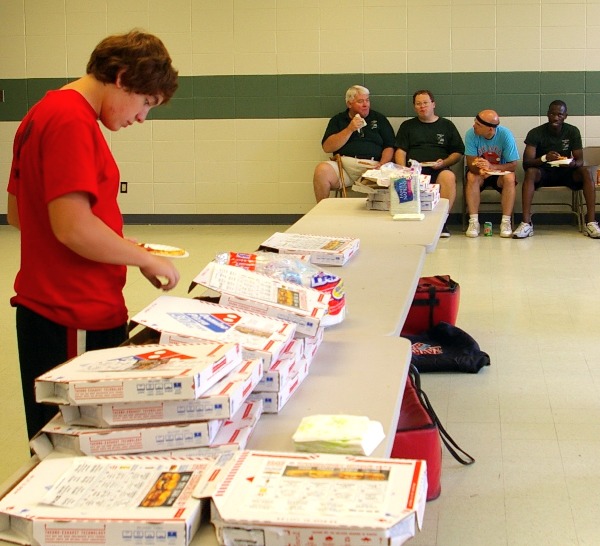 After players finished with their morning rounds, Domino's Pizza treated the 71 players and their guests to 35 pizzas. Here, Jonathan Gonzalez decides between pepperoni and ham toppings.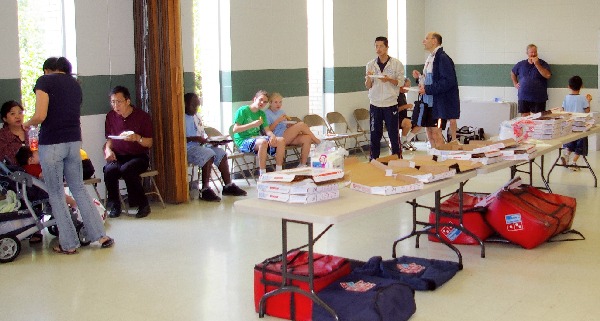 Plenty of pizza was had by all.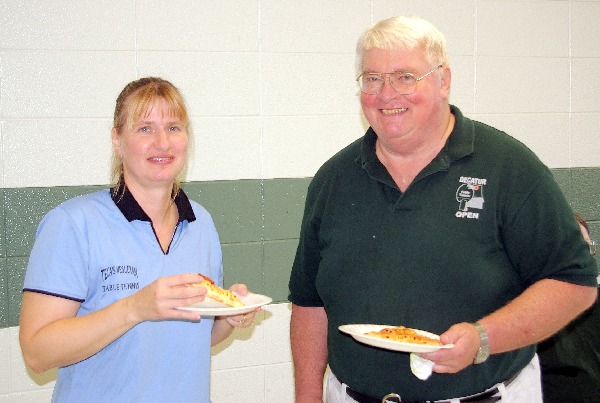 Cheryl Friend, left, and tournament founder Walt Chenault enjoy pizza and chatting with each other.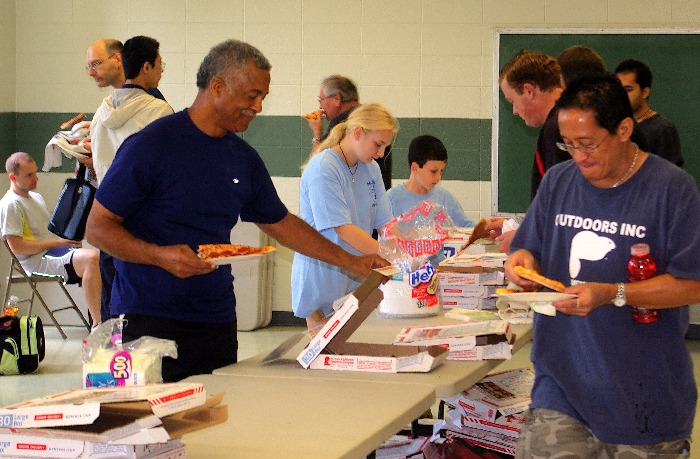 Bill Mobley, left, and others fill their plates with Domino's pizza. Domino's was a new sponsor this year.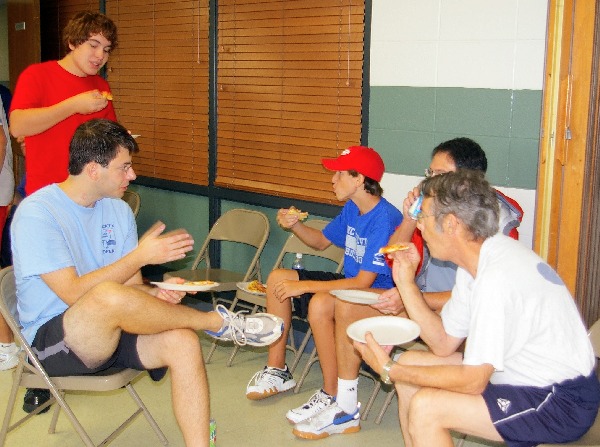 In his first tournament since 2002, Holt Gray, left, chats with some friends during the Domino's/Pepsi lunch break.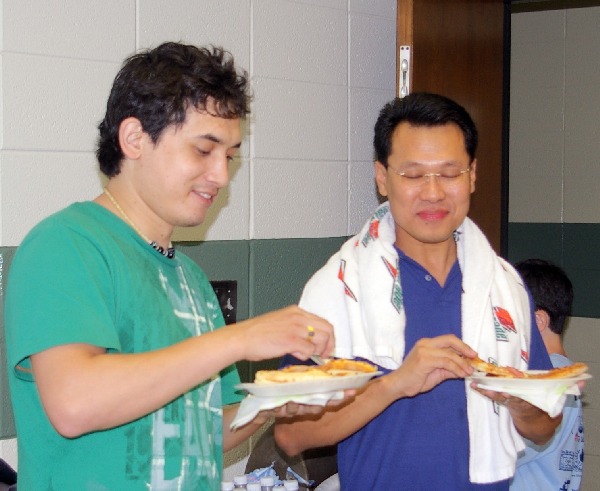 Ujwal Shesthra, left, of Birmingham, and Liedy Handoko of Memphis talk about morning action while enjoying pizza from Domino's. And that Gatorade table tennis towel on Handoko's shoulder -- all 71 players received one for entering the 17th annual tournament. The towels and drinks were compliments of Decatur Pepsi.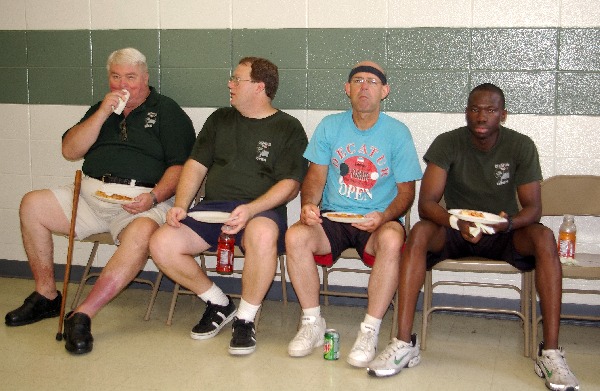 From left, Walt Chenault, Ed Watts, Barry Putman and Jonas Boateng enjoy lunch compliments of Pepsi and Domino's. It is just part of the fun at the Decatur Open each year.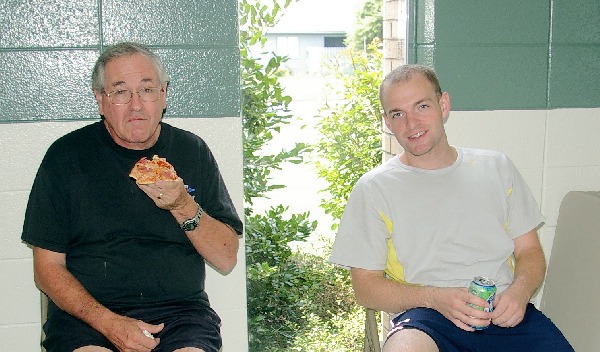 Carl Lewis Sr., left, of Memphis and Steven Jenkins of St. Louis smile for the camera at lunch. It was Steven's first Decatur Open.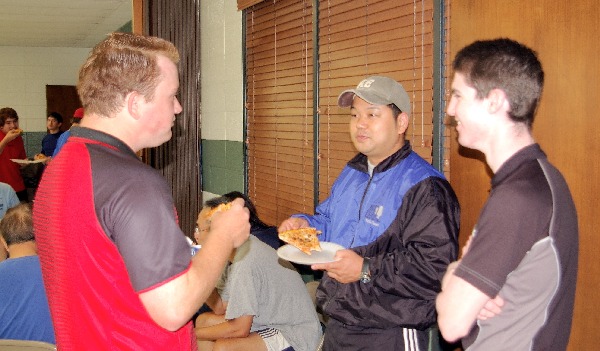 From left, Andrew Davis, Ernesto Kawamoto and David Landry enjoy some fellowship at lunch.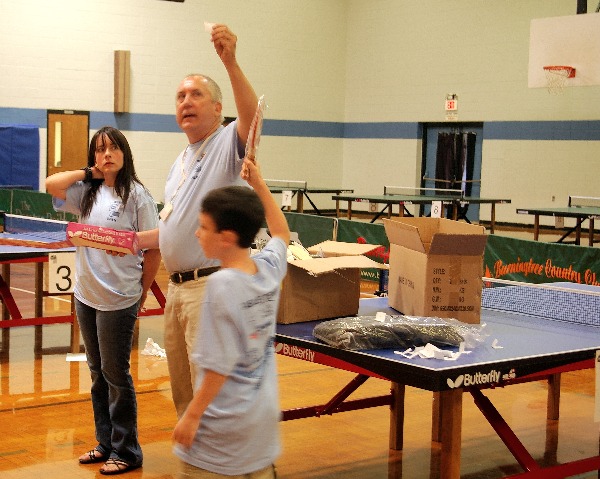 Between the morning and afternoon sessions and after the pizza was consumed, Microtel Inn and Suites sales manager Hope Czervionke, co-director Michael Wetzel and his son Logan drew for door prizes. More than 30 door prizes from Robbins Table Tennis Specialties, BumperNets of Birmingham, Lane Music of Memphis and Nucor Steel of Decatur were won by the players.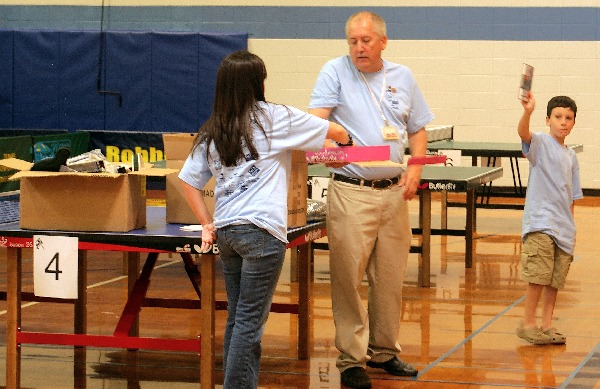 Distributing door prizes is always a crowd favorite.


Here about 100 players and guests listen for their name as a Lane Music Company of Memphis polo shirt is given away as a door prize. Scott Lane, player and company owner, is a generous supporter of the tournament.


More than 30 door prizes were distributed to the lucky winners of the 71-player field.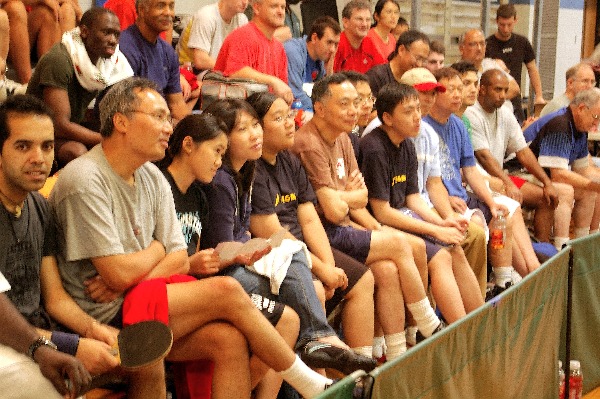 The Chan gang made sure to enter early. Or at least seven of them did. Some even won door prizes.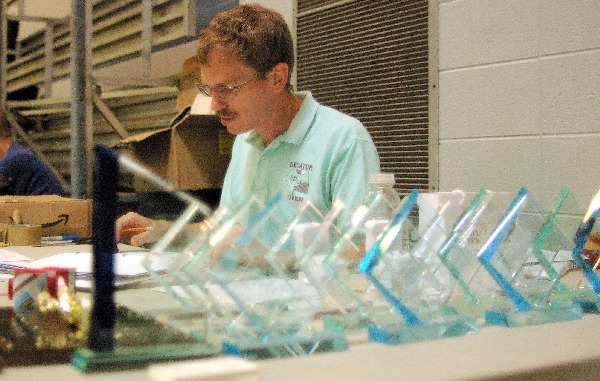 While the players were eating pizza, practicing and hoping their name would be called for a door prize, co-director Chip Patton was busy working on the afternoon draws.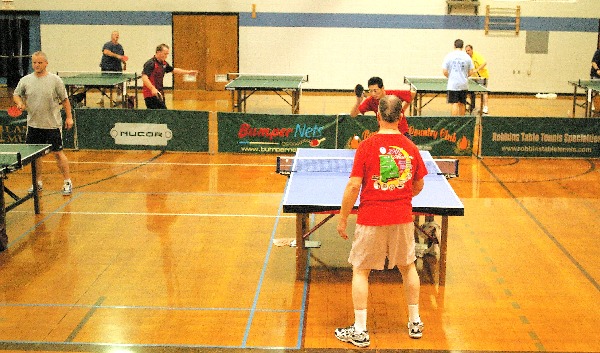 In the early afternoon action, most eyes were on tournament top seed Shigang Yang (2610), who is playing Johnny Billy of Satsuma, Ala., here. Yang showed a workman-like attitude throughout the tournament. He took nothing for granted and worked for each of his points. He didn't drop a game on his way to winning hist first Decatur Open title.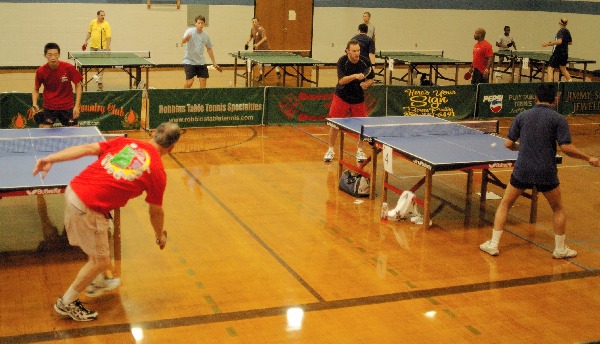 Shigang Yang, Johnny Billy, Jason Denton and Liedy Handoko battle on tables three and four in the afternoon.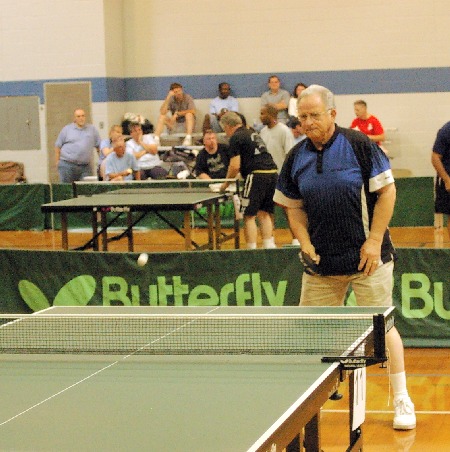 Gerald Echols of Cumming, Ga., competes in afternoon play.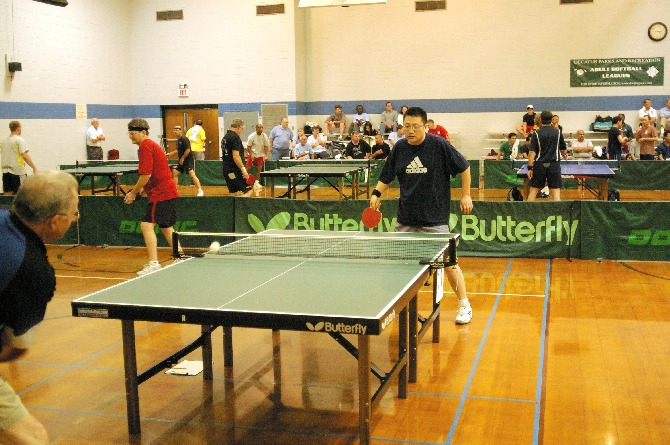 Chattanooga's Xiaofeng Guo battled with Gerald Echols in early afternoon action.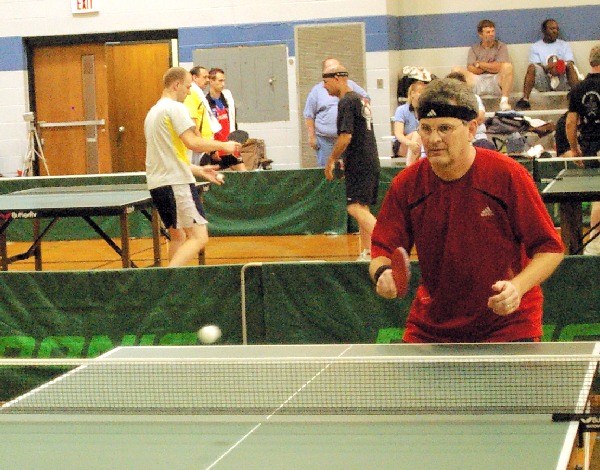 Ted Melton took time away from his denistry practice to play in the 17th annual Decatur Open.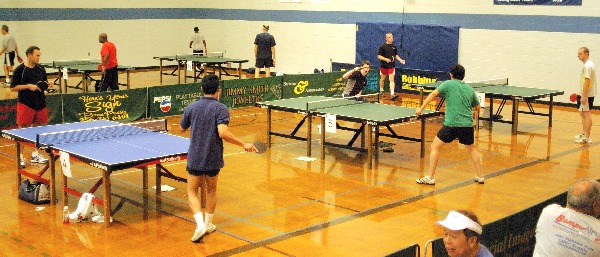 State champions, foreign players and developing players found the competition a bit tougher in the afternoon.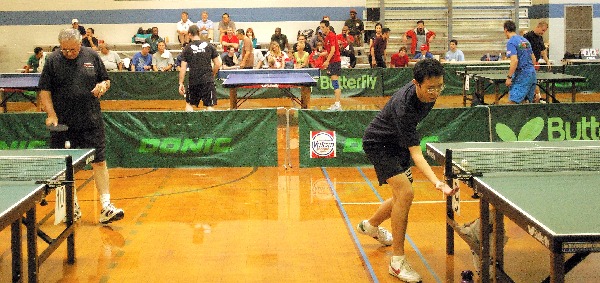 A good crowd watched the action throughout the afternoon.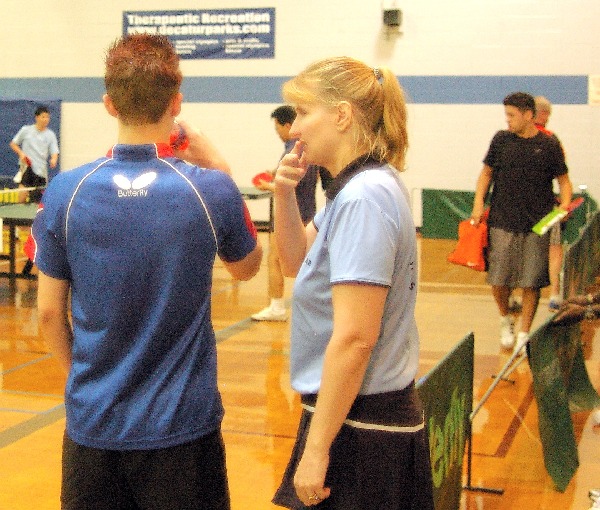 Chance Friend gets some motherly advice from mom Cheryl in the afternoon championship division.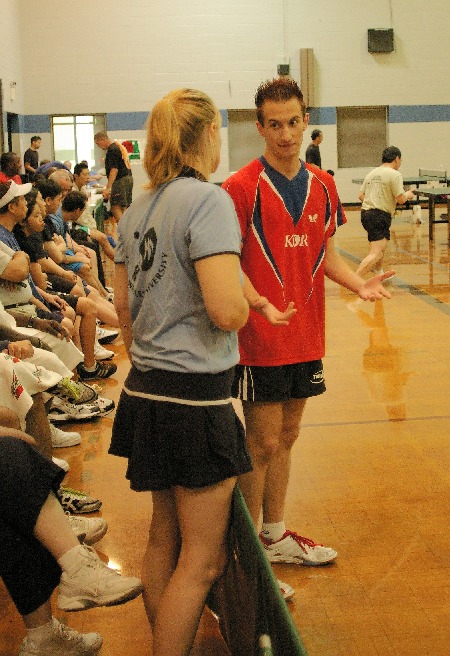 Chance Friend may seem confused here, but with his mother's advice, he breezed into the finals where he fell to the 2610-rated Shigang Yang.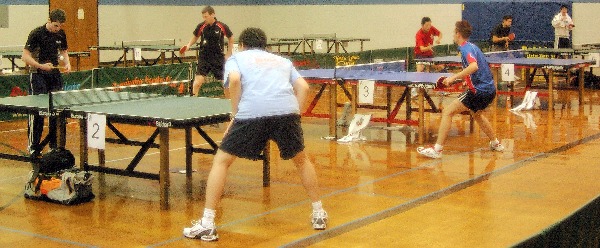 Later in the afternoon, the single-elimination playoffs began with the championship division on tables 2-5. Here the quarterfinals are in full swing.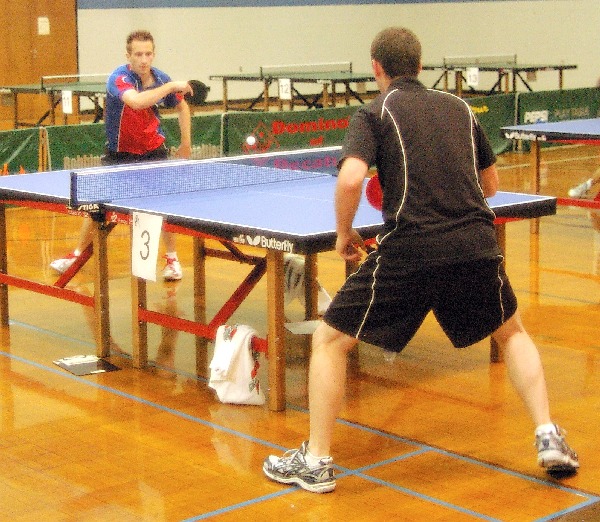 Tournament's second seed Chance Friend (2410) battles five-time Alabama singles champion Adam Brown of Birmingham in the quarterfinals. Chance won 3-1.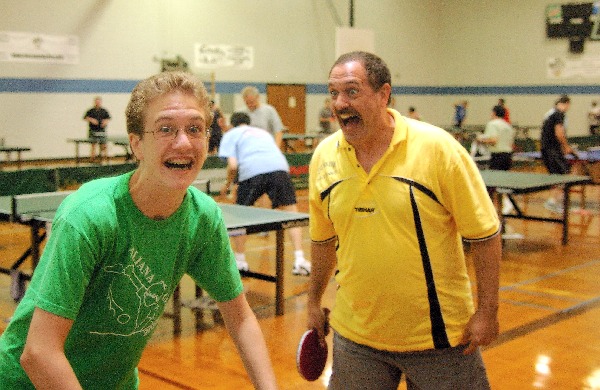 Father and son (Todd and Spencer Friend) get psyched up to meet each other in the semifinals of Class BB. Todd won this round.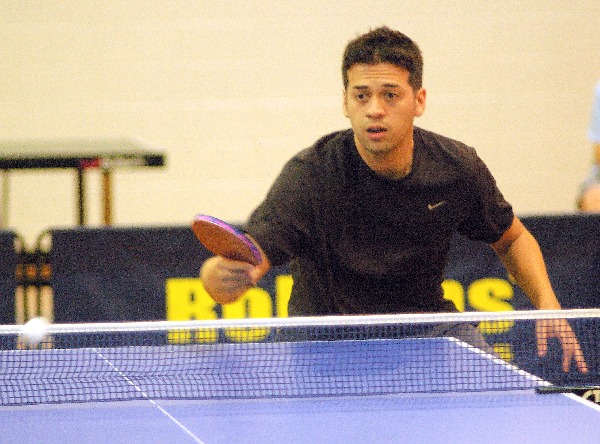 1996 Decatur Open winner T.J. Beebe, the youngest at age 15, rode a strong backhand into the playoffs.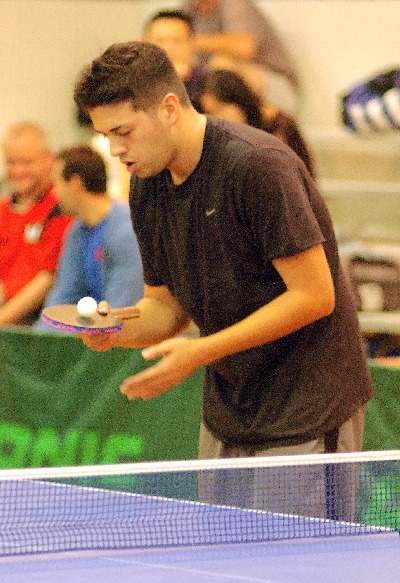 Here, T.J. Beebe, who lives in Marietta, Ga., prepares to serve in his semifinals loss to Shigang Yang, 3-0.


Nearly 100 people watched the semifinals and finals. Chance Friend, left, defeated David Landry 3-0 in the semifinals.

2410-rated Chance Friend of Plano, Texas, defeated Alabama singles champion David Landry of Huntsville 3-0 in the semifinals.

Here Chance Friend uses his backhand in the finals against Shigang Yang.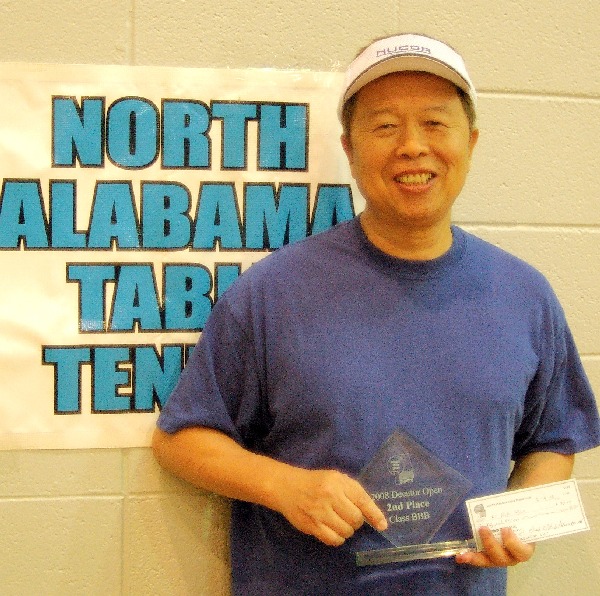 Li Hok Ming of Madison proudly shows his $50 check and trophy he won as the BBB runner-up. And that visor he's wearing was a door prize compliments of Nucor Steel of Decatur.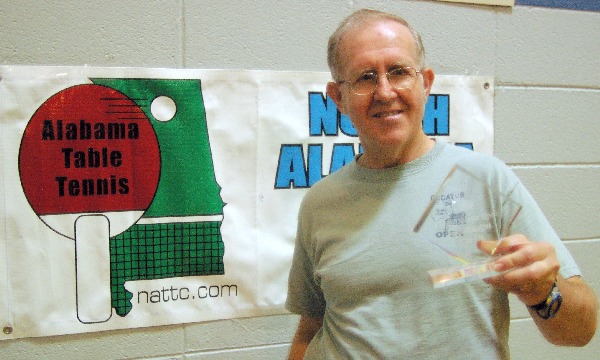 Donnie Brown of Hartselle picked up a trophy in just his second USATT-sanctioned tournament. Brown was a semifinalist in the B division.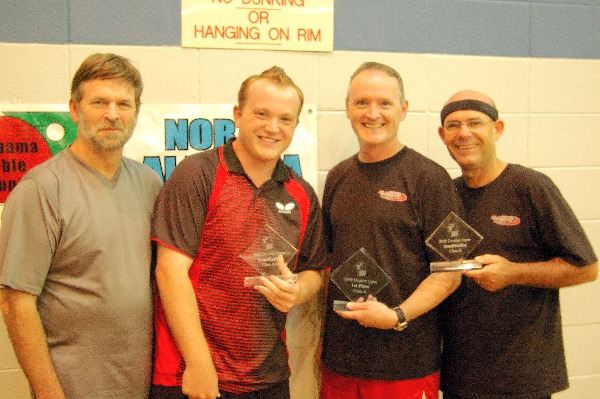 "WE GOT OURS. Danny, where's yours?" Three members of the Northeast Alabama Table Tennis Club show off their trophies, but one member Danny Crowson, left, went home without a trophy. Better luck next year, Danny! Others, from left, are Andrew Davis, Mike Harris and Barry Putman.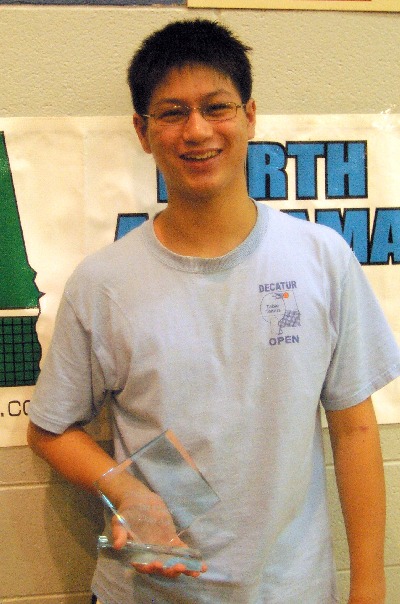 Shelby Lane of Memphis took home the prestigious Class AA championship trophy. For those doing the math, he finished 21st out of 71. Congrats, Shelby!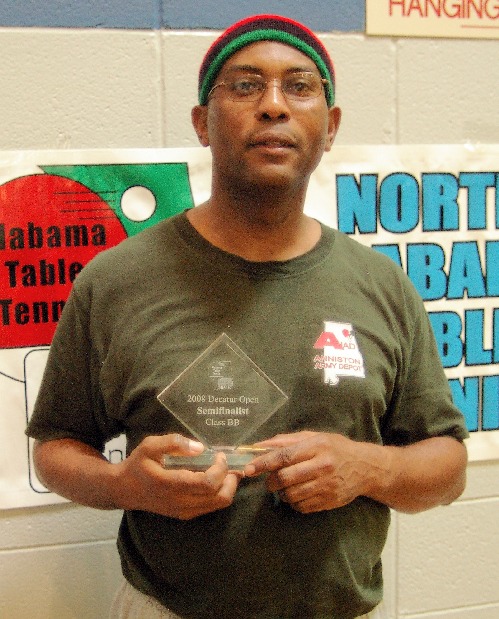 Collin Fullerton of Huntsville won a nice acrylic trophy for being a BB semifinalist.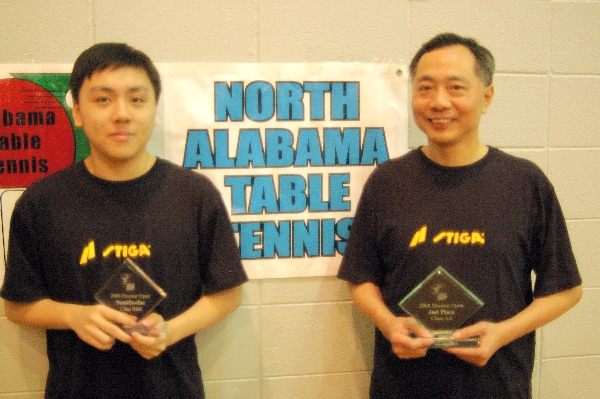 From left, Trevor Chan, and Kin Chan can add more acrylic to their trophy case in Madison, Ala.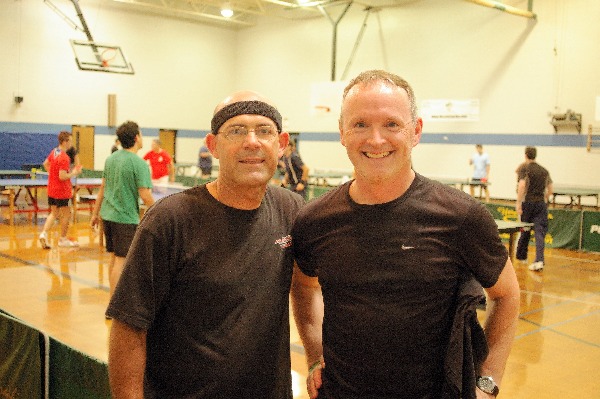 Win, lose or draw, Barry Putman, left, and Mike Harris say they enjoy coming to the Decatur Open.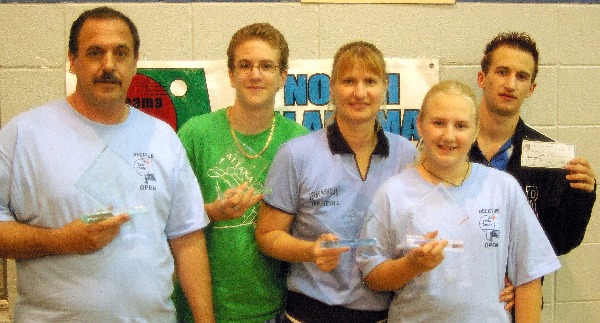 And speaking of winning, each member of the Friend family picked up either a check or acrylic trophy they could admire on their long trip back to Texas.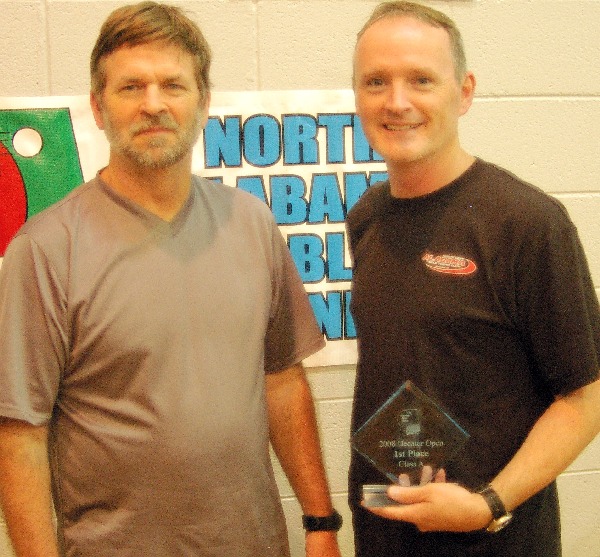 Friends and members of the Northeast Alabama Table Tennis Club in Anniston, Danny Crowson, left, and Mike Harris don't mind having their photo made in the winners' circle. Harris won Class A.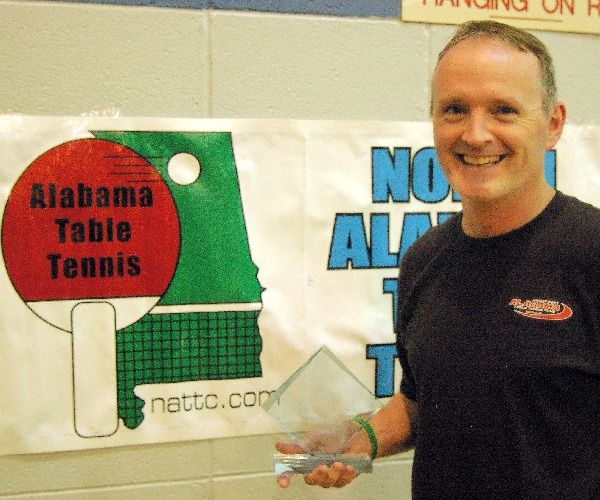 Mike Harris helped set up some tables on Friday night and then cleaned up taking the top Class A trophy home with him. Harris got in the tournament as an eBay auction winner. He paid $53 and received a nice stainless aluminum travel cup from Nucor Steel of Decatur for winning the eBay auction.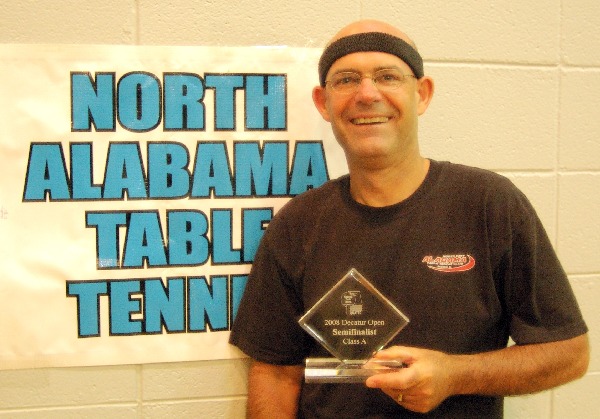 Barry Putman made it to the semis in Class A. Congrats, Barry!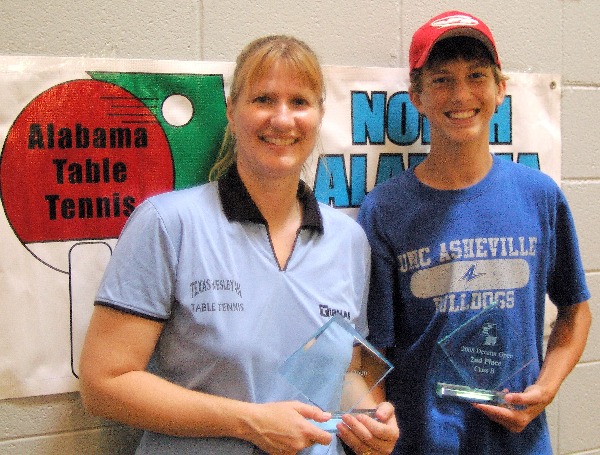 Cheryl Friend, left, and Tripp White battled it out in the finals of Class B. Cheryl won and they both received nice acrylic trophies from Awards and Engraving Plus of Trinity, Alabama.


Tripp White shows off his newest trophy. This one for second place in Class B. Congratulations, Tripp!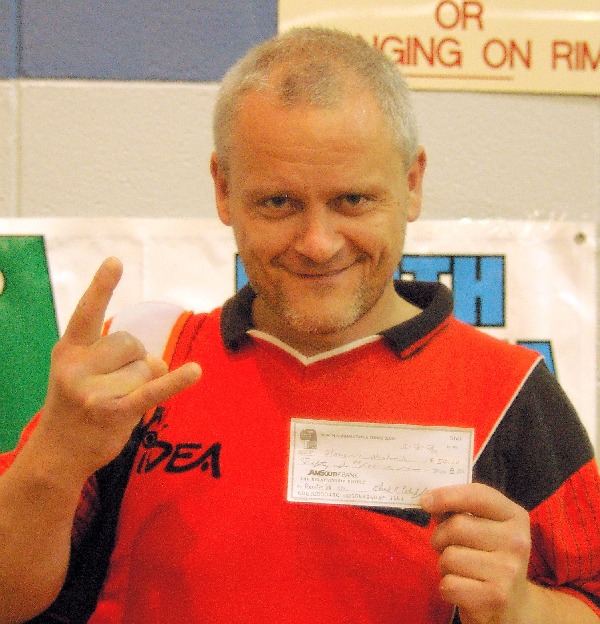 2007 Decatur Open finalist Slawomir Warclawik of Nashville was shown the door in the quarterfinals this year. But he said he had a good time and that's a $50 check he takes back to Tennessee with him.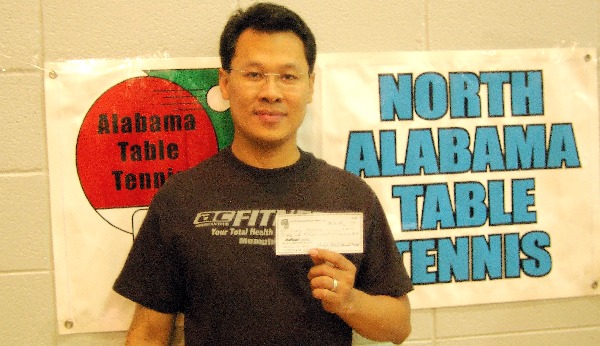 Liedy Handoko was a semifinalist in 2007. This year he lost in the quarterfinals but still smiles with his $50 winnings.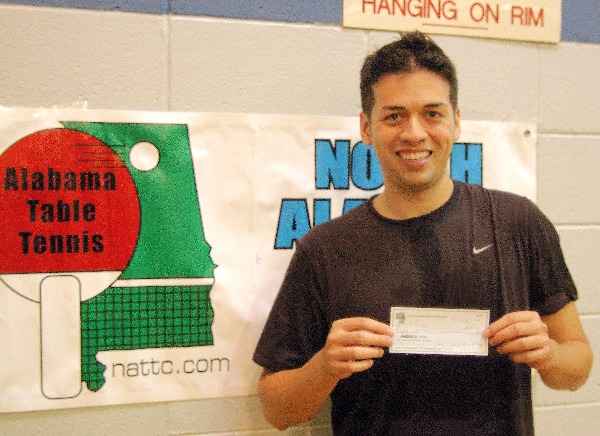 In three Decatur Opens, T.J. Beebe has a first, second and now a semifinal finish. That's impressive T.J. Here's $80 for reaching the semis.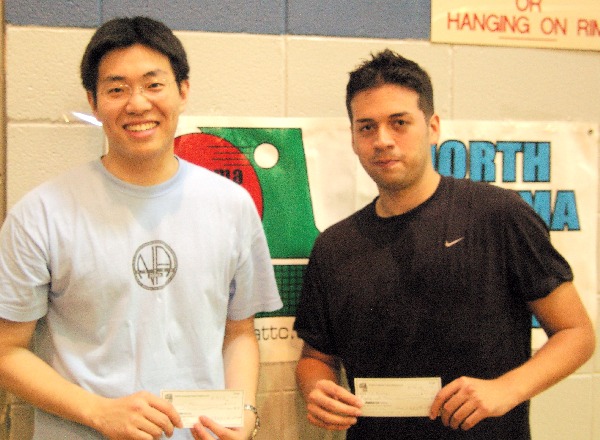 At left, John Mar, the tournament's third seed at 2265, lost in the quarterfinals to 2097 David Landry. Making the quarterfinals earned Mar $50. His playing partner T.J. Beebe won $80 for his semifinals finish.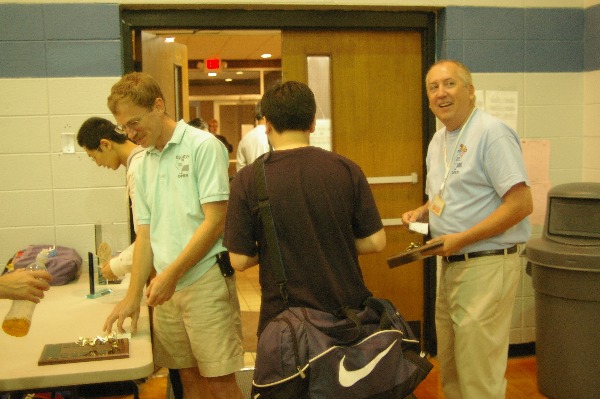 Co-directors Chip Patton and Michael Wetzel ensure the winners have their checks and trophies before they begin their trip home.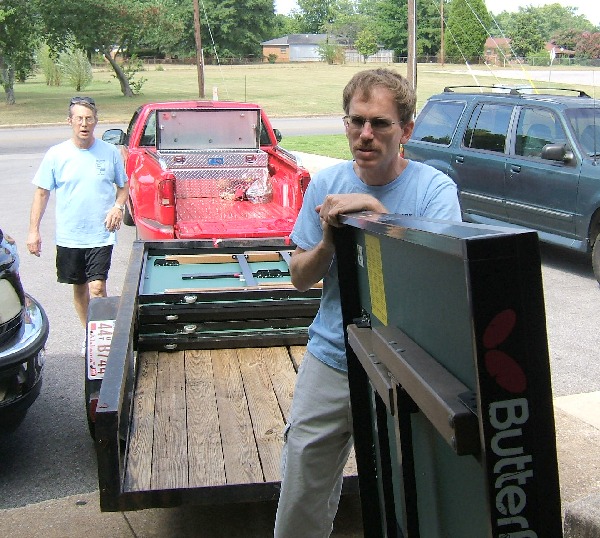 Committee members Fred B. Mitchell II, left, and Chip Patton moved the tables back from the Aquadome Recreation Center to the Brahan Spring Recreation Center in Huntsville four days after the Decatur Open.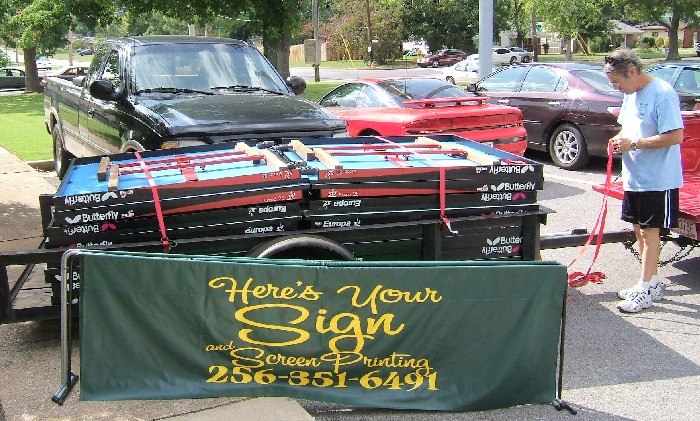 Fred B. Mitchell II prepares to strap the tables to his handy trailer on the 25-mile haul back to Huntsville. Here's Your Sign is one of the generous sponsors of the annual event.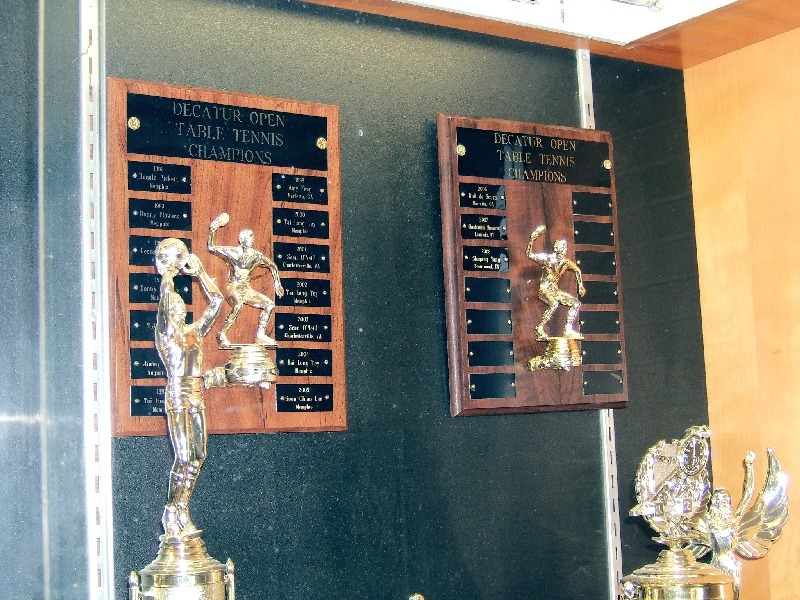 Two plaques are on display year round at the Aquadome Recreation Center sporting the names of the winners of the 17 Decatur Opens.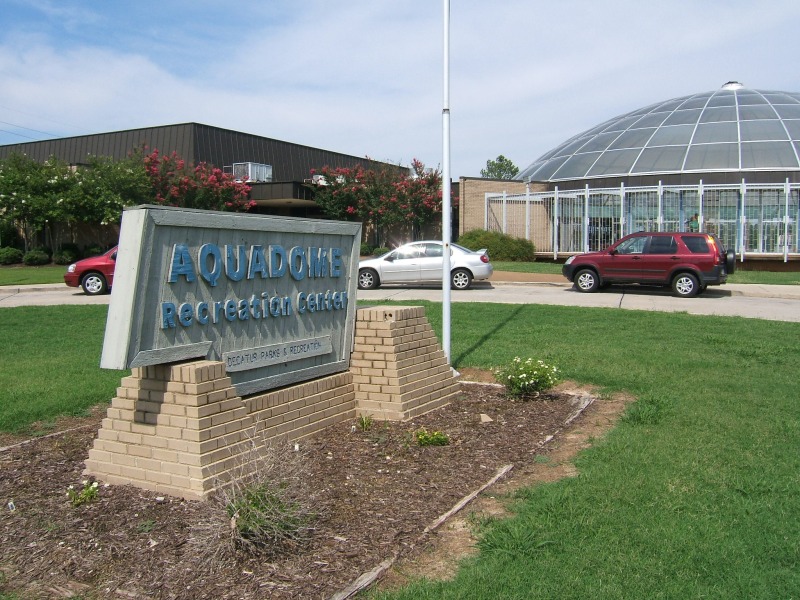 With the support of the Decatur Parks and Recreation, the Aquadome Recreation Center has been the site of the past 15 Decatur Open tournaments.