19th annual Decatur Open Photos
Aug. 21, 2010, Aquadome Recreation Center
(Please visit the Decatur Open sponsors' sites)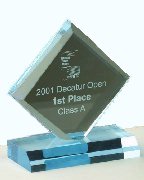 - 2010 Decatur Open -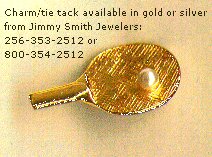 ... Awards and Engraving Plus ...




...

...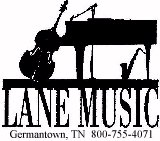 Click here for piano sale ...

(Click on photo for larger view)
(Updated September 30, 2010)
The following images are compliments of Gary Cosby Jr., Jeronimo Nisa, Ernesto Kawamoto, Bill Sutton and Michael Wetzel.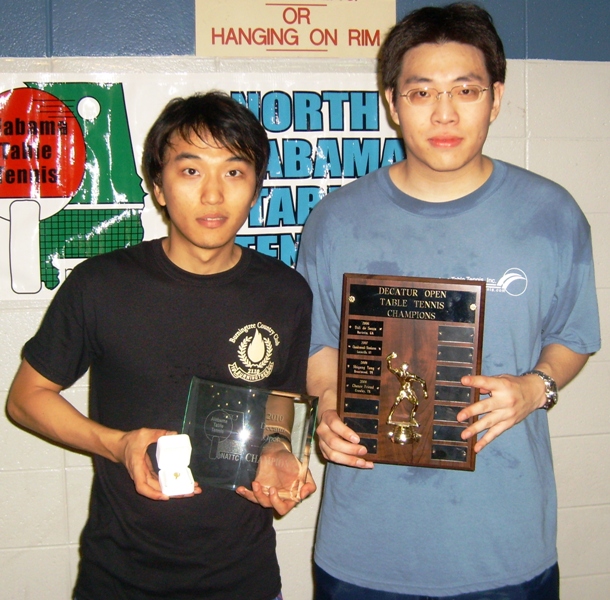 Decatur Open champion Bong Geun Kim picked up $300, a gold table tennis tie tack from Jimmy Smith Jewelers and a nice glass trophy by Awards and Engraving Plus. He defeated John Mar in the finals. Mar won $180.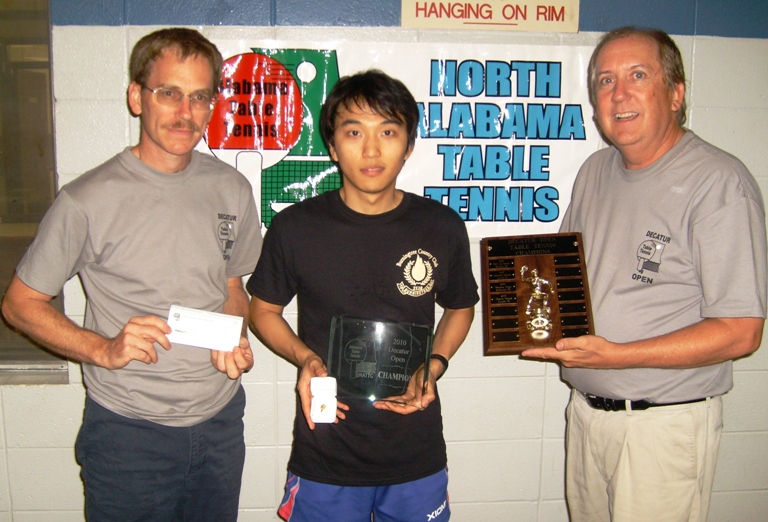 Decatur Open co-directors Chip Patton, left, and Michael Wetzel, right, officially present Bong Geun Kim with his hardware. Kim's name will be added to the permanent plaque bearing the name of the past winners of the annual tournament. The plaques are on display in the lobby of the Aquadome Recreation Center all year.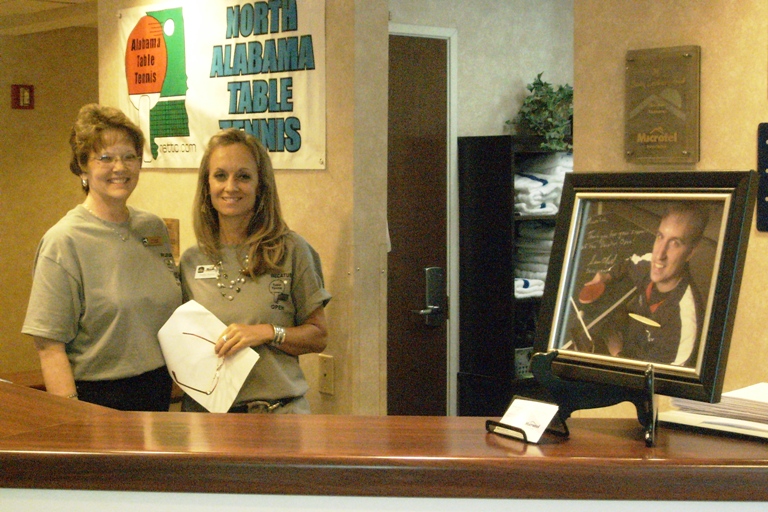 Wearing the official Decatur Open T-shirt, the staff at the Microtel Inn and Suites greeted players arriving Friday night. The hotel displayed the North Alabama Table Tennis Club banner and an autographed photo of two-time Decatur Open champion Sean O'Neill. Sean stayed there in 2001. Microtel has been a wonderful sponsor for the past 11 years.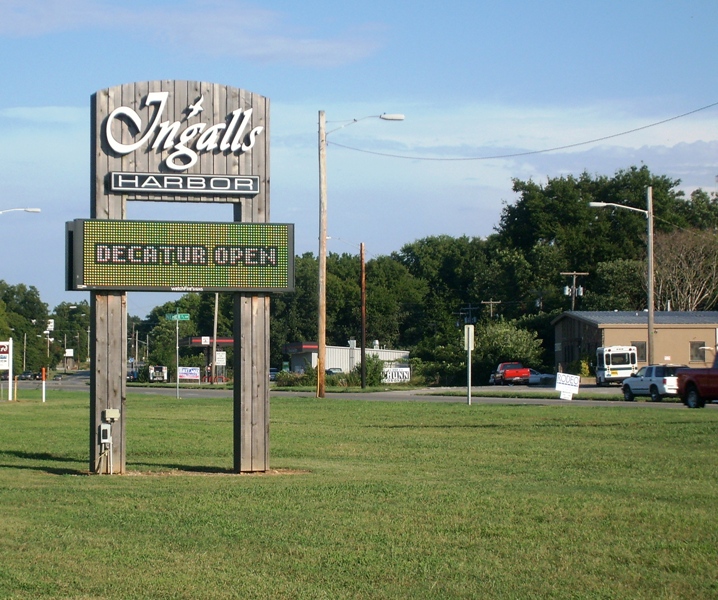 The City of Decatur promoted the tournament with a video on YouTube and two electronic message boards along busy highways in Decatur. Here's the Ingalls Harbor Sign on Alabama 20 promoting the Decatur Open. Thanks, Decatur! Here's a link to the YouTube video: http://www.youtube.com/watch?v=EAhLLrVJWWM&feature=player_embedded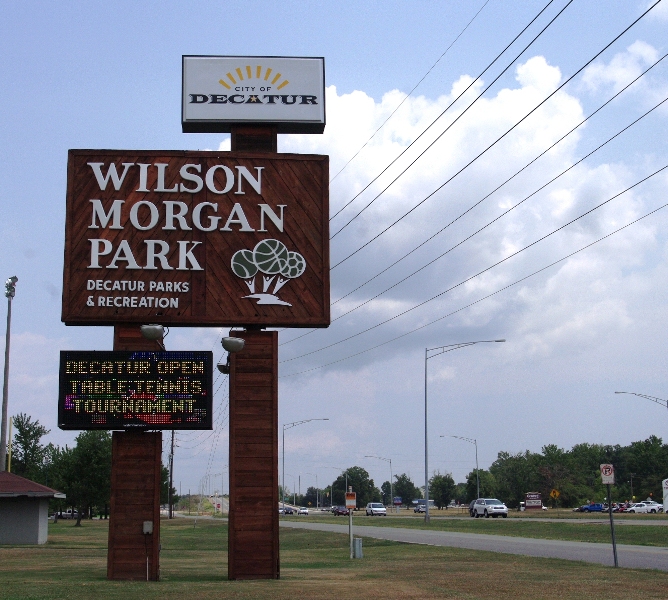 Here's the other electronic message board at Wilson Morgan Park along the busy Alabama 67. It was a great promotion for the tournament and helped attract visitors to watch that day.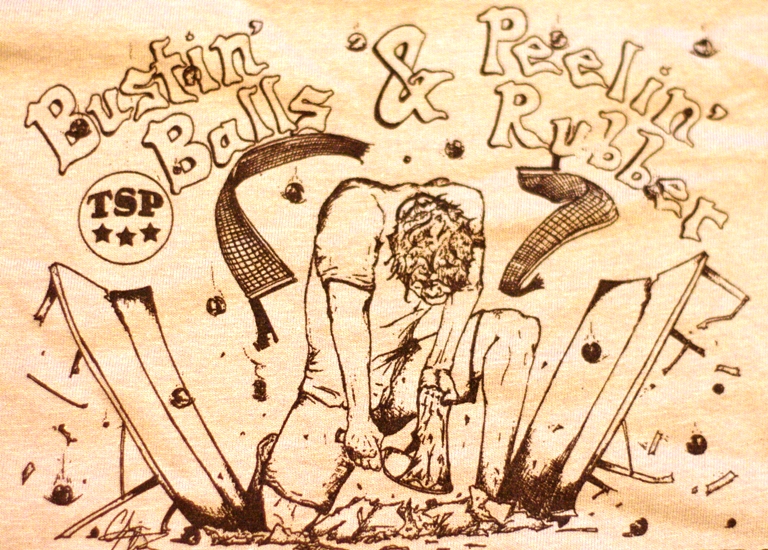 The talented Chris Chrestman of Germantown, Tenn., designed this year's popular shirt.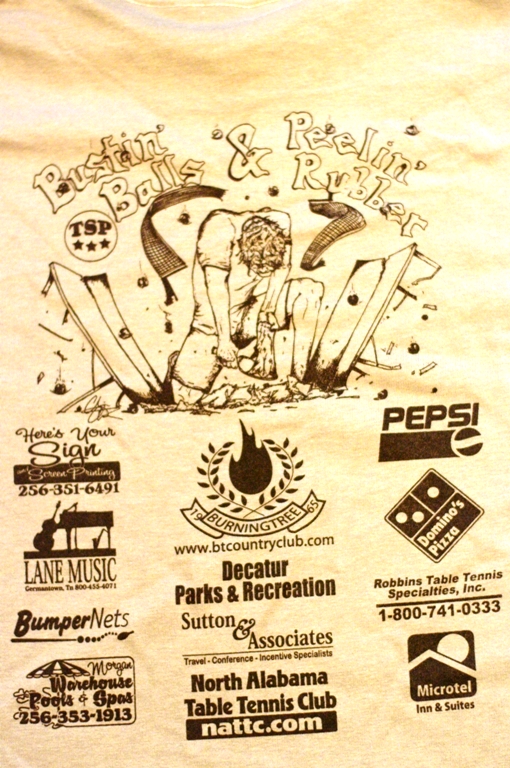 Here's an image of the back of the shirt with the major sponsors listed.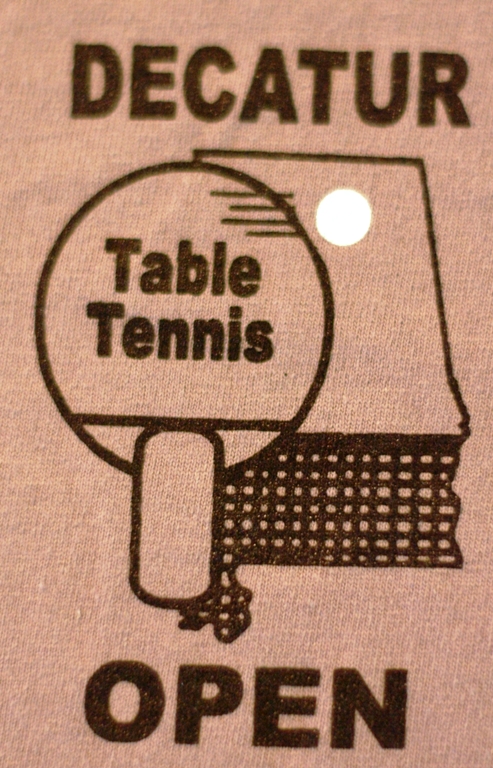 The North Alabama Club logo is on the front of the shirt.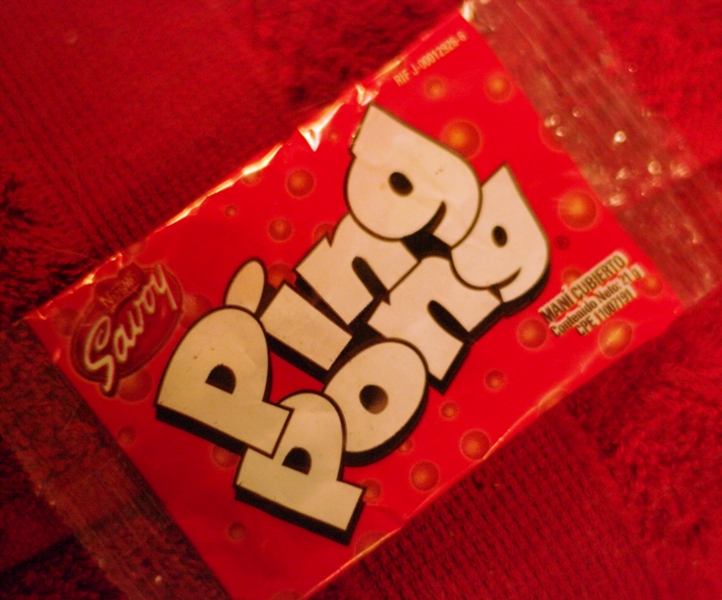 All spectators of the tournament finals received a package of "PingPong" candy. The candy is found in South America and is similar to to peanut M&Ms.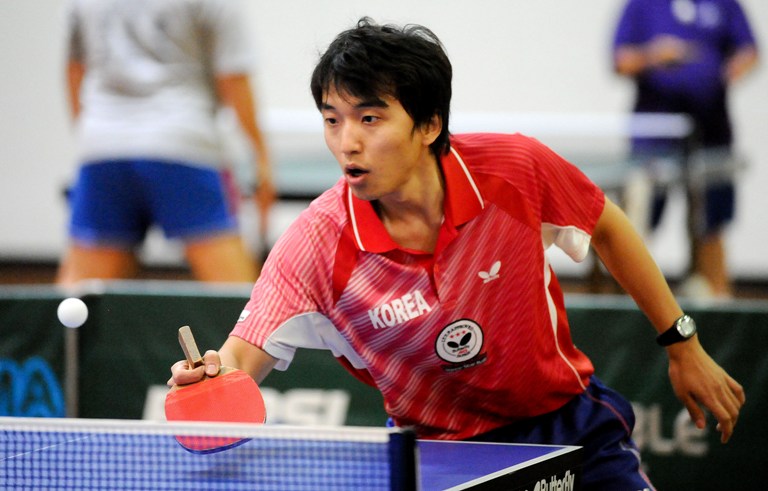 Decatur Open champion Bong Geun Kim didn't drop a game all day until he reached the finals where he had to rally to beat John Mar 4-3.

John Mar of Lawrenceville, Ga., had a 3-1 lead in the finals before falling 4-3 to Bong Geun Kim.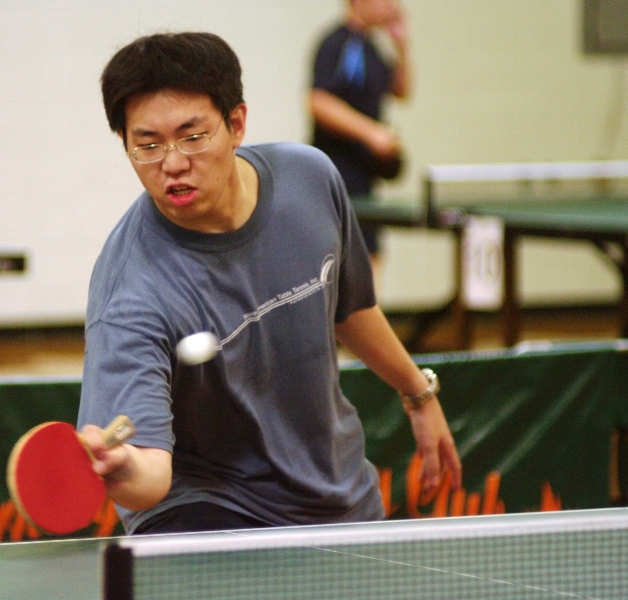 John Mar was on his game all day!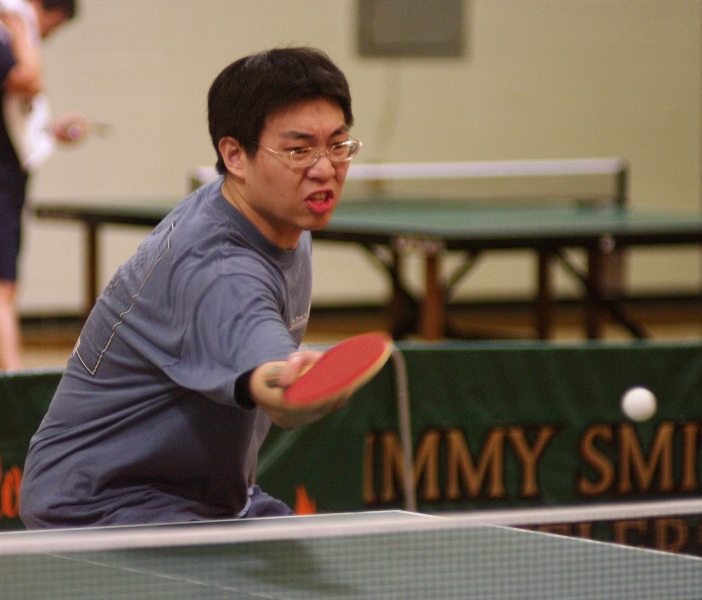 John Mar was red hot.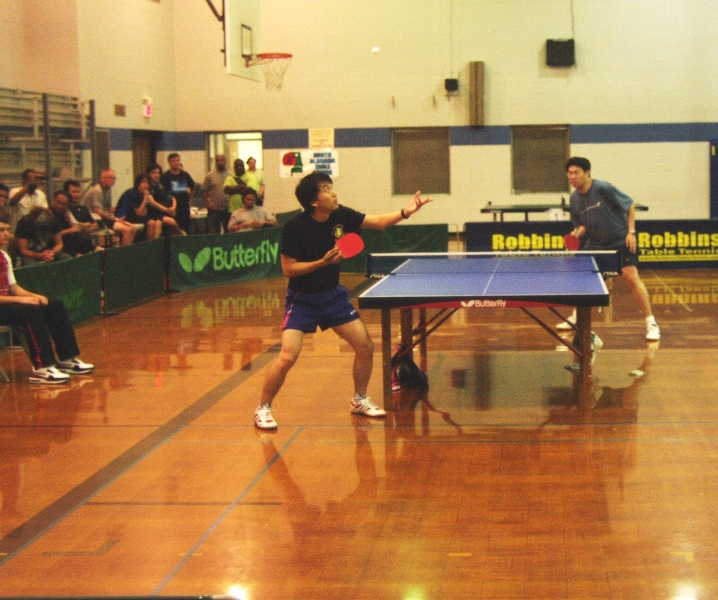 Practice partners from the Atlanta area, Bong Kim and John played a thrilling finals.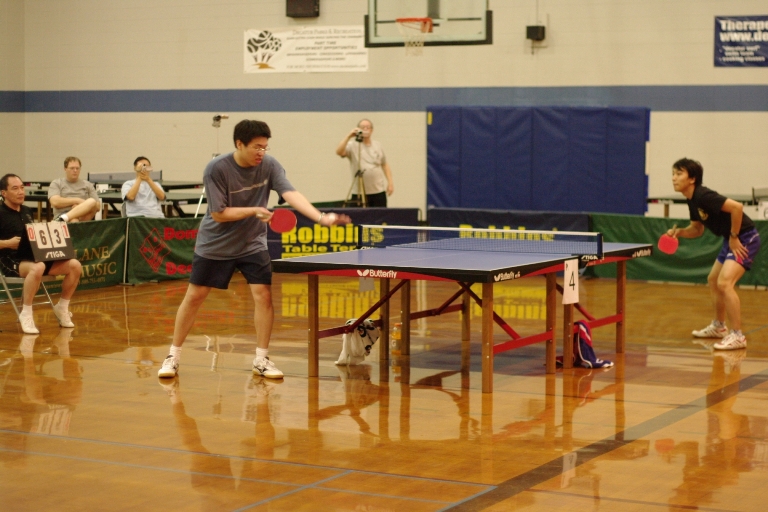 More finals action, complete with video cameras recording the action.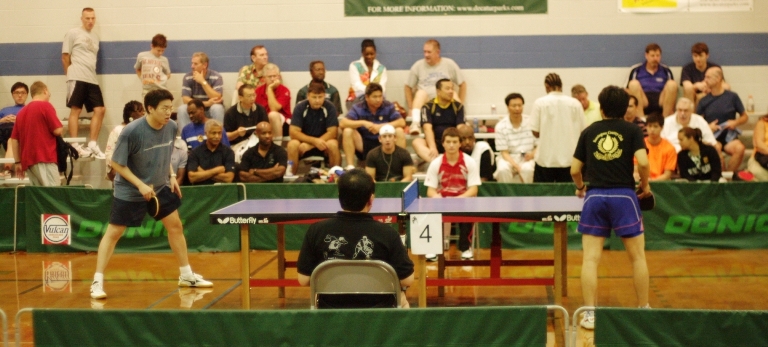 The winner received $300 and the loser $160. Officiating were James Reinecke and Danya Budiman.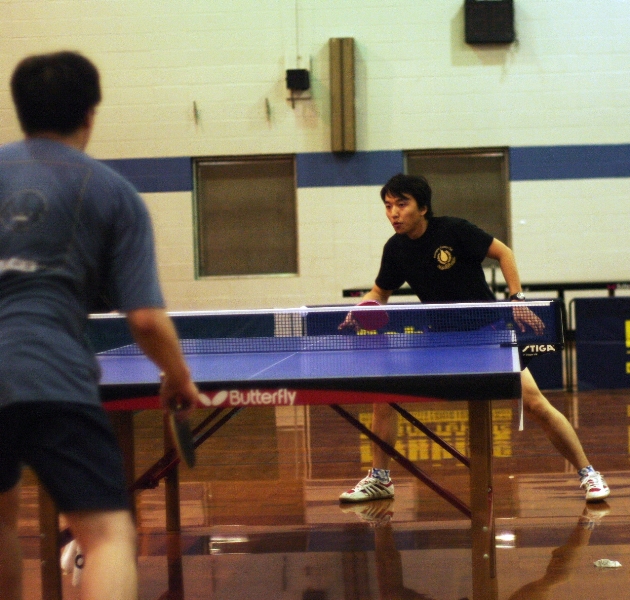 Nearing the final points.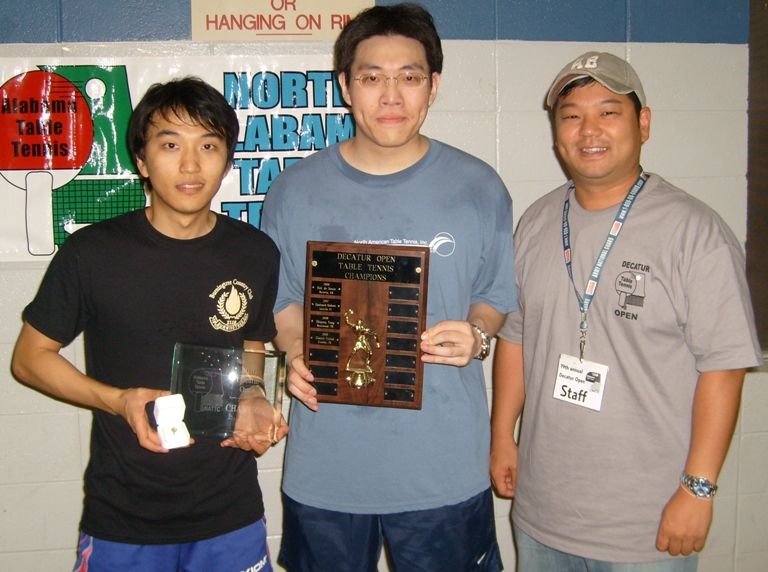 Here are Bong Kim and John Mar with tournament committee member and 2-time Alabama singles champion Ernesto Kawamoto at the awards ceremony.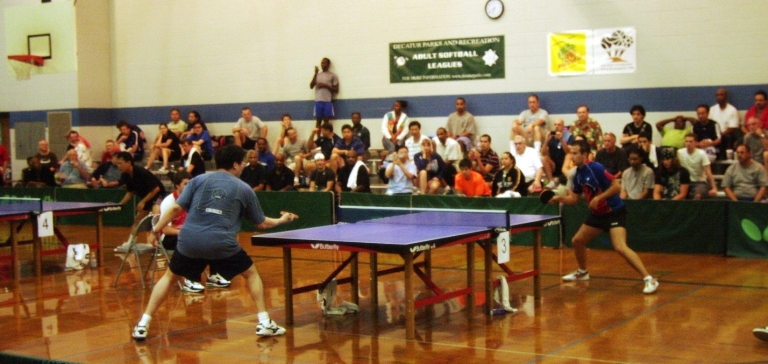 A large crowd watched the shootout between Chance Friend and John Mar in the semifinals. Mar edged the defending champion 14-12 in the fifth game in one of the most exciting matches in Decatur Open history.

James Reinecke was the umpire and Ed Watts the scorekeeper in the Mar-Friend semfinals match.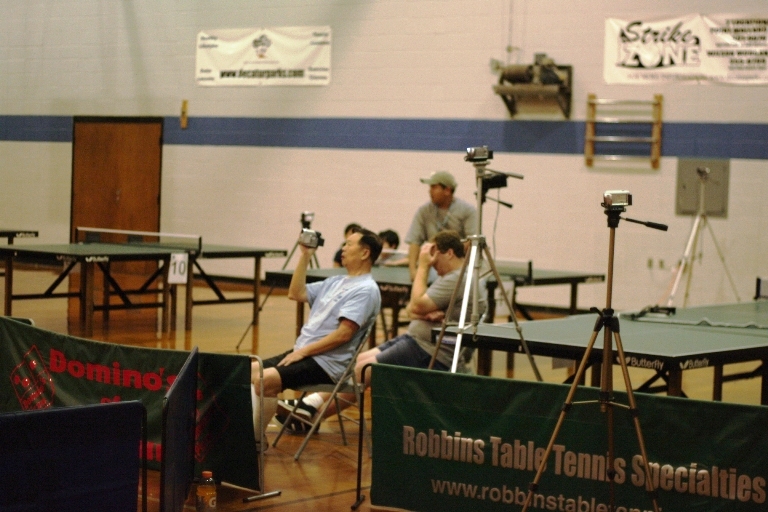 Video cameras capturing the action were running all day. Here's a group of cameras filming the exciting finals.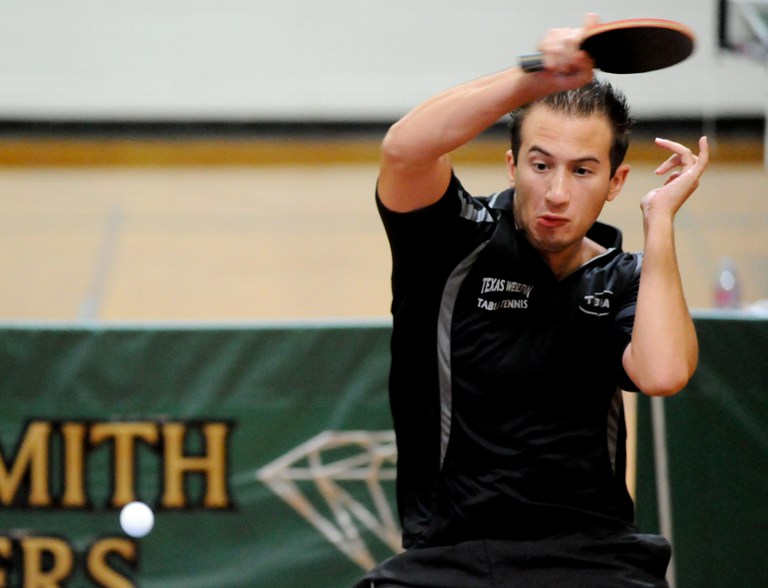 Defending champ and top seed Chance Friend of Crowley, Texas, breezed all day until he met a hot-hitting John Mar in the semifinals.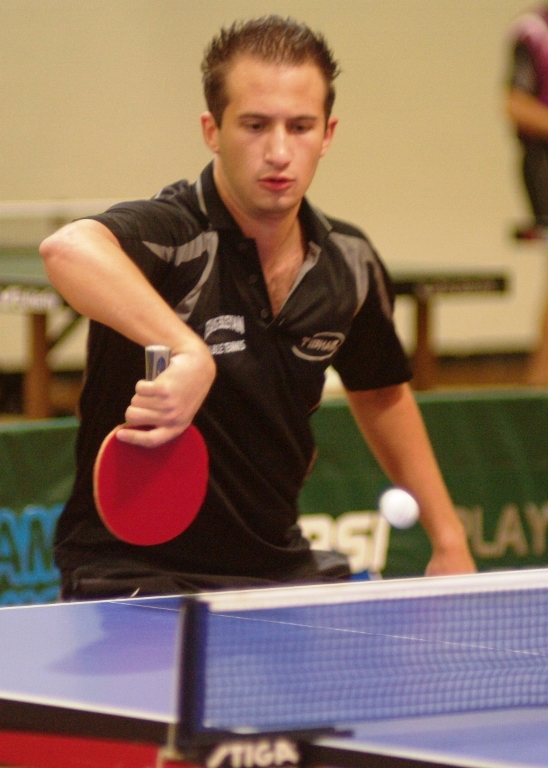 Chance Friend won the 2009 Decatur Open.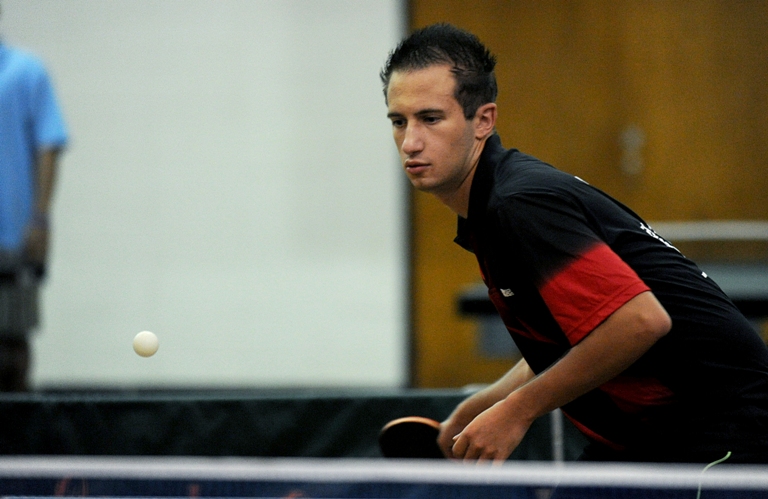 Chance Friend breezed until he got the semifinals.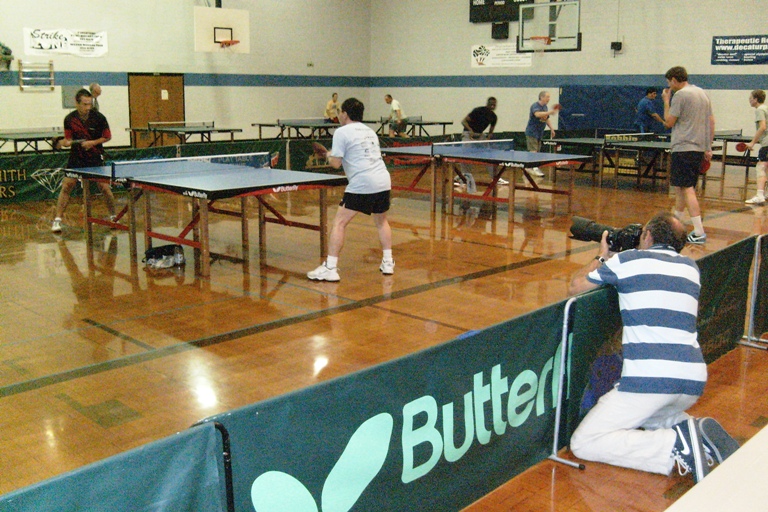 Jeronimo Nisa, Decatur Daily photographer, captured some of Friday night's practice. His images were in the following day's newspaper as well as in a photo gallery online at www.decaturdaily.com. Thanks, Jeronimo!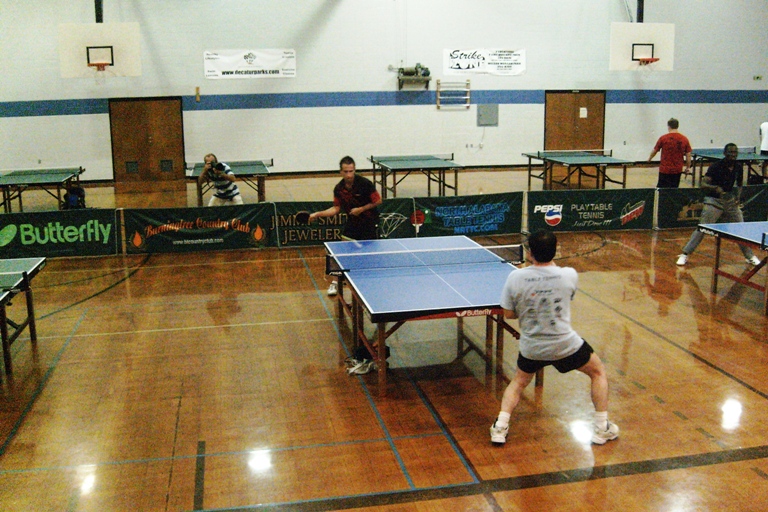 Jeronimo Nisa got plenty of photos of Chance Friend and Danya Budiman warming up in front of the sponsor-covered barriers.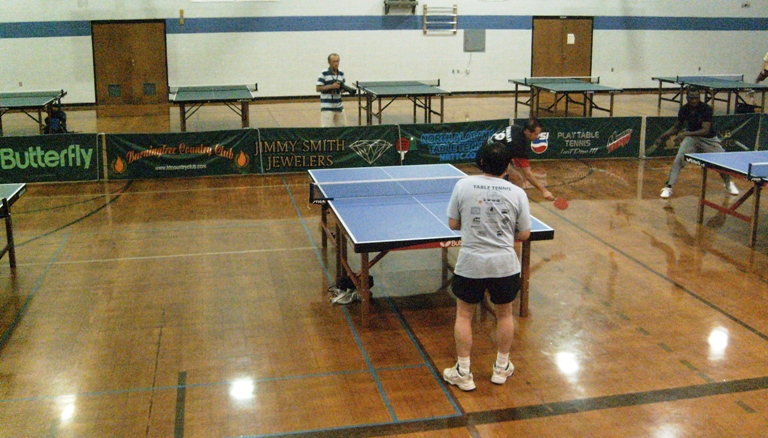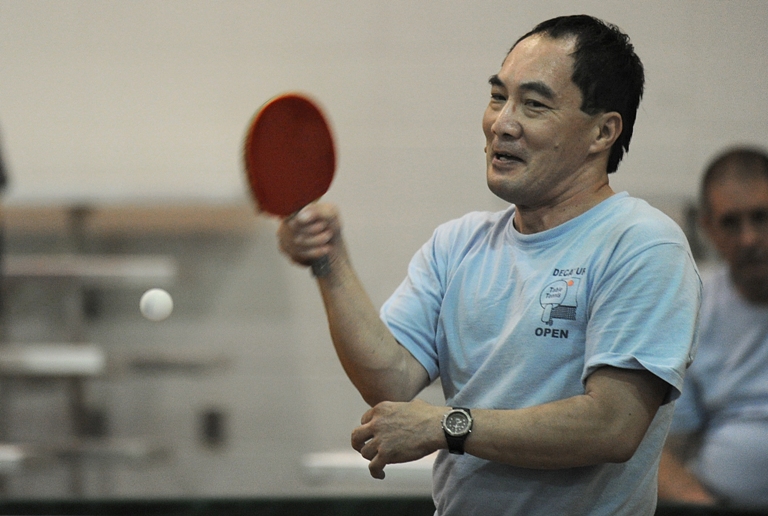 Danya Budiman, now living in Houston, Texas, has been a regular at the Decatur Open for the past 10 years.

The barriers show the names of the sponsors of the 19th annual Decatur Open. A hardy thank you to all the sponsors which help make this tournament an annual success.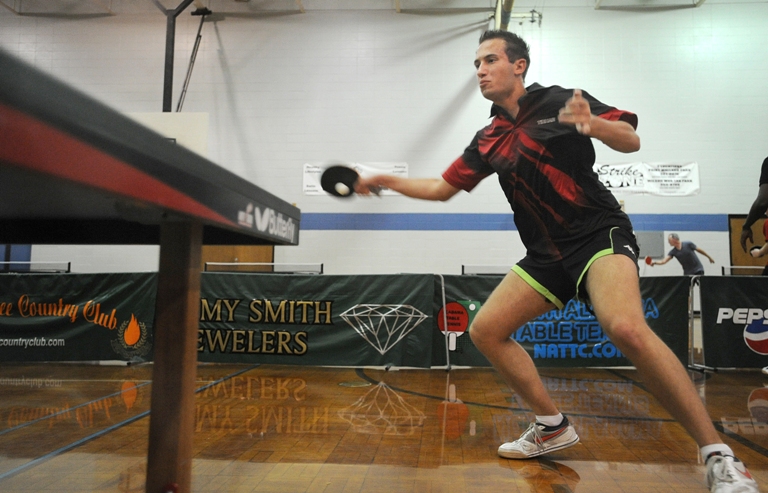 Another shot of Chance Friend warming up from the floor.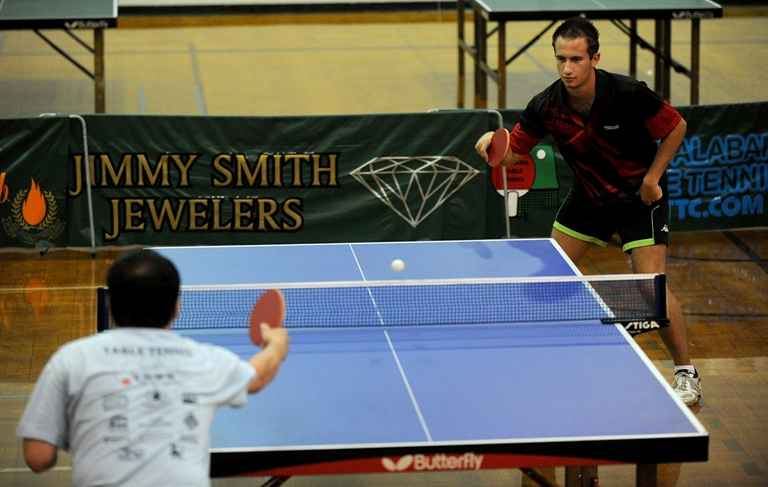 Here's a view of the action from the bleacher seats. Here Chance Friend and Danya Budiman practice Friday night before the tournament on Saturday.

Here Cookie Stoner receives "house" rules from tournament referee Michael Wetzel before she takes the court. She said she was itching for some table time with Chance and Bong.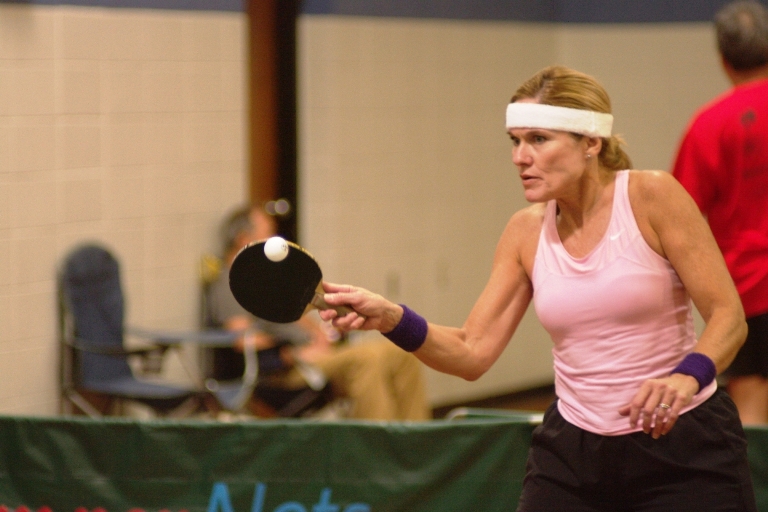 Cookie Stoner, host of the TV show "Cookie Logic" took on some of the players during lunch break. She did a great job and even offered up a few tips to some of the players.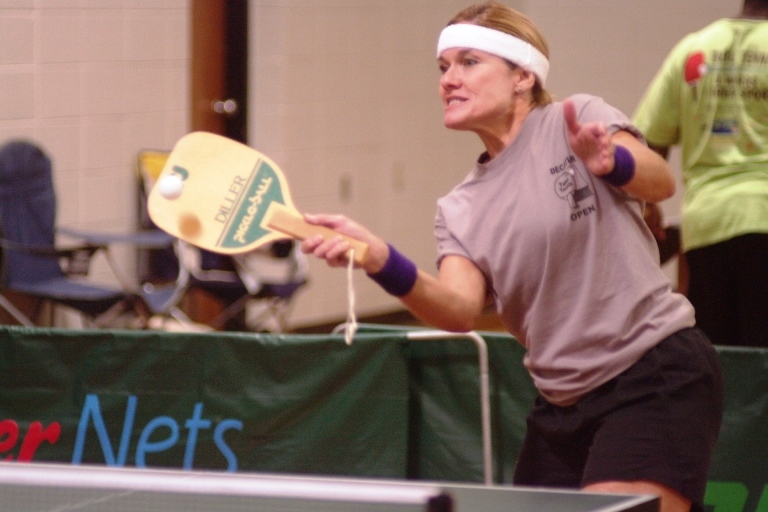 Cookie Stoner brought her own racket and showed off her moves.

Cookie Stoner, right, with her coach Cheryl Friend.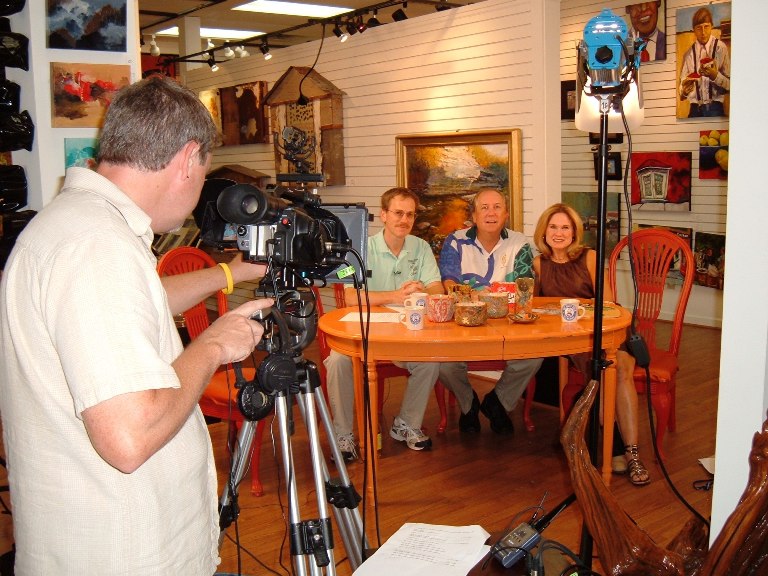 A week after the tournament, tournament directors Chip Patton and Michael Wetzel were guests on "Cookie Logic" featuring Cookie Stoner as the host. About 15-minutes of the 30-minute show focused on the 19th annual Decatur Open. To view the program, visit cookielogic.com. It is episode No. 30. Or you can visit: http://vimeo.com/14625097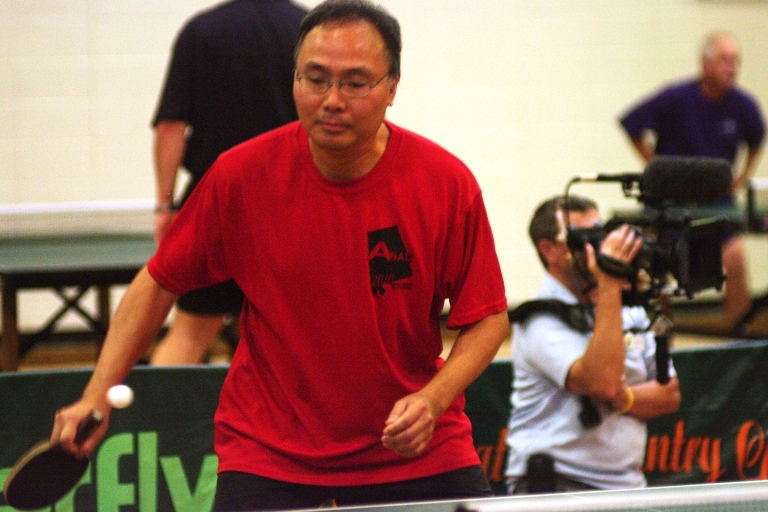 Wing Chan of Huntsville, AL, didn't let the television videographer Juergen Beck bother him during action in the preliminaries Saturday morning. It was great to have a film crew at the tournament most of the day! Beck put together a short video on the tournament as well as film for the Cookie Logic television program. The short film can be found at: http://vimeo.com/14512256

That's Bill Sutton of Sutton and Associates and Alabama World Travel, tournament sponsor, flanked by Todd, left, and Spencer Friend.

Adam Brown and Barnabas Gonzalez of Bumpernets had plenty of supplies available to players in need. Bumpernets has been a sponsor of the Decatur Open since 1997.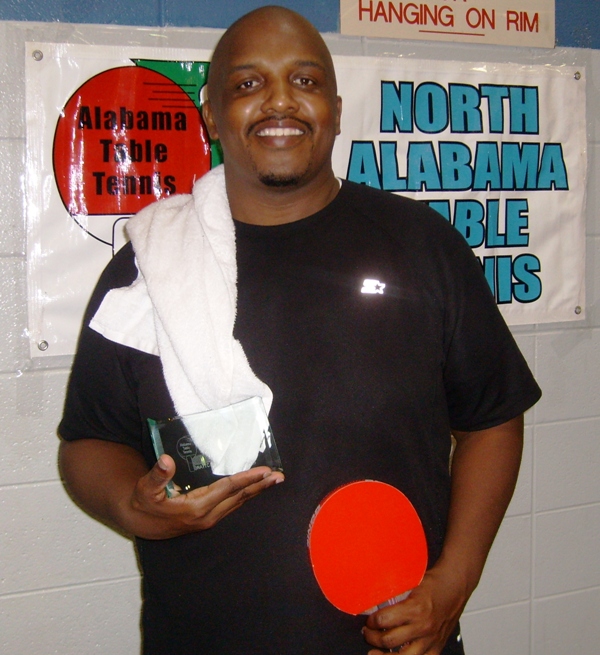 Chris Hardin of the Memphis area won a nice trophy in his first Decatur Open. Hardin, a Pittsburgh Steelers fan, also met former Steelers defensive back Bruce Jones, who visited the tournament to watch some of the morning-round action.

A good crowd of players and guests stayed throughout the day to watch the exciting matches.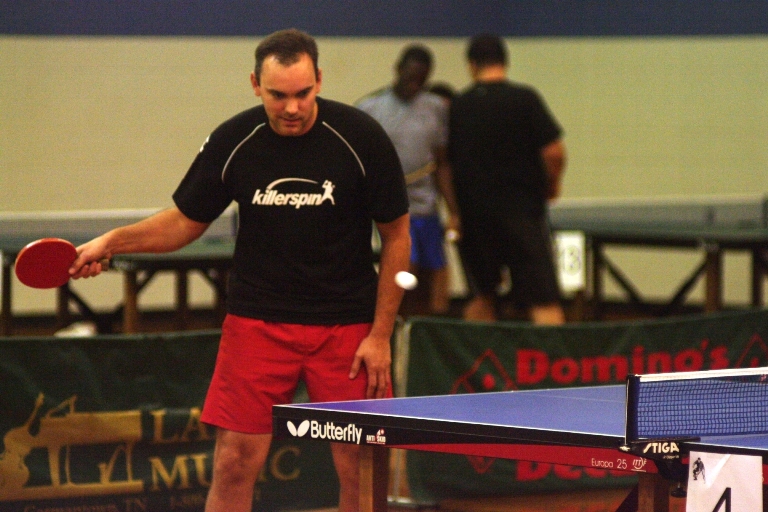 2002 Alabama singles champion Jason Denton is a regular at the Decatur Open.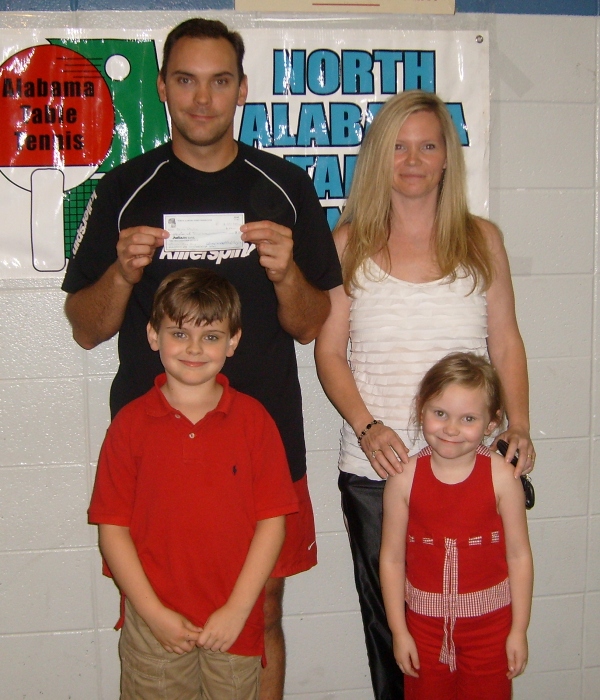 Denton picked up a check for $60 as a quarterfinalists and made his family proud!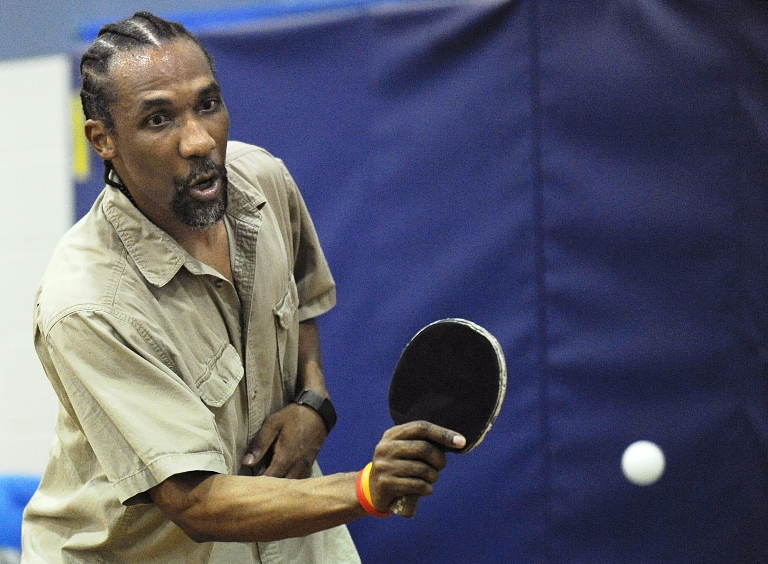 Perry Smith of Memphis competed in his first Decatur Open.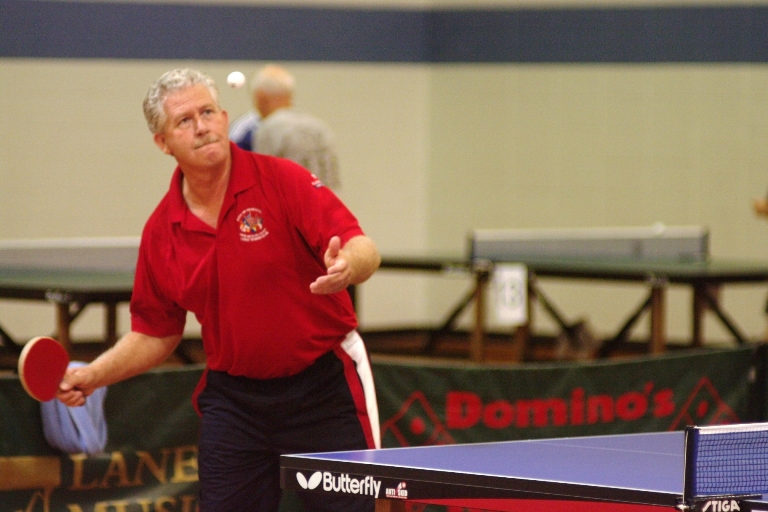 L.A. Johnston of Pensacola, Fla., makes the long trip to North Alabama to play in the tournament.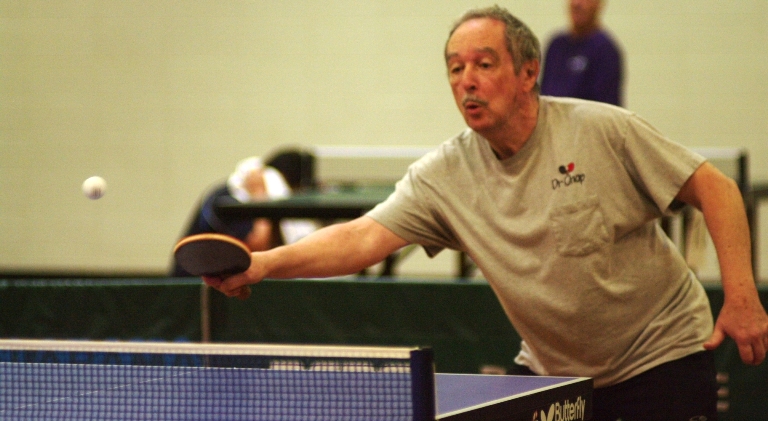 Dr. Ronald Peters of Brewton returned to Decatur after missing the event for the past few years. Always nice to see you, doctor!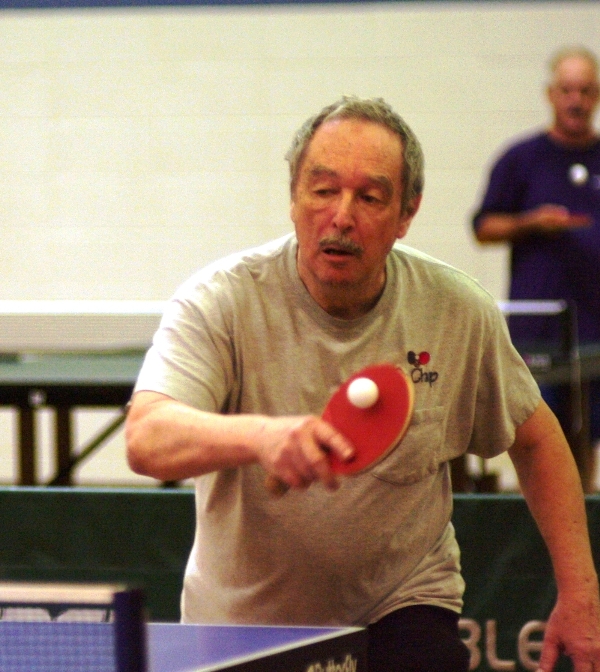 Dr. Chop, aka Ronald Peters, in action.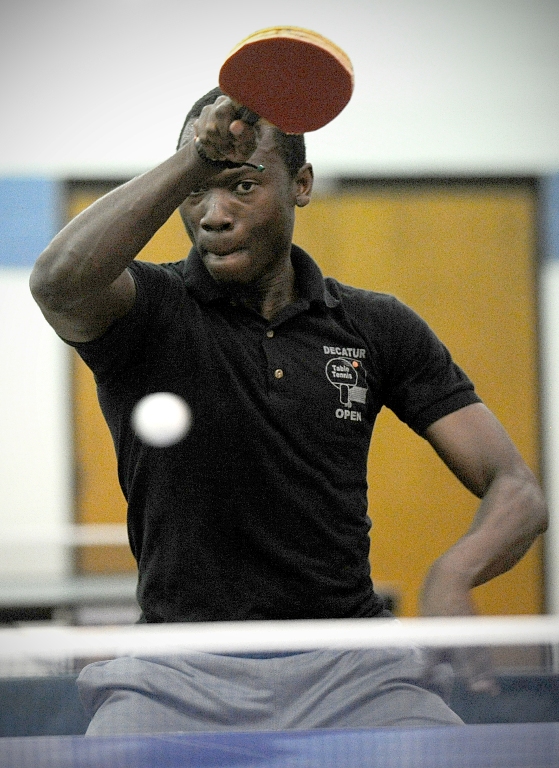 Jonas Boateng, a native of Ghana, came over Friday night to get some practice in.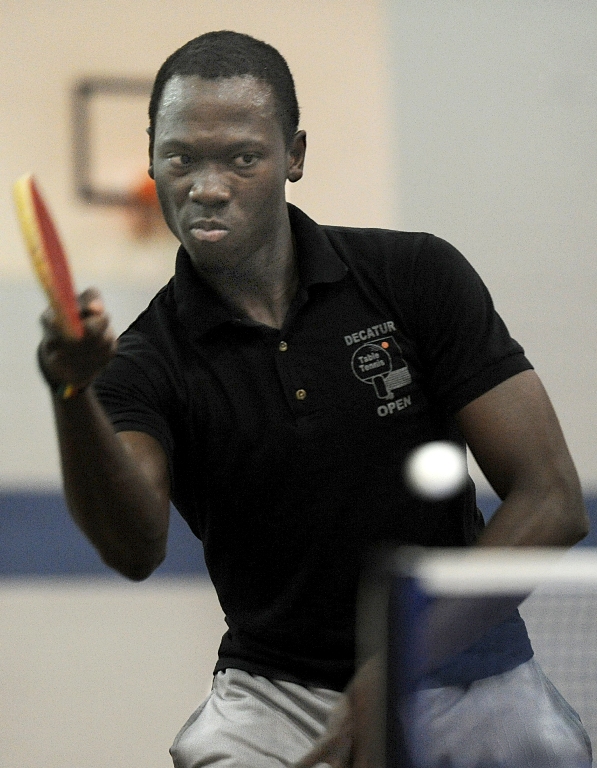 Photographer Jeronimo Nisa got plenty of practice shots of Jonas Boateng on Friday night.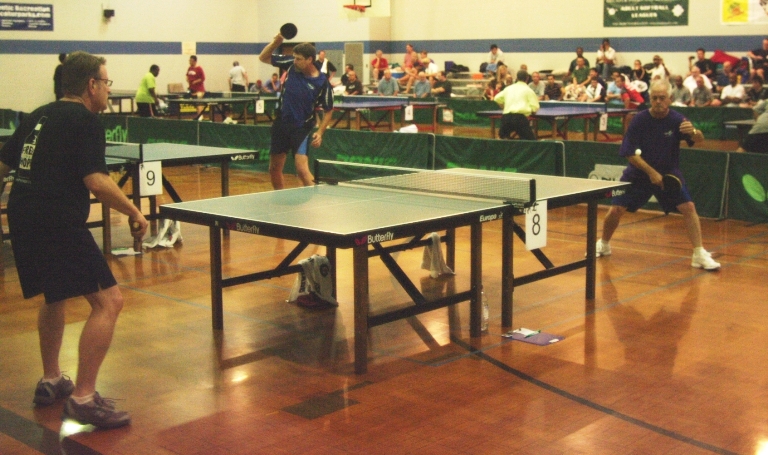 Ken Potts of Fort Worth, Texas, hits a backhand in the semifinals of Class BB action against Dick Cloyd of Huntsville, AL.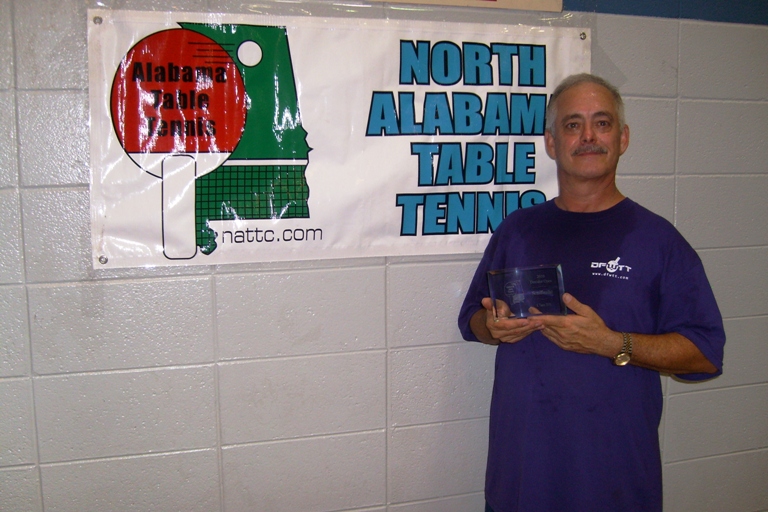 And Ken's backhand helped him win a nice jade glass trophy in his first trip to Decatur.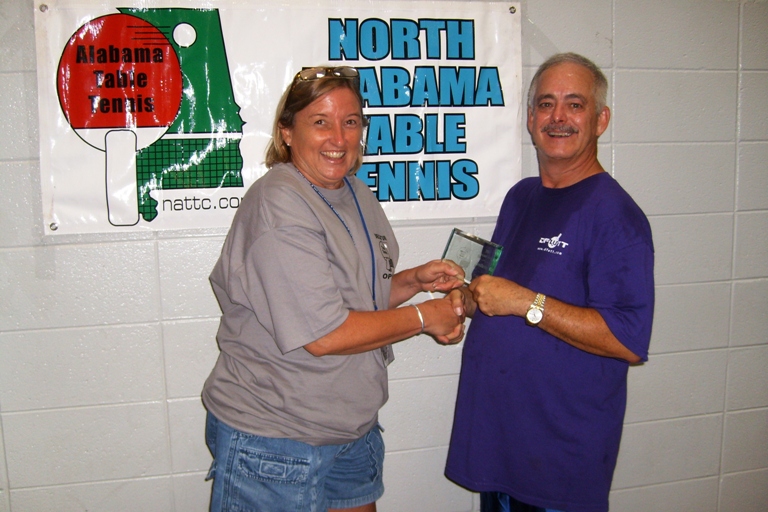 Tournament committee member Vickie Taylor presented Ken Potts with his BB semfinals trophy. Congrats!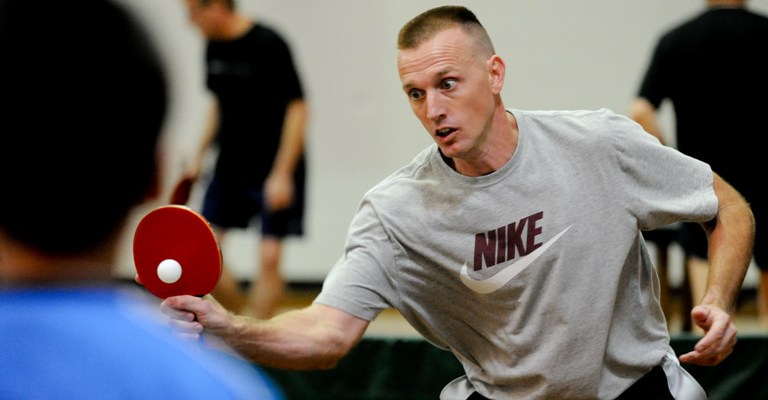 Playing in his first USATT-tournament, Shannon Bishop of Decatur, AL, found the going tough in the morning. But rebounded nicely to win Class B in the afternoon!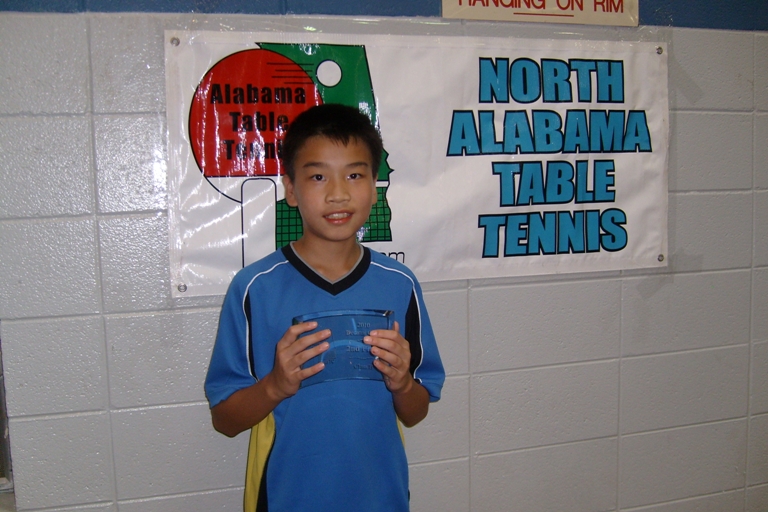 Yuan He of Birmingham won second place in Class B. Congrats!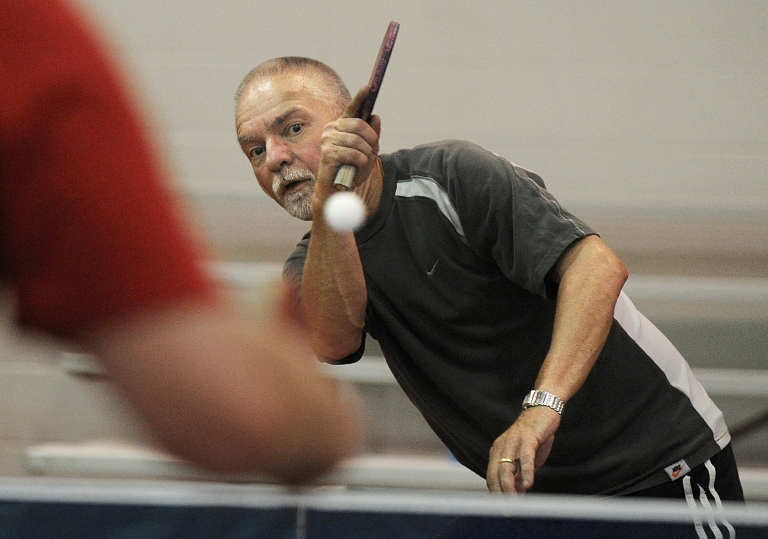 Bill Sutton of Montgomery, AL, concentrates during practice on Friday night.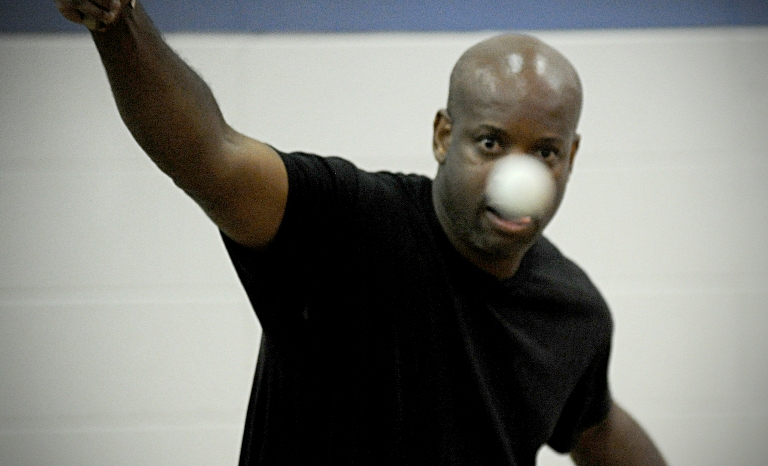 Andrew Strong of Decatur, AL, keeps his eye on the ball during practice on Friday night at the Aquadome Recreation Center.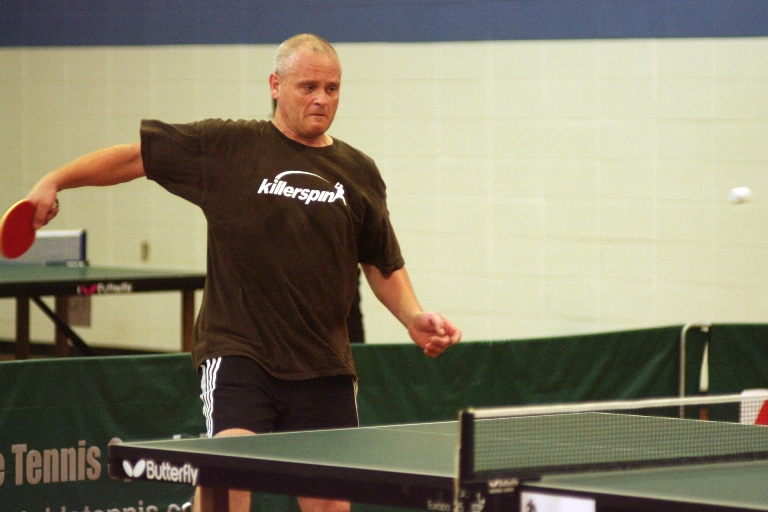 Former Polish junior team member Slawomir Warclawik of Nashville always plays competitive matches in Decatur. He made it to the championship quarterfinals again this year. Congrats!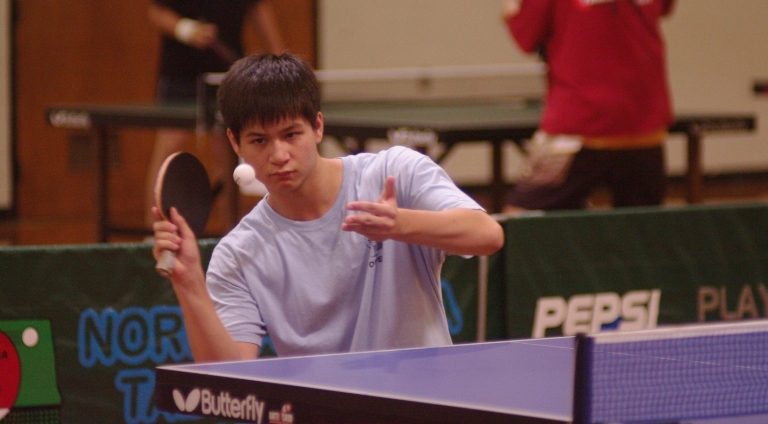 Shelby Lane and his dad Scott have been regular competitors in Decatur for the past 10-plus years. Lane Music is a strong supporter of the annual Decatur Open.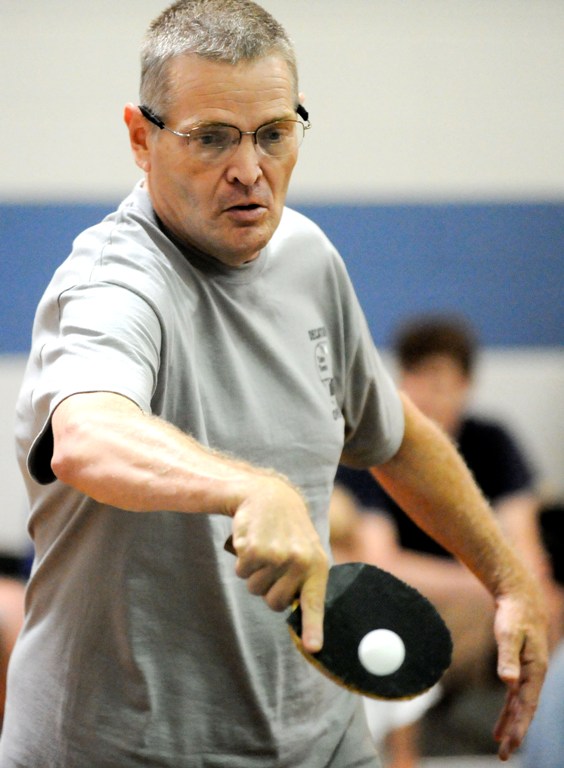 The Decatur Daily sports writer Paul Stackhouse did a nice job on a story about Paralympic table tennis player Bob Bowlander who is a regular at Decatur. He was featured in the Aug. 22 issue of the newspaper. Gary Cosby Jr. shot some fine images, including this one, of Bowlander.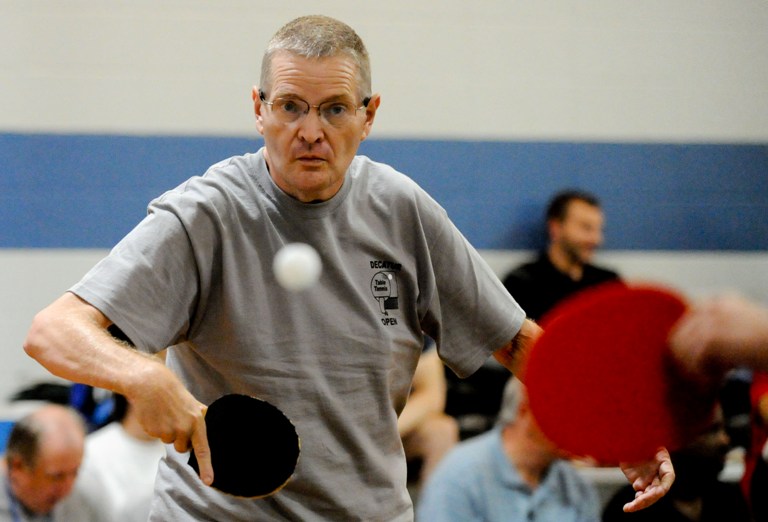 Another nice image of U.S. Paralympian Bob Bowlander.

Here Decatur Daily sportswriter Paul Stackhouse grabs some quotes from tournament referee Michael Wetzel.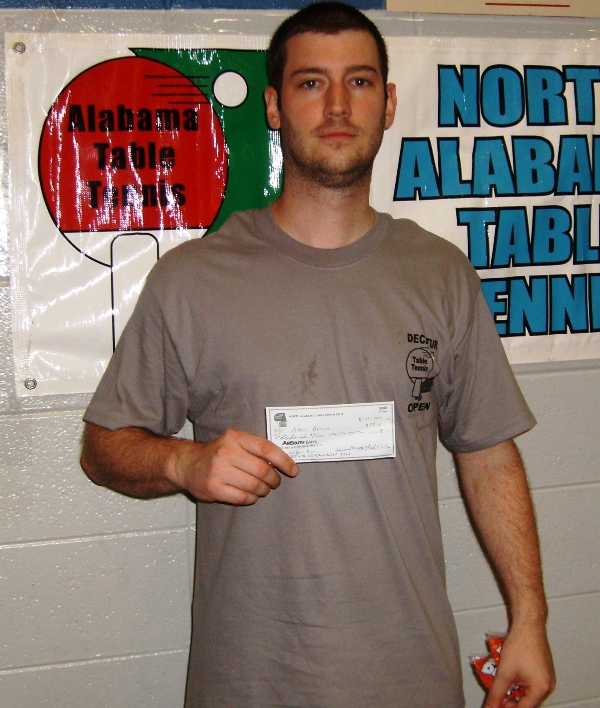 Five-time Alabama singles champion and three-time doubles champion Adam Brown of Bumpernets picked up another check for his fine play.

If it is a tournament in Alabama, the Chans aren't too far away.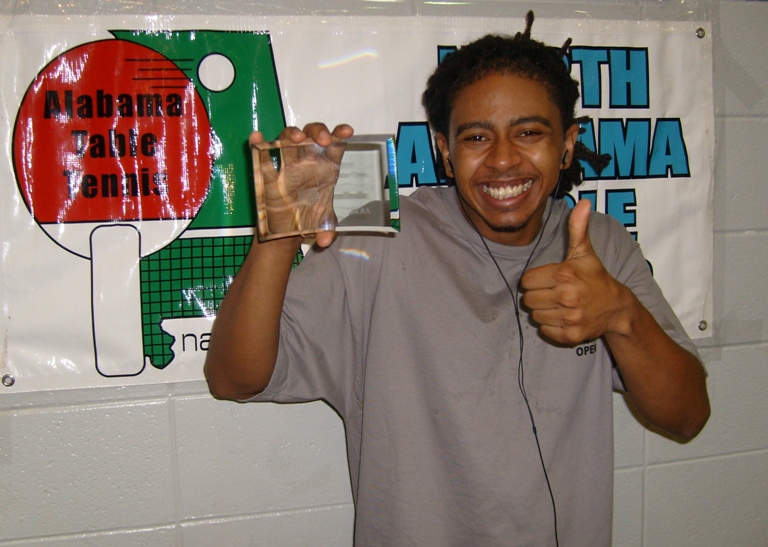 Sean Brown of Montgomery continues to make progress playing against some of the best players in the South. Here Sean shows off his Class AA semifinals trophy.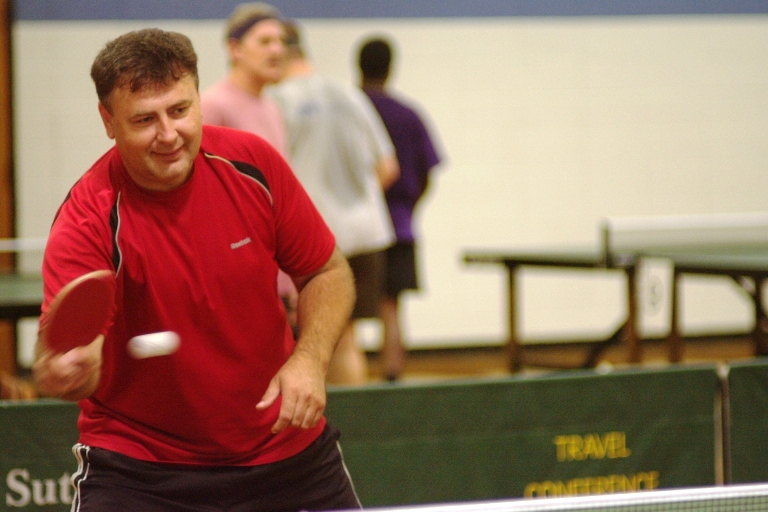 Iliyan Arabov of Birmingham enjoyed playing in his first Decatur Open.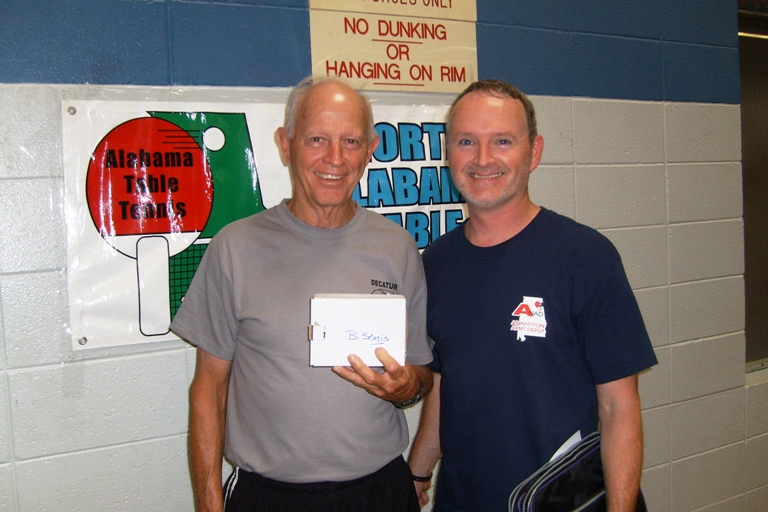 Gary Luther of Gadsden and Mike Harris of Anniston had plenty to smile about. They each won trophies as Luther was a semifinalist in Clas B and Mike Harris was a semifinalist in Class A. They are card-carrying members of Northeast Alabama Table Tennis based at the Anniston Army Depot, home of the Alabama Closed Teams tournament. Congrats, guys.

Harris and Luther gave the tournament their approval. Check out that Gatorade in Harris' hand, compliments of sponsor Decatur Pepsi!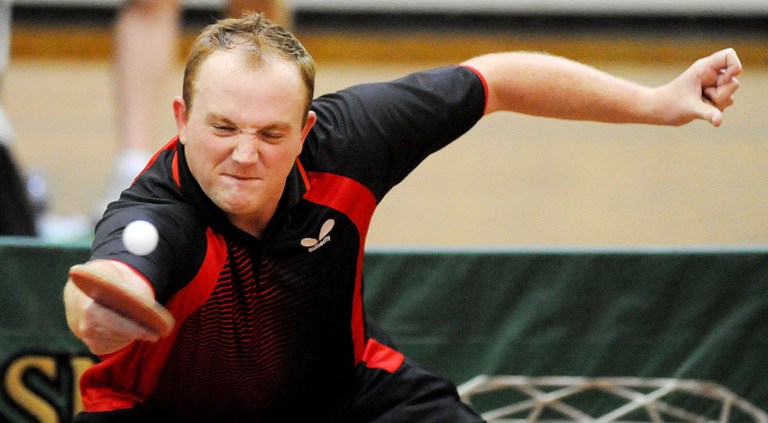 Andrew Davis didn't push too many balls during the tournament. He is always fun to watch.

College students James Reinecke and Joe Piskulic traded stories all day.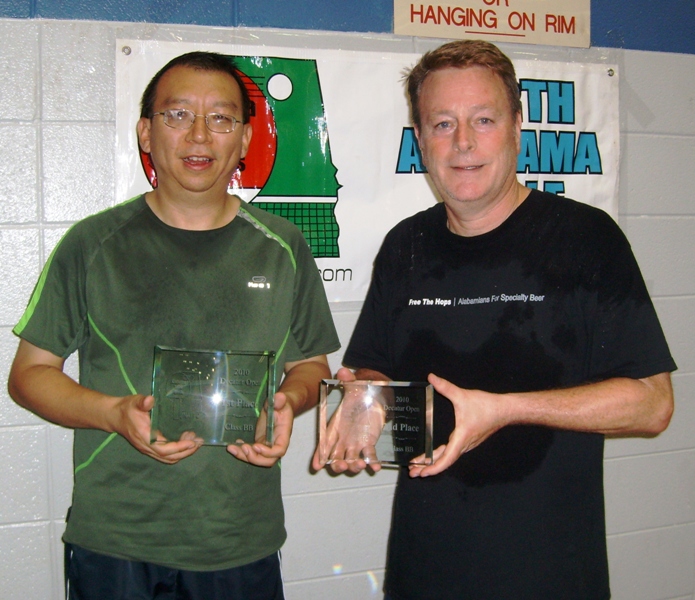 Playing for the Class BB championship, Harry He and Dick Cloyd battled it out in a 7-game match (one game went 22-20). He was finally won 12-10 in the seventh. The tournament is known for close matches and good times!

Liedy Handoko of Memphis got in this year's tournament as the high bidder on one of the two eBay spots. He turned the winning auction into $85 as he made it to the semifinals of the championship division before falling to Bong Geun Kim 3-0.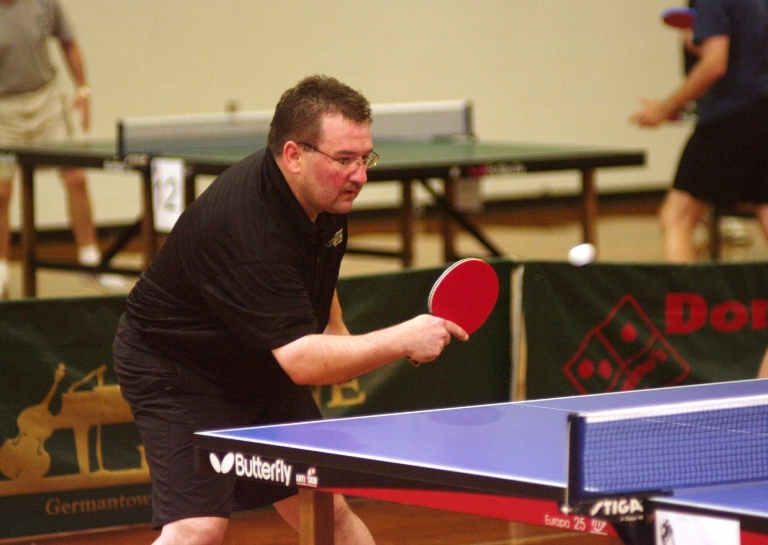 Roger Dickson of Newgy Table Tennis is a regular at Decatur. We always enjoy him competing!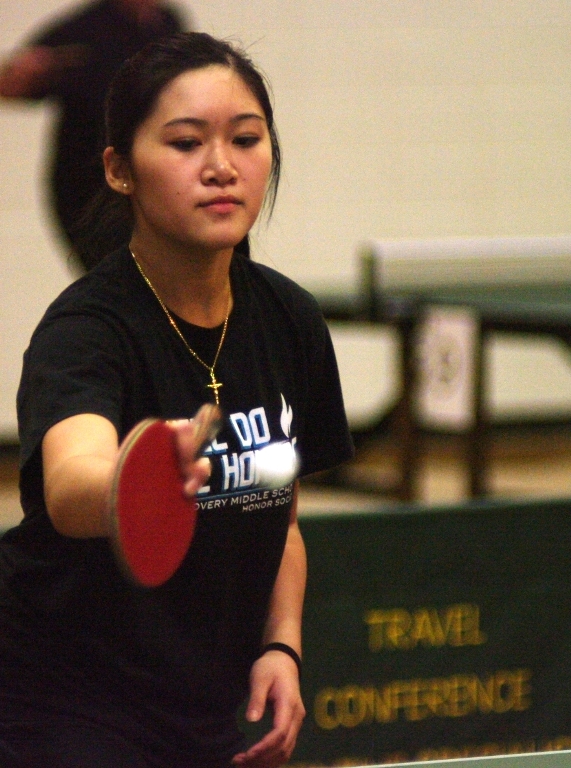 Celeste Fong picked up a semifinalist trophy in Class B. Congrats, Celeste.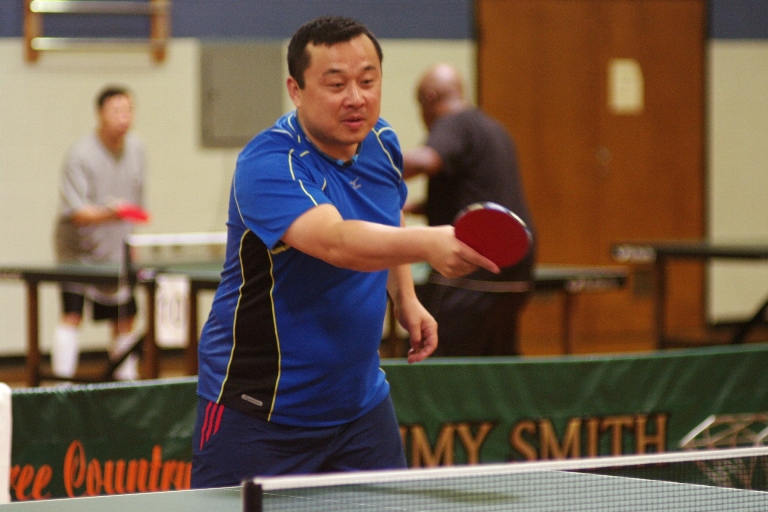 After winning the U-1800 division at the U.S. Open in July, David Yu brought his game to Decatur.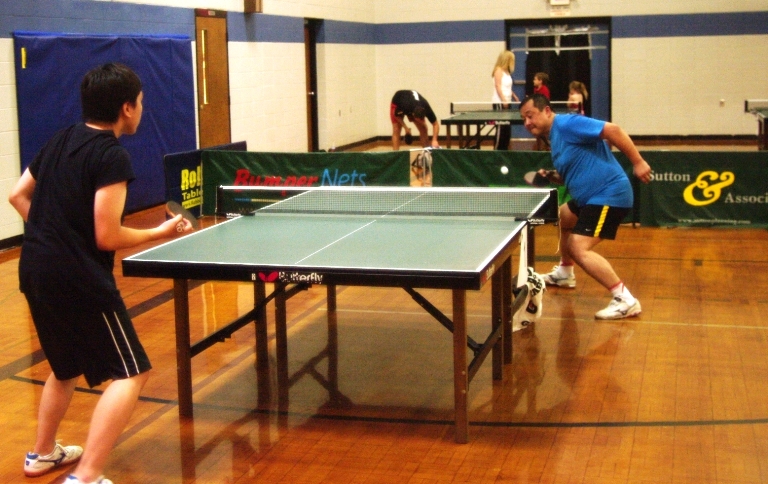 Trevor Chan and David Yu had a battle in Class AA in the afternoon round robin.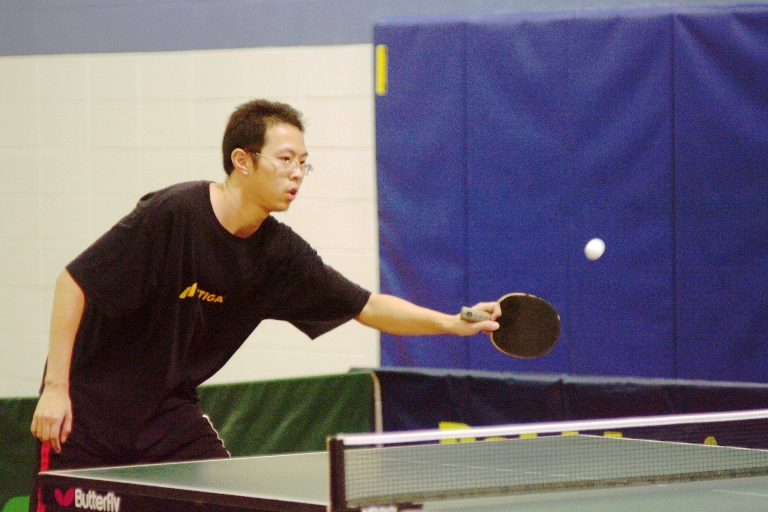 Tson Chan continues to improve.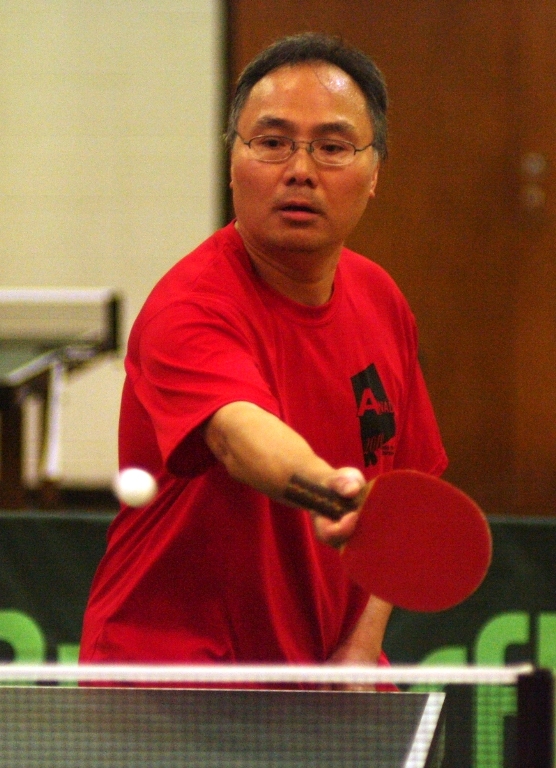 Wing Chan hit plenty of backhands wearing his Alabama State Closed Teams shirt.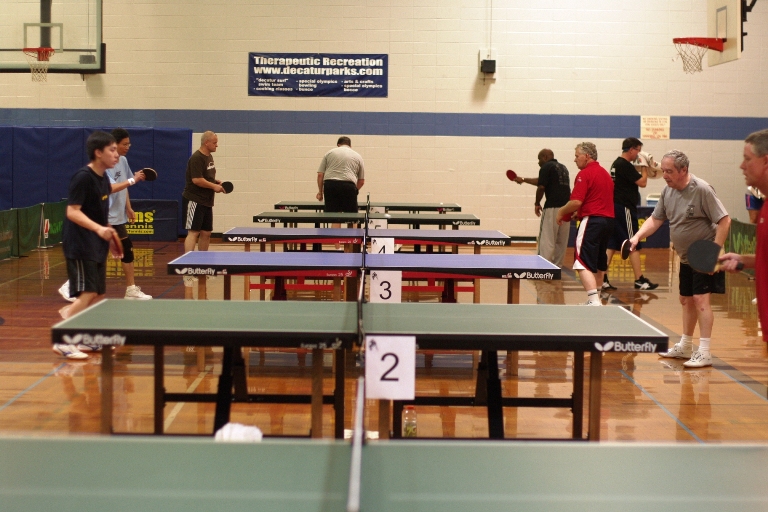 The tournament tables stayed busy from 9:30 a.m. to 6 p.m. with matches.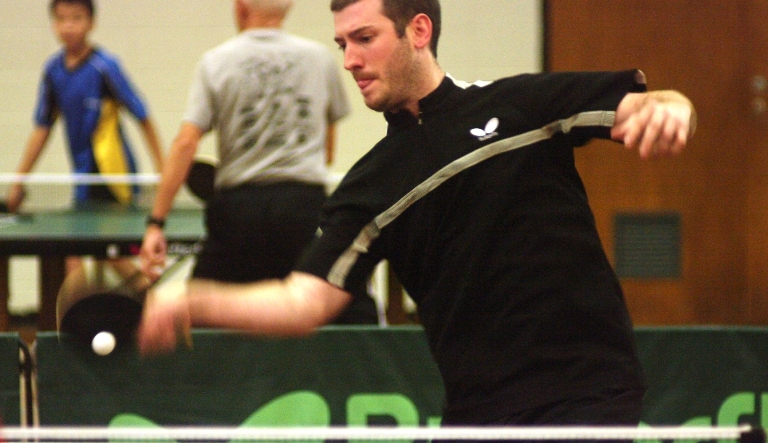 Five-time Alabama champion Adam Brown hit plenty of forehands in the afternoon.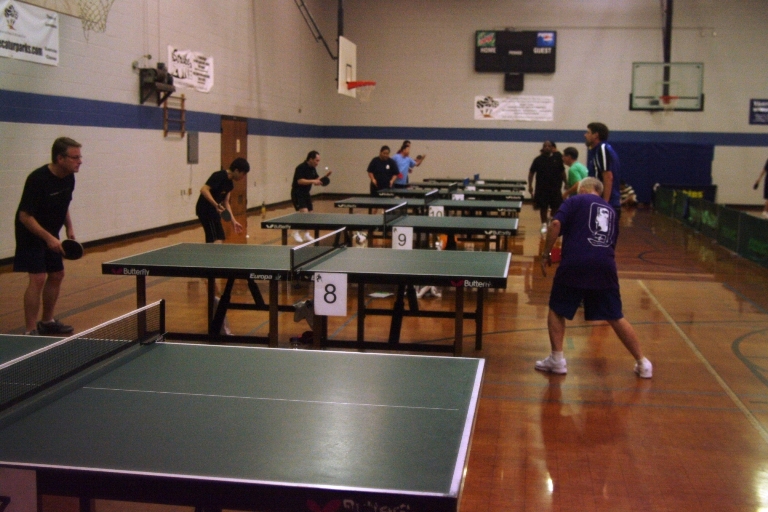 In total 13 Butterfly Europa tables were used at the tournament.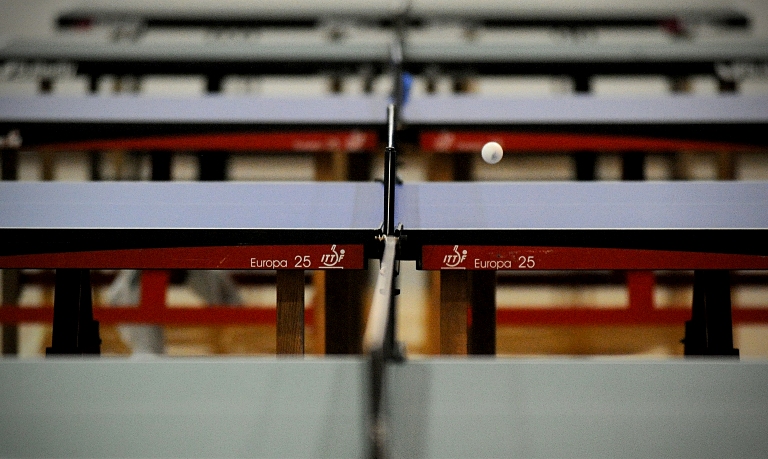 Plenty of TSP balls by Robbins Table Tennis were struck all day.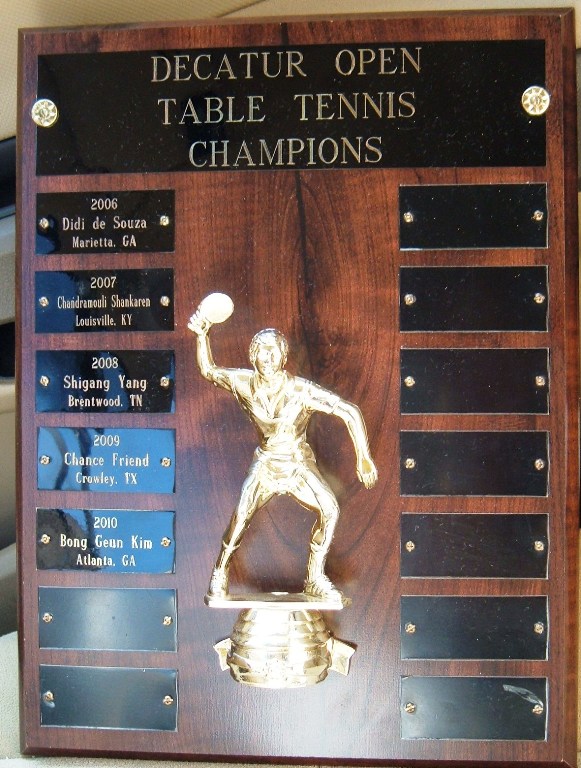 At the end of the day, it is all about getting your name on the champions' trophy which hangs in the Aquadome Recreation Center throughout the year. Here's a shot of the second of two trophies bearing the names of the winners of the 19 Decatur Opens. Congratulations to them all!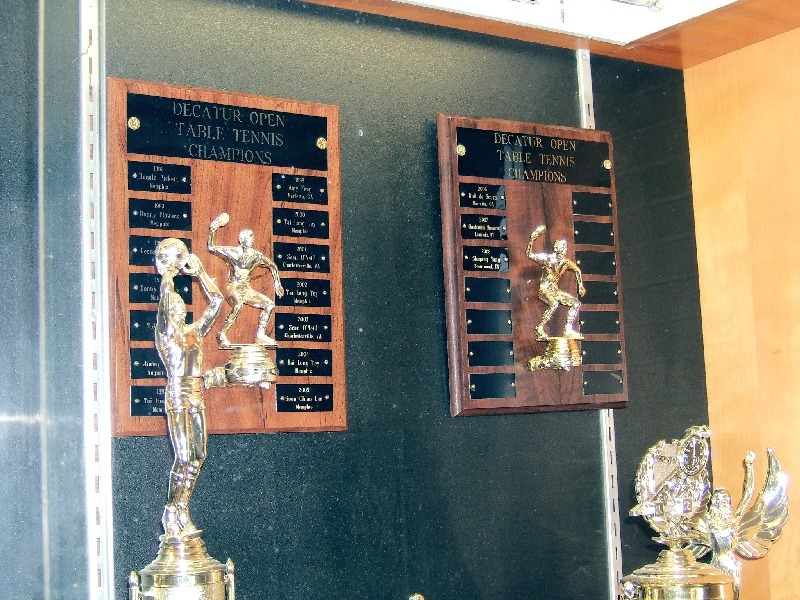 Here are both Decatur Open champions plaques on display at the Aquadome!