NATTC/HTTC Goes to the Olympics...
(Updated 12/24/1999 or later)
1999 Special Olympics World Games:
Mike Wetzel volunteered at the 1999 Special Olympics World Games held during late June and early July in Chapel Hill, North Carolina, USA
Mike Meets the Rich and Famous:

Kathy Ireland supports a good cause... (As she appears for KMart)
Mike with Colombian coffee magnate

Juan Valdez at the Founders Reception prior to the Opening Ceremonies at Carter-Finley Stadium in Raleigh, N.C., on June 26, 1999.
Volunteers:
Mike with the other Table Tennis Umpires
1996 Summer Olympic Games:
Pre-Olympics Coverage:

Chip Patton and Mike Wetzel pose with local TV talk show host Hal Steenson after taping some exhibition video for the pre-Olympics show.

Mike Wetzel commentates as Ralph Kissel and Chip Patton perform an exhibition for Bell South's pre-olympic showcase at the Space and Rocket Center. (Photo by Madelyn Patton.)
Volunteers:

From left to right: Athlete Escort Supervisor Charles Kite, Statistician Chip Patton, Athlete Escort Ernesto Kawamoto and Sports Information Supervisor Mike Wetzel relax at The Varsity in downtown Atlanta.

Chip Patton keeps stats and the Swatch electronic scoreboard with Ed Hogshead (photo by Mike Wetzel)

Joe Mitchell(FL), Charles Kite(AL) and Ernesto Kawamoto(Brazil) on break at the World Congress Center (photo by Chip Patton)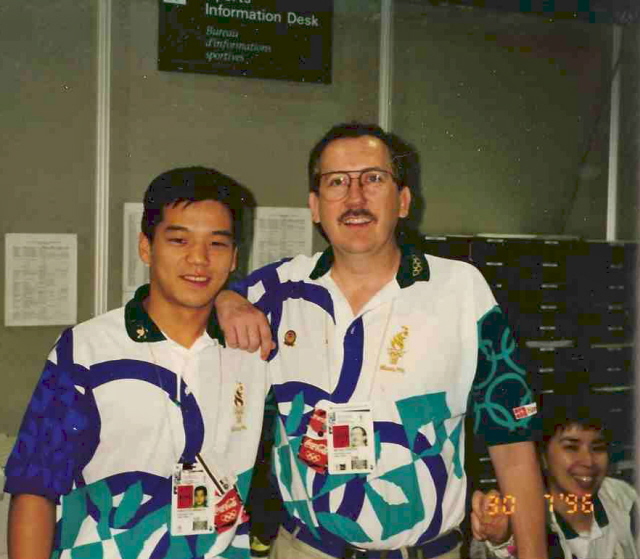 Athlete escort Ernesto Kawamoto and sports information supervisor Michael Wetzel at the Sports Information desk at the World Congress Center. (photo by Joe Mitchell).
Celebrities:
Sweden's King Carl Gustav and Queen Sylvia watched their Jan Ove Waldner fall to Johnny Huang of Canada (Photo by Mike Wetzel).

Women's Doubles Gold Medal with Chinese women's coach Xielin Zhang (with Sports Information Supervisor, Mike Wetzel) (Photo by Joe Mitchell).

Former President Jimmy Carter and former first lady Roslyn Carter enjoyed table tennis action during the first week of the Centennial Games (photo by Mary Jung)

Ernesto Kawamoto and 1992 Gold Medalist and former World Champion Jan-Ove Waldner pose for a photo outside the World Congress Center, July 28, 1996.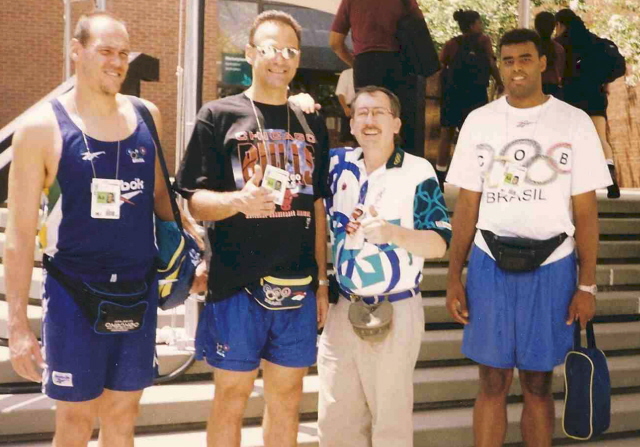 Michael Wetzel with 3 Brazilian basketball players including Oscar Schmidt, second from left, outside of the store at the Olympic Village.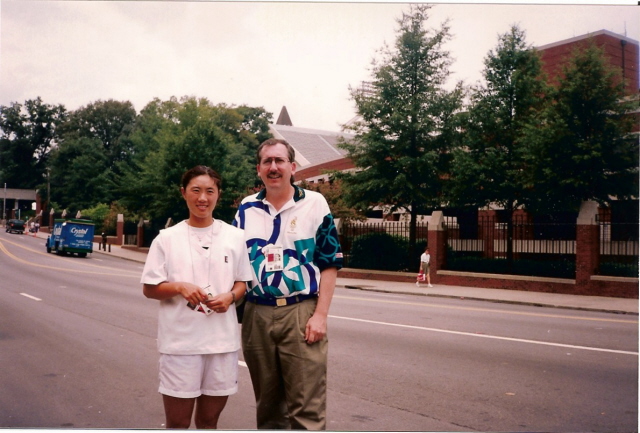 Michael Wetzel with professional tennis player Kimberly Po at the Georgia Tech football stadium in the Olympic Village. Po's highest world ranking was 14th in singles and sixth in doubles.
Action:

Team U.S.A. puts in a respectable effort against the bronze medal winning Korean Men's team of Lee Chul-Seung and Yoo Nam-Kyu. Jimmy Butler and Todd Sweeris dropped the match at 15-21 and 13-21 on July 26 (photo by Mike Wetzel)
USA Women: USA Women's doubles team (background) of Lily Yip (hitting the ball) and Wei Wang compete against the Russian team in preliminary play during the 1996 Olympic Games in Atlanta. Photo by Michael Wetzel
Sweden: The Swedish doubles team (background) of Jorgen Persson (left) and Jan Ove Waldner compete against the Japanese in the 1996 Olympics. Persson and Waldner have both won world singles titles. Waldner won the only medal for Sweden in 1992 in Barcelona when he captured the gold medal in men's singles. In 1996, Sweden King Gustav and Queen Sylvia were in the audience at the World Congress Center to watch Waldner compete in the final 16 round vs. Johnny Huang of Canada. Huang defeated Waldner in four games. Photo by Michael Wetzel
China: Moments after winning the 1996 Olympic men's singles gold medal, Liu Guoliang of China answers questions from the media. Guoliang defeated fellow countryman Wang Tao in the finals. Photo by Michael Wetzel
Gold Medal Match: Fellow Chinamen Wang Tao, left, and Liu Guoliang squared off in the finals of the 1996 Olympic men's singles table tennis competition before a soldout crowd in the World Congress Center. Liu defeated Wang to win the gold medal. Photo by Michael Wetzel
---
Click below to send email to NATTC c/o Chip Patton
crpatton@HiWAAY.net
Back to The NATTC Homepage
---